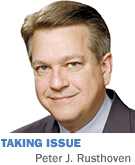 As this year's Indianapolis mayoral race draws to its close, residents cannot turn on a TV or radio without hearing Melina Kennedy ads telling voters that incumbent Greg Ballard "gave $300 million in city contracts to his political contributors."
The voiceover solemnly intones that "it's true" and "it's troubling." Kennedy calls this "play-to-pay" politics, all but overtly charging her GOP opponent with trading public contracts for contributions—which, if true, would be criminal.
For those of us who've spent too much time in and around politics, Kennedy's shift to this tack in the contest's final weeks is a strong signal that she is trailing, and she knows it, and now sees no hope of winning other than tarring Ballard.
There are only two problems with her ad.
First, it's false. The Indianapolis Star, in news coverage and (conspicuously) its columns, has been more than friendly to Kennedy. But its "ad watch" feature, which evaluates political spots, had no trouble skewering this one.
Of the $300 million in contracts claimed in Kennedy's attack, the largest—nearly a third of the total—is $98 million for United Water, which has long operated city sewers. The contract was renewed for nine years in 2007. The mayor then was Democrat Bart Peterson, whom Kennedy served as deputy. There have been no significant changes in the contract under Ballard.
Another $12-million-plus of the total is for contracts awarded by Marion County's Information Services Agency, which the mayor does not control (appointing only a minority of its board).
Beyond "funny math," Kennedy ignores that many she counts as Ballard contributors are also her contributors. Many businesses in Indianapolis, as in all major cities, contribute to both parties. Such firms often have Democrats and Republicans among their owners and executives, many of whom support (financially and otherwise) their party's candidates and causes.
Kennedy knows this—and not simply from accepting contributions from some of the same companies she labels "Ballard contributors" for purposes of suggesting he is corrupt.
The midsize law firm she was with before being deputy mayor included prominent Republicans and Democrats—one of the latter an Indiana and later national party chairman. The large law firm she joined after being deputy mayor also had well-known Democratic and Republican figures—including a Marion County GOP chairman who, while Peterson was mayor, did not criticize the administration because the law firm was handling city legal work.
Both of Kennedy's law firms (neither of which is my own) were rightly well-regarded. I would not for a minute suggest the work either firm did for state or local governments, under either Democratic or Republican administrations, was a "quid pro quo" for political contributions or otherwise corruptly procured. Kennedy knows better, too.
The other problem with Kennedy's unfounded attack is that it feeds an already dangerously widespread public cynicism. Critical, discerning skepticism about human nature as it operates in the political arena is justified and healthy. But believing the political process and all involved in it are inherently and irredeemably corrupt, utterly unworthy of public trust and confidence, is toxic. I regret that an increasing number of citizens subscribe to this view.
One reason they do is ads like Kennedy's, which further poison the well. Responsible people, who seek positions of great responsibility, have an obligation not to do this.
Whatever one may think of Greg Ballard's performance as mayor, he is not corrupt. Melina Kennedy knows this. But finding herself trailing as the race nears its end, she now pins her hopes of replacing Ballard on telling voters that he can be bought.
It's wrong. It's false. It's corrosive. And like many untruthful attacks, it reveals more about the accuser than the target.•
__________
Rusthoven, an Indianapolis attorney and graduate of Harvard College and Harvard Law School, was associate counsel to President Reagan.
Please enable JavaScript to view this content.