The Mind Trust plan for transforming Indianapolis Public Schools calls for turning the district into a network of charter-like schools and giving them 15 percent to 25 percent more dollars to spend than Indianapolis charter schools currently enjoy.
The prospect of such a premium is thrilling to most charter school leaders, but it's also vital for The Mind Trust's plan to work.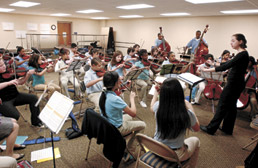 Additional per-pupil funding would allow schools to beef up offerings, adding programs like this orchestra class at Christel House Academy. (IBJ File Photo)
The Indianapolis-based not-for-profit says IPS needs to offer the extra money to attract and equip a wave of teachers and school administrators to take on the challenge of educating students struggling against the effects of poverty, crime and family dysfunction.
"To become a magnet for the best school operators in the country, IPS must offer a competitive per-pupil funding amount," states The Mind Trust's report on IPS, which is titled "Creating Opportunity Schools."
The Mind Trust calculates its plan would, when fully implemented, give each IPS school $12,000 per student to spend—about $1,500 to $2,500 extra per student than Indianapolis charter schools currently spend on their students.
But IPS leaders say The Mind Trust needs to redo its math. Superintendent Eugene White said the group has failed to account for key expenses IPS currently incurs—such as security—that would greatly reduce the premium The Mind Trust says its plan can produce.
"They wanted to make the case that we're underfunding the schools and overfunding the central office," said White, who has been superintendent of the 32,000-student district since 2005. "Their numbers really are misleading."
The Mind Trust report, issued Dec, 18, was prepared in large part by North Carolina-based Public Impact, an education research and policy group. It calls for gutting the staff and budgetary control of the IPS central office and instead putting more money in the control of individual school principals.
Administrators at the individual school level could use the money to recruit star teachers with higher salaries, to purchase education and transportation services from outside vendors, or to hire the IPS central office for some services.
But since most IPS schools are not yet ready for this kind of autonomy, The Mind Trust also calls for IPS to hire several "transformation directors" who would work to help prepare the schools to attain the high standards IPS would set for becoming an "Opportunity School."
Opportunity Schools would be responsible for recruiting students each year—and their funding would hinge entirely on how many students they sign up.
To put this plan into place, The Mind Trust calls for state legislation that would give the Indianapolis mayor and city-county council the authority to appoint the district's board, in place of the popularly elected board that now governs the district.
While The Mind Trust has no formal power over IPS, its report has an aura of authority because it was in part commissioned and paid for by the Indiana Department of Education. The department last year decided to take over four IPS schools because of persistently poor performance.
Even after an appointed board embraced the plan, The Mind Trust estimates, it would still take five to seven years to fully implement.
But if it were—and if the funding premium materialized—it would certainly be attractive to charter school operators looking to turn around IPS schools, said Jonathan Schorr, a partner in the San Francisco-based NewSchools Venture Fund, which raises "philanthropic capital" to invest in promising public-school reform efforts.
Harris
"There is no doubt that funding inequities have posed major barriers for people interested in starting charter schools in particular places," Schorr said. "If The Mind Trust plan results in equitable, sufficient funding where it did not exist before, there is no question that this will prove a major asset in attracting strong charter school organizations."
Dueling numbers
At the root of The Mind Trust analysis is its claim that IPS spends a paltry amount of its overall funding inside its schools. The Mind Trust's analysis concluded that IPS receives about $16,200 in funding for each student it enrolls, but sends just $6,600 per student to its schools.
That punches out to be just 41 percent of IPS' total funding.
"It is clear, however, that an average of $12,000 per pupil provides an enormous opportunity for schools to offer a dramatically better education," the report states.
But IPS leaders say the impact is likely to be minimal because the funding boost really isn't enormous.
IPS actually spends 69 percent of its total dollars on its schools, according to data provided by Debra Hineline, IPS' chief of financial and business services.
Using that percentage, and following The Mind Trust's methodology of excluding debt service but including capital projects and transportation services, suggests the district is spending about $11,000 per student at the school level.
Add in other school-level expenses that IPS classified under "administration"—such as substitute teachers, teachers in the ROTC program, school psychologists and teachers for English-language learners—would bump up per-pupil spending to more than $11,300.
And if IPS counted the $5.3 million it spends each year on security guards in its schools–a category for which the Mind Trust report allots no money specifically–its school-level spending per student would approach $11,500.
"We pay $5 million for police service, but when they're going to run the school, they're going to have peace," White said of The Mind Trust plan. "There are a lot of omissions like that that are really not fair."
Mind Trust CEO David Harris emphasized that The Mind Trust plan doesn't erase all such expenditures—it just leaves it up to each individual Opportunity School to make them.
In addition, he stressed that the plan would still leave enough money at the IPS central office to provide help on enrolling students, administer benefits for employees, provide funds to launch new Opportunity Schools, and administer special education programs.
Less overhead
The reason Harris thinks all this is possible is because charter schools have shown the ability to operate without a big central office—and with less money—while still producing academic results as good or better than traditional public schools.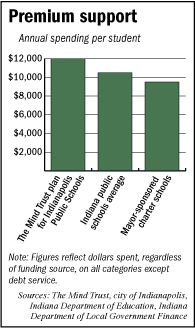 Traditional pubic schools, Harris said, "tend to say, 'I just don't see how they do it,'" Harris added. But, he added, "It's being done. Charter schools are doing all the things you're doing and they're doing it with less resources."
Charters are public schools that are run by private groups and receive state funding for each student they enroll. They receive no public funding, however, for transportation and building projects—as traditional public schools like IPS do—so they turn to government grants and private gifts to bridge the gap.
Charter schools in Indianapolis spend on average $9,500 per student, excluding only debt service, according to data from the past three school years for the 22 charter schools overseen by the Indianapolis Mayor's Office. The data do not include schools that serve adult students.
If Indianapolis charter schools spent as much on transportation per student as IPS does, their per-pupil spending would be $10,500.
Charter schools in Indiana have been criticized for not producing the dramatic results often promised by charter school supporters.
But a rigorous study in 2011 by Stanford University—which compared charter school students with carefully matched peers in traditional schools—showed that no charter school in Indiana was doing worse than its traditional school peers and at least one quarter were doing better.
"We're doing as well as we can with the money that we receive. But it would be hard to argue that we're providing all of the services that we would want to provide," said Kevin Teasley, CEO of the Indianapolis-based GEO Foundation, which operates two charter schools in Indianapolis, one in Gary, one in South Bend, and one in Colorado.
"We don't have a football team or a baseball team or swimming. We don't have four languages," Teasley said. Having an extra $1,500 to $2,500 per student, he added, "would be unbelievable."
Marcus Robinson, CEO of EdPower, which operates the Charles A. Tindley Accelerated School in Indianapolis and has been hired by the state to manage IPS' struggling Arlington High School, agreed.
"It absolutely is a game changer. Because at $12,000 per student we are in a position, not to build a Shangri-La, but to have a real music room, in a position to deploy the best resources for our kids, the best books, the latest technology," Robinson said.
Those reactions show why The Mind Trust plan assumes 45 percent of charter school students who hail from the IPS district—which right now total about 5,000—would shift over to IPS, because their schools would apply to become Opportunity Schools.
Harris acknowledged that not all charter schools would be good enough to attain Opportunity School status. And some wouldn't want to, if they serve lots of students outside the IPS district or if they're already spending more than $12,000 per student.
That's the case at Christel House Academy, the Indianapolis charter school that has the backing of multimillionaire philanthropist Christel DeHaan.
Data from the Mayor's Office shows Christel House spends about $11,300 per student, but Joe Schneider, chief financial officer for DeHaan's not-for-profit organization, said the real spending is about $12,300 per student.
But White said he won't discard the traditional school district concept because he believes doing so would actually cost more money and create more distractions for IPS educators.
Instead, he has been working on a plan since September to trim staff at the IPS central office and increase autonomy at many of IPS' 61 schools. He said he expects to unveil that plan in mid-February.
"Variation is the enemy of proficiency," White said. "When you have all these variations, you create more waste and more problems. That's why people went to districts, so they could have an economy of scale, so they could free people up. With a district, they don't have to worry about all that. All they have to worry about is running their school."•
Please enable JavaScript to view this content.