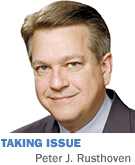 I've wanted to write this since Indiana Chief Justice Randall Shepard's December announcement that he would retire this March. But as some lawyers are cynical—no, really, it's true—I've held off till this week, when my final case before him was decided. This frees me to do what he never liked to do—talk about Randy Shepard.

Shepard, appointed to the Supreme Court in 1985, became chief justice in 1987. Over the next quarter century, his leadership transformed Indiana's entire justice system. When he joined the court, many considered it a judicial backwater. Now it is among the most respected in the nation.

At the start of his tenure, most of the court's docket was consumed by reviewing criminal convictions. Thanks to Shepard, our constitution was amended to limit mandatory criminal jurisdiction, allowing the court to take its leadership role in civil law—the law that affects the lives and business of law-abiding Hoosiers.

Under Shepard, it has filled that role superbly, making Indiana law more consistent, thoughtful and in step with today's world.

Yet it has resisted the trendiness that afflicts some other states. California is a prime example, with courts eager to embrace the latest theory for imposing liability, creating "rights," or holding as unconstitutional decisions by the people (in referenda or via their legislators) that offend judicial policy views.

Not so here. The Shepard court has respected the authority of the political branches of government, while ensuring protection of individual rights. It has also recognized that one of the law's prime virtues is predictability, providing rules by which citizens of a free society can order their lives and decisions.

It's easy to overlook the broader impact of this. But there are reasons California is a fiscal disaster, with businesses and jobs fleeing, while Indiana is the opposite. One reason is the Indiana legal system shaped by Chief Justice Shepard.

Shifting to the personal, Shepard is a self-effacing man of character and integrity. After his elevation to chief justice, he was publicly attacked by a vengeful colleague who coveted the position. Shepard handled this with remarkable courage and grace, never stooping to the level of his accuser.

I'm thankful to say Hoosiers saw the attack for what it was and soundly rejected it.

The chief justice also never suffered from the disease lawyers call "robe fever." Onset occurs when a jurist views the respectful demeanor of attorneys toward courts and judges not as respect for the law, but as personal homage owed to the robe-wearer. Symptoms include arrogance and discourtesy to lawyers and litigants.

There's a joke that the toughest thing about practicing law is that the only permitted response to an insult from someone who misunderstands your point is, "Thank you, your honor." This is not, as has been dryly observed, a character-building experience for the one being thanked.

Shepard was immune to this affliction. He presided over his courtroom with the dignity and decorum it deserved. But without exception, he treated all who appeared before him with courtesy and respect.

There are too few in public life of whom parents can tell their children, "This is how responsible people behave. This is what you should be like when you grow up."

Dick Lugar is one of the few, which is among the reasons he is respected not just in Indiana and by Republicans, but nationwide and across the political spectrum.

Shepard is another, which is why he, too, has earned respect extending beyond his profession and the boundaries of our state.

Randall Shepard is a superb man who did a superb job. Thank you, your honor.•

__________

Rusthoven, an Indianapolis attorney and graduate of Harvard College and Harvard Law School, was associate counsel to President Reagan. Send comments on this column to ibjedit@ibj.com.