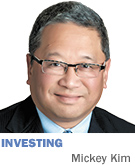 What a difference six months makes. The S&P 500 was crushed during the third quarter of 2011, with a total return of -13.9 percent. Sheer panic gripped investors worldwide as headlines and talking heads blared the U.S. economy was stumbling toward a "double-dip" recession (which would drag the world economy down), and the European Union was headed toward a debt-induced meltdown. Like a herd of sheep, investors fled stocks and other risk assets en masse for the perceived safety of U.S. government bonds.

We were bitterly disappointed at the massive disconnect between the mostly still-solid operating performances of our portfolio companies and plummeting stock prices. At the time, Warren Buffett also said the 70-plus businesses owned by his Berkshire-Hathaway Inc. were doing "very well" and he thought it was "very, very unlikely we'll go back into a recession."

As we now know, the headlines would change 180 degrees. Now they trumpet the first quarter of 2012 as the best opening quarter since 1998 (the S&P 500 posted a total return of +12.6 percent for the quarter, up 25.9 percent since Sept. 30, 2011). We're pleased by the stock market's recovery, but we also realize old and new fears can reignite panic at any time.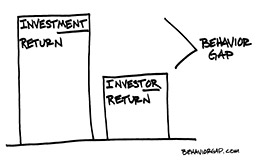 Certified financial planner Carl Richards is renowned for his uncanny ability to illustrate important financial and investing concepts with a Sharpie and a cocktail napkin. He has given me permission to share the following two sketches from his book, "The Behavior Gap—Simple Ways to Stop Doing Dumb Things With Money."

While we clearly can't control the economy or the markets, our behavior is up to us. Studies have been published that try to quantify the impact of investor behavior on real-life returns. These studies typically compare investors' actual returns in stock funds to the average returns of the funds themselves. It's no surprise that the studies find the returns investors have earned over time are much lower than the returns of the funds themselves.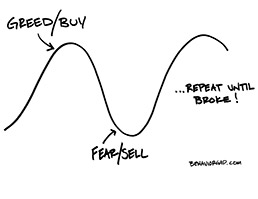 Richards coined the term "behavior gap" to label this shortfall between investor returns and investment returns. The gap occurs because investors traditionally buy when prices are high and they're feeling confident and sell when prices are low and they're scared. They make investing decisions based on how they feel, even though they know this is a recipe for failure. We're just wired so falling stocks scare us and rising stocks attract us.

It is incredibly difficult to maintain discipline and stick to your plan while other investors are caught up in euphoria or despair. Remember these sketches the next time the headlines and talking heads are screaming at you to buy or sell.•

__________

Kim is the chief operating officer and chief compliance officer for Kirr Marbach & Co. LLC, an investment adviser based in Columbus, Ind. He can be reached at (812) 376-9444 or mickey@kirrmar.com.