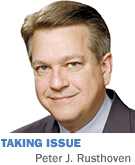 This March, Democratic gubernatorial candidate John Gregg said even "one second not spent on jobs and how that is entwined with education is just a second wasted." Gregg evidently has time to burn, wasting last week accusing GOP nominee Mike Pence of an "extremist" agenda that threatens women.
Gregg claims Pence has "been an extremist all along, but he wants to hide from that record." Indeed, warns Gregg, "he"—note the pronoun—"says that safe sex by itself destroys the American family and the culture that goes with it."
Wow. A bit off the "jobs and education" path, but pretty scary stuff. Gregg's alarum suffers only three problems.
The statement he references is 20 years old. Gregg's paraphrase is distorted. And—here's the kicker—the "he" isn't Mike Pence.
No, "he" is law professor Doug Kmiec, then at the University of Notre Dame, now at Pepperdine University, and in between U.S. ambassador to Malta, named by—wait for it—President Obama. The statement is from an essay in a 1992 Indiana Policy Review collection, titled "Indiana Mandate: An Agenda for the 1990s." Not exactly the decade on which most voters are now focused.
For what it's worth, Kmiec's point (mangled by Gregg) was that promoting "safe sex," in the sense of "advocating the 'safety' of sexual promiscuity," obscured that "genuine safety" was "in the exclusive sexual and marital commitment a husband and wife make to each other." Think most Hoosier couples and parents would find that "extremist"?
The book features essays from more than 20 writers. Among the "extremists" were then-U.S. Attorney Deborah Daniels, our current governor's sister; IBJ contributor Bill Styring, then vice president of the Indiana Chamber of Commerce (and still the only person who understands Indiana's public school funding formula); and—let me confess—yours truly, whose rap sheet then as now records working for that extremist Ronald Reagan.
My essay took the radical view that control of high school newspapers shouldn't be turned over to students, largely free of teacher supervision. (Yes, there was a bill back then proposing to do this.) Pence's essay? A page-long article supporting term limits. He and I disagreed on that—just one of those inside fights in the extremist family.
Gregg apparently justifies falsely attributing every statement in this 1992 book to Pence because Pence was then president of the Indiana Policy Review Foundation. This is like attributing to Gregg every statement by Democratic state representatives while Gregg was speaker of the Indiana House.
True, almost all comments by state representatives are models of thoughtful reflection. But even among the collected wisdom of Gregg's legislative cohorts, there may be a clunker or two that our Democratic gubernatorial nominee would disclaim.
Gregg's baseless attack on Pence reveals the desperation of a candidate whom many of us on this side of the aisle otherwise respected, despite political disagreements. Samuel Johnson famously observed that patriotism is the last refuge of scoundrels. Were Dr. Johnson with us now, he would note that labeling an opponent "extremist" is the first resort of trailing Democrats.
Yes, we have some extremists, as do our Democratic friends. But Pence isn't one of them.
To quote a different Democrat, Pence is a "conservative who is truly compassionate," who "can disagree with you and you can talk to him," who "will debate in a logical, even-handed manner." Sounds like the Mike Pence I know.
Who's the different Democrat? That's John Gregg—Gregg himself, not someone else, and two years ago, not 20—before gubernatorial ambition got the better of good judgment and honesty. It's a shame, truly, that ambition is changing him.•
__________
Rusthoven, an Indianapolis attorney and graduate of Harvard College and Harvard Law School, was associate counsel to President Reagan. Send comments on this column to ibjedit@ibj.com.
 
Please enable JavaScript to view this content.