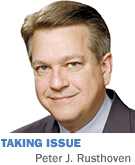 Among the reasons I wanted Mitch Daniels to run for president were his intelligence, convictions and executive ability. But beyond these, I believed three things made Daniels a great candidate:
He understands what must be done to fix our economic and fiscal crises. He approaches such issues in a straightforward, grown-up way that remains friendly while it commands attention and persuades. And this year, most voters are longing for just such qualities in our leaders.
These qualities are shared by another who didn't run for president, though Daniels and others urged him to. His name is Paul Ryan. Mitt Romney's selecting Ryan as his running mate is a superb decision, from a governance as well as a political perspective.
Many Democrats immediately rejoiced, saying Ryan was picked to placate "tea partiers" and will prove easy to label a heartless extremist. They're misreading this on both counts.
Yes, Ryan is popular among conservatives, of whom some (though not all) have been lukewarm on Romney. And Ryan further energizes the GOP base voters, who were already more enthusiastic this year than Democrats.
But the liberal echo chamber is wrong to tell itself this was "why" Ryan was picked. Many alternatives would also have pleased conservatives. The difference with Ryan is that pleasing conservatives is a subsidiary benefit of a selection made for larger reasons.
Naming Ryan transforms the race into a clear choice about the most important issues we face. Ryan had taken the lead on those issues, and is extraordinarily effective in communicating what we need to do and why.
This is important for the Romney-Ryan campaign. It's vital for the nation.
We are heading toward a fiscal cliff. The main cause is manifestly unsustainable entitlement spending. No serious person believes this can be fixed without reforming Medicare and Social Security.
Our president, elected to lead, demagogues and sits on the sidelines. Though his party controlled both houses of Congress his first two years, he has not passed a single budget. Meanwhile, our debt has ballooned on his watch to $16 trillion.
Ryan developed the budget that bears his name. Among other things, it would phase in changes that get entitlements under control, while not affecting benefits for those 55 and older. It would spur private-sector growth—absent which nothing else is possible—by cutting tax rates while eliminating unnecessary tax breaks.
This is just what a majority of Obama's bipartisan debt commission proposed. Obama ignored it. Instead, he runs ads saying we should "pay down our debt" by raising taxes on "the rich"—knowing full well this would cover under a third of what we pay simply for interest on the debt.
The Ryan budget passed the House and was strongly supported by thoughtful senators like Dick Lugar, whom no one can label heartless, irresponsible or extreme. Obama's campaign believes, however, that this is how Ryan can be portrayed. It is gearing up a reprise of 2010 Democratic ads showing a Ryan look-alike literally pushing Granny over a cliff.
I don't think this will work with voters outside Obama's base—which is to say, with voters who will decide the election. I think they will take their own measure of Ryan, and will reject as false the Democratic caricature of someone they will correctly see as likable, genuine and serious, and who treats them as adults in addressing problems that cry out for adult attention.
The best and worst things about our system are the same: We get the leaders we deserve. This time, let's hope we deserve the grown-ups.•
__________
Rusthoven, an Indianapolis attorney and graduate of Harvard College and Harvard Law School, was associate counsel to President Reagan. Send comments on this column to ibjedit@ibj.com.
Please enable JavaScript to view this content.