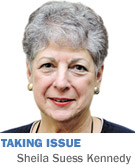 Equality is one of those principles that almost everyone subscribes to—a concept we can all endorse in the abstract, because in the abstract, we don't have to decide what it really means.
To religious folks, equality is often expressed as the belief that every human is equally worthy in the eyes of God. To the old communists, equality was measured in outcomes—giving everyone an equal piece of the pie. (It has finally dawned on most of them that when you divide the pie equally, irrespective of contribution to its production, eaters will vastly outnumber bakers. But I digress.)
In the United States, we pride ourselves on providing equality of opportunity, an environment in which everyone has an equal chance to go as far as his or her individual talent and diligence will allow. (We haven't figured out yet how to do this.)
Whatever definition of equality "floats your boat," as the kids might say, the U.S. Constitution requires equality before the law—meaning similarly situated citizens must be treated similarly. The government can distinguish between motorists and pedestrians, but it can't impose different sets of rules on black and white motorists, or treat Muslim children differently from Christian or Jewish ones.
Note that we are talking only about the operation of law. We aren't talking about religious beliefs, or private behaviors.
In this term, the U.S. Supreme Court will decide how the constitutional principle of equal protection applies to same-sex couples. The court has accepted two cases, one challenging the so-called Defense of Marriage Act, and the other appealing the 9th Circuit Court ruling that invalidated California's Proposition 8.
Same-sex marriage is now legal in nine states and the District of Columbia. The core question before the court in the DOMA case is simple: Can the federal government refuse to apply the same rules to legally married same-sex couples as it applies to legally married opposite-sex couples? What "compelling state purpose" could justify disparate treatment?
One of the DOMA plaintiffs is 83-year-old Edith Windsor of New York City. She was legally married to her partner of 40-plus years when her spouse died. She had to pay $360,000 in federal tax on the estate she inherited. Had she been part of an opposite-sex marriage, the tax law would have treated her as a surviving spouse, and she would have paid nothing.
Much has been written about Proposition 8, brought by political odd couple Theodore Olson and David Boies. These two high-profile lawyers were on opposite sides of the Bush-Gore recount, but they both passionately affirm the principle of equal protection, and successfully argued in the lower courts against submitting fundamental individual liberties to popular vote.
That passion is not shared by Indiana Attorney General Greg Zoeller; he has submitted an amicus brief—presumably on Indiana taxpayers' dime—arguing that, since same-sex couples cannot procreate, their marriages should not be treated equally.
It is also not shared by the Legislature, which will almost certainly authorize a referendum on a state constitutional amendment prohibiting both same-sex marriages and relationships that are "functionally similar" to marriage, whatever that may mean.
The eventual outcome of the same-sex marriage debate is not in doubt. On Nov. 6, electorates in four states voted for equality. The handwriting is on the wall.
Too bad our elected officials can't—or won't—read it.•
__________
Kennedy is a professor of law and public policy at the School of Public and Environmental Affairs at IUPUI. She blogs regularly at www.sheilakennedy.net. She can be reached at skennedy@ibj.com. Send comments on this column to ibjedit@ibj.com.
Please enable JavaScript to view this content.