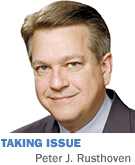 Like many conservatives, I am struck by the liberal media double standard on issues involving Israel. Two recent events bring this to the forefront.
One is the nomination as defense secretary of Chuck Hagel, whose record in this area is remarkable. Hagel was the only senator refusing to sign a 1999 letter condemning Russian anti-Semitism. He was one of four who wouldn't sign a 2000 letter supporting Israel. In 2001, he was one of 11 who wouldn't urge President Bush not to meet with the Yassir Arafat while PLO terrorism continued.
Hagel was then one of 12 who refused to ask the European Union to declare Hezbollah a terrorist organization. He also wouldn't join 77 senators—including Obama, Biden and Kerry—in sponsoring a 2007 bill urging designation of Iran's Revolutionary Guard Corps as terrorist.
Hagel's responses to criticism include such comments as, "The Jewish lobby intimidates a lot of people up here," and, "I'm a United States senator, not an Israeli senator."
Indeed. What would have been the reaction of The New York Times, The Washington Post or MSNBC had identical comments been made by a conservative nominated to a cabinet post by George W. Bush?
More tellingly, as Bret Stephens pointedly asks in The Wall Street Journal, what would the reaction be to comments such as, "The African-American lobby intimidates a lot of people up here," or "I'm a United States senator, not a Kenyan senator?"
Anyone uttering such words would be a political pariah. But when it comes to Israel and American Jews who support it (in Hagel-speak, "the Jewish lobby"), different standards apply.
Equally revealing is coverage of Al Gore's sale of the Current TV cable network, co-founded with Joel Hyatt, to the Al Jazeera Network—which will use the acquisition to expand the reach of its American outlet, Al Jazeera English.
Where does one start with the hypocrisy? The $500 million price will net Gore $100 million. This is all oil money—coming from Al Jazeera's owners, the Qatari royal family—filling the pockets of the world's leading crusader against fossil fuels and global warming.
Gore also failed to close the deal before year-end, so his $100 million payoff would escape the higher tax rates imposed—in the interests of "fairness," and with Gore's support—by the Obama administration. Apparently, paying your "fair share" is less important to Gore when it's his money.
More striking than Gore's hypocrisy, however, is the double standard again on display in liberal coverage of matters affecting Israel. Gore said he will now serve "proudly" on the Al Jazeera advisory board. Hyatt said he and Gore were "thrilled and proud" to sell to Al Jazeera, whose goals included "to speak truth to power."
Really. Here are examples (noted by Clifford May in National Review Online) of "truth" spoken by Sheik Yususf al-Qaradawi, host of the most popular program on Al Jazeera English's sister network, Al Jazeera Arabic: Qaradawi supported executing author Salman Rushdie for "blasphemy." He called Hitler's massacre of European Jews "divine punishment." Qaradawi added, "Allah willing, the next time will be at the hand of the believers."
Liberal media coverage of Gore's high-priced deal with Al Jazeera is mute on such associations. One wonders why.
Islamic terrorism threatens Western civilization, yet much of our media seems more concerned with avoiding any possible offense to the Muslim world. Meanwhile, Israel—the only democracy, and our only real ally, in the Mideast—has become fair game. This is not just topsy-turvy. It's foolish.•
__________
Rusthoven, an Indianapolis attorney and graduate of Harvard College and Harvard Law School, was associate counsel to President Reagan. Send comments on this column to ibjedit@ibj.com.
Please enable JavaScript to view this content.