ChaCha, the Carmel-based Q&A service that boasts how its human researchers trounce automated competitors when it comes to accuracy, plans to turn to its users for even more information.
The company plans to introduce a system called iKnow alongside other new features with the launch of ChaCha 2.0, which will likely happen in early April, company founder Scott Jones said.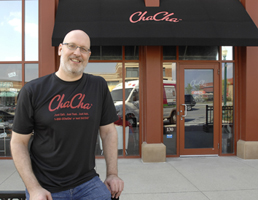 ChaCha founder Scott Jones says the new version of the service will shift its focus even more toward mobile customers. (IBJ Photo/Perry Reichanadter)
In ChaCha's earliest days, starting in December 2005, users would send questions via text messages to ChaCha, and people known as "guides" would earn 2 cents to 20 cents for every answer they dug up. That research created a huge database of answers that are automatically used when those same questions are repeated.
Over the years, ChaCha has developed a website and mobile app that collectively handle about 45 million questions every month, with the automated database serving as the first source of answers and the "guides" as the safety net.
The company has developed an algorithm that tracks how often people ask about a single topic. When enough questions are asked about a particular subject, ChaCha wants to know what its customers know.
Jones used the example of his son, who went through a craze over Houston Rockets Guard Jeremy Lin and blitzed ChaCha with questions about the basketball player.
With the iKnow system, "ChaCha will come back by saying 'You know a lot about Jeremy Lin. Do you want to answer some questions?'" Jones said.
An estimated 10 percent to 30 percent of users will do so, he added.
"In many cases, it's better answers. This is a passion for them."
ChaCha revenue topped $12 million in 2012, which was up from $7 million in 2011, but short of the $15 million to $25 million that Jones predicted early in the year.
The new version of ChaCha needs to help the company better establish itself in a flooded market if it's going to keep growing, according to Greg Sterling, a senior analysts at Opus Research in San Francisco.
"It's just been a difficult segment to succeed in," Sterling said, "not withstanding the fact that, on paper, a lot of this seems very logical. Why wouldn't you want humans? Humans can better understand a question. But for purposes of scale and economics, you have to balance people and machines."
Response quality will matter.
ChaCha had a public relations snafu in early 2012 after online tech publication Gizmodo ran a story about controversial responses to questions on sensitive topics such as race and abortion.
The answers actually came from Android-friendly Iris—an answer to Apple voice assistant Siri—but ChaCha was the one providing the results. ChaCha changed the answers that drew the scrutiny and apologized.
Now the message is about accuracy.
ChaCha commissioned the Butler Business Accelerator to prepare a research paper comparing the accuracy of ChaCha and 10 other Q&A services.
ChaCha won by far, scoring 72.8 on an "intelligence index," with second-place Ask.com scoring 63.9.
"This study's results support the hypothesis that Q&A platforms cannot rely on algorithmic search results alone to deliver quality answers," researchers for the Butler University consultation office wrote. "Search Engine Results Pages (SERP) lack deep semantic understanding of 'natural language' human questions, and, therefore, cannot account effectively for long-tail questions like those posed in this study."
But ChaCha needs brand recognition for its human element if consumers are going to support it in an increasingly tougher market, Sterling said.
Major players such as Google (which scored 50.1 on Butler's intelligence index) have tweaked their search results page to provide Q&A formats at the top, which prevents consumers from having to search through lists of links to find what they want.
"The novelty of sort of searching for things and looking at a lot of different sources is done," Sterling said. "People want the most reliable answer as quickly as they can get it."
Blame mobile access, with its demands for quick delivery of information.
Jones said ChaCha, with its new version, is trying to shift its focus even more toward mobile apps and a mobile-friendly website. Two-thirds of the traffic on ChaCha.com comes from smart phones or tablets, with the remainder coming from desktop or laptop computers.
"That's flip-flopped from before," he said.
Please enable JavaScript to view this content.