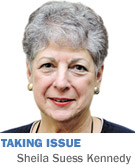 When the Legislature is in session, Hoosiers have learned to worry.
This year, lawmakers have been working overtime to exasperate reasoning people statewide. Concerned about gun violence? Arm public school employees. What could possibly go wrong? Is a family-planning clinic prescribing a (legal) pill to induce early abortions? Require the clinic to meet standards devised for surgical facilities. (What, no particle accelerator?) Has some whistleblower embarrassed an animal-abusing farmer? An "ag-gag" bill will make such photography illegal.
At least those proposals—and others equally harebrained—would apply statewide. During much of this session, the General Assembly has taken pains to remind those of us who live in Indianapolis that we do not have anything resembling home rule.
The Republican super-majority, in a display of really breathtaking arrogance, has let residents of Indianapolis and its collar counties know that they don't like cities and they really don't like democracy. The so-called "imperial mayor" bill is sailing through the process, and lawmakers have once again derailed the measure that would allow us to decide for ourselves whether we want mass transit enough to pay for it.
Legislative hostility to Indianapolis in a Legislature dominated by rural interests is simply a fact of Indiana life. At the Statehouse, there is an absolute lack of sympathy for, or understanding of, urban issues. It's bad enough that most Indiana lawmakers really do not care about Indianapolis' problems; what's infuriating is that, not only do they refuse to address our issues, they won't allow us to tackle them, either.
The imperial mayor bill, among other things, gives the mayor complete and non-transferable authority over the police department, control of the Metropolitan Development Commission, and unprecedented control over the budget process. It also limits the ability of the council to levy PILOTs (payments in lieu of taxes), and eliminates the council confirmation process for department heads. A provision that would eliminate the at-large council seats has been removed, although Statehouse scuttlebutt suggests it will re-emerge in conference committee.
The obvious intent of the bill is to neuter the City-County Council, which is controlled by Democrats. Less obvious, but far more troubling, the bill is an invitation to corruption.
While most of the media attention has been on the proposal to eliminate the at-large council seats, the most dangerous parts of the bill are those giving the mayor control of the development commission and removing council oversight of many, if not most, spending decisions. It effectively removes important checks and balances on administrative behavior at a time local media oversight is virtually non-existent.
Actions by the development commission can move big money; for one thing, the commission can ensure successful financing for a project that would otherwise be unable to secure such backing.
The current appointment structure was intended to prevent decisions based upon cozy relationships and political connections rather than upon sound principles of land use. The imperial mayor bill will facilitate such cronyism.
The refusal to allow Indianapolis citizens to decide for ourselves whether we want mass transit is the most infuriating action taken in a legislative session that has produced plenty that is infuriating. The notion that a study committee is needed is laughable—central Indiana transportation organizations have studied the matter for the last 20 years.
Opponents have made it clear that their real problem with the bill springs from their belief that they are better able to make decisions than the people those decisions will affect.
Welcome to Indiana.•
__________
Kennedy is a professor of law and public policy at the School of Public and Environmental Affairs at IUPUI. She blogs regularly at www.sheilakennedy.net. She can be reached at skennedy@ibj.com. Send comments on this column to ibjedit@ibj.com.
Please enable JavaScript to view this content.