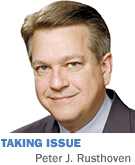 I don't comment on columns by my liberal "Taking Issue" counterpart Sheila Kennedy. This week is an exception, prompted by reader requests to respond to her Aug. 12 "Detroit reflects our moral bankruptcy" column for impugning the motives of those who don't share her views.
Kennedy uses Detroit's bankruptcy to discuss our "widespread moral bankruptcy." She believes we're afflicted with "mean-spiritedness," a "re-emergence of social Darwinism, the belief that strongest or fittest should survive and flourish in society, while the weak and unfit should be allowed to die." Her every example involves Republicans.
Let's start with "social Darwinism," a label President Obama also affixes to the GOP. No serious Republican thinks "the weak and unfit should be allowed to die." Saying this is what those who oppose Obama policies believe is beyond caricature. It is mean-spirited, precisely "the lack of civility" Kennedy elsewhere decries.
Moving to her examples: Republicans, she says, offer "no alternative" to Obamacare repeal, sending a "clear" message—"leave 50 million Americans without access to health care." This, too, echoes the president, who says the GOP's "unifying principle" is "making sure 30 million people don't have health care."
Stop. Republicans propose alternatives, including eliminating barriers to cross-state insurance competition and targeted approaches to issues such as coverage portability. Saying Obamacare opponents want to deny health care to 30 million Americans (or is it 50?) is neither accurate nor civil.
Inaccuracies go beyond demonizing GOP motives. Many without coverage are young people who don't want it. The linchpin of Obamacare is making them buy it, to subsidize coverage for others.
Meanwhile, the act unravels, as the administration unilaterally suspends key provisions. The latest delay is the limit on out-of-pocket costs, a move hidden in obtuse February regulations.
Key backer Max Baucus, Democratic Senate Finance Committee chairman, says the act's headed for a "train wreck." A new CBS poll shows a majority disapproves of Obamacare (54-36), and a plurality (39-36) favors outright repeal. Do Baucus and all these Americans just want to "make sure" 30 million or 50 million people don't have health care?
Kennedy's other examples are no better. The Paul Ryan budget, she says, "achieves cost savings by punishing people for being poor." The "ax of the sequester fell heavily on programs benefiting poor women and children." Proposals to drug test welfare recipients are "designed to degrade people who are already down and out."
Please. Slowing unsustainable growth in entitlement programs, otherwise headed for collapse, is not punishing the poor. The sequester (a White House idea!) also slows spending increases, hits defense more than domestic spending, and exempts Social Security and Medicaid.
Drug tests are routine for athletes and in many workplaces. No one claims this is to "degrade" those tested. People may debate testing welfare recipients. But the idea that tax dollars shouldn't subsidize drug abuse is not outlandish, masking desire to degrade the "down and out."
To many of us, the Detroit bankruptcy (which prompted Kennedy's column) demonstrates that liberal policies—always defended as helping working folk and the less fortunate—don't work. Detroit's staggering unfunded pension liabilities, "negotiated" by city unions with city officials elected with union support, is a dramatic illustration.
But whatever the merits of our debates on Detroit or other topics, let's be civil about each other's intentions. I don't dispute the motives, as opposed to the policy prescriptions, of Sheila Kennedy and my other friends on the left. Some reciprocity wouldn't hurt.•
__________
Rusthoven, an Indianapolis attorney and graduate of Harvard College and Harvard Law School, was associate counsel to President Reagan. Send comments on this column to ibjedit@ibj.com.
Please enable JavaScript to view this content.