WEST LAFAYETTE—As president of Purdue University, Mitch Daniels wants nothing less than to change the rules of higher education.
But first the former governor must convince the school's skeptical professors that his plans aren't just politics, but actually good for Purdue.
After considering and rejecting ways to make Purdue a high-end private university, Daniels now wants to establish Purdue as the nation's premier place for "value" education. To do that, Daniels is emphasizing a low-cost, high-efficiency business model.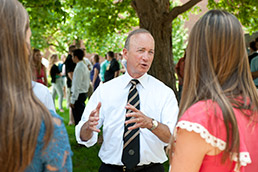 Daniels says the future college residential learning experience must be made superior to merely watching classes online. (Photo courtesy of Purdue University)
Even more important, Daniels is trying to overturn the age-old system of values in higher education in which each school is essentially ranked on how much it mimics Harvard: Whichever school spends the most money on the most things wins.
To do that, Daniels is trying to create new ways to measure student learning, graduate success and the overall academic quality of Purdue. Such a system of measurements would help students, parents and donors choose schools based on the best bang for the buck—a game in which Daniels expects Purdue to rise to the very top.
"Today, you get credit for spending more money. There's nothing in there about how well it works," Daniels said in an interview. "There's definitely a need and probably a market for better assessments. It's both the right thing to do, but I also think it will prove to Purdue's benefit."
In an odd twist of politics, Daniels, 64, is getting a strong assist from President Obama, whom Daniels has criticized repeatedly and whom he considered opposing in the 2012 presidential election. Obama on Aug. 22 proposed a new system of academic quality metrics to determine levels of federal student loan funding.
But Daniels faces lots of skepticism at home. A summer of controversy has erased most of the good will he had built with faculty since he was named president in June 2012.
First was the disclosure of emails from Daniels' time as governor where he appeared to urge his staff to purge the writings of historian Howard Zinn from Indiana's K-12 and teacher development courses. Then came a scandal over how Indiana officials made last-minute alterations of an A-F grading system for schools, a system Daniels had favored, to the benefit of a well-connected charter school.
Now, Purdue faculty fear Daniels is set to implement something like an A-F grading system for Purdue.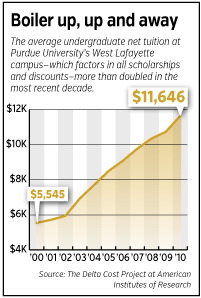 "It's the hostile corporate takeover of education," said David Sanders, a Purdue biology professor, who expressed concern that measuring student outcomes like profit and loss would hurt rather than help the quality of Purdue.
And finally, Daniels refused for a time to join most other university presidents in the nation in signing a letter calling on Obama and Congress to increase research funding to universities. Daniels said such a call was irresponsible given the nation's fiscal condition.
That caused even more consternation than the Zinn saga among Purdue professors, the majority of whom are scientists who depend in some way on federal research funding. Some professors laid into Daniels at an Aug. 20 dinner gathering of the faculty Senate, saying his decision was blatantly political.
Two days later, Daniels reversed course, saying he would sign the letter because the university presidents had previously called for congressional action to improve the nation's finances.
The summer events reinforced a sense among Purdue faculty that Daniels is still waging the policy battles that dominated his time as governor and, before that, as a White House and congressional staffer.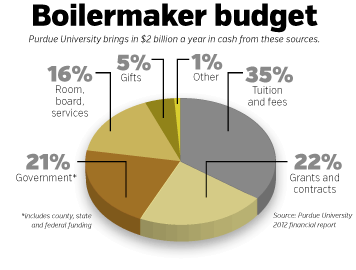 "The issue is not that he has a political point of view," Purdue English professor Kristina Bross said in an email, "but that it seems to be getting in the way of his job as Purdue's chief advocate."
Some at Purdue worry that a frustrated faculty could derail Daniels' ability to function as president—because faculty buy-in, while not formally required, is key to making anything work at a university.
"We have to be able to find a middle ground here," said David Williams, a Purdue professor of medical illustration, who is chairman of the faculty Senate.
Daniels' biggest fear
Besides politics, Daniels and Purdue's faculty also do not share the same sense of urgency for changing how Purdue does business.
Nearly everyone across higher education recognizes that the ways it has been financed cannot continue. For two decades, state support has not kept pace with inflation, which forced public universities to hike tuition. But an arms race of building and hiring spurred those tuition hikes to run at nearly four times the rate of inflation.
In 2010, the average undergraduate at Purdue paid twice as much in tuition—about $12,000 even after subtracting all discounts and scholarships—than the average undergrad did in 2000.
The recession and slow recovery made students far more price-sensitive than before. And now the federal government is halting further growth in research funds.
"Leadership on almost every campus is focusing on strategies to create a new business model that is able to respond to new pressures," said John Walda, a former Indiana University trustee who is now president of the National Association of College and University Business Officers.
"There certainly is tension around the topic and it's understandable because the constituency on campus most immediately and directly affected would be the faculty," he added. "New business models often call for new pedagogy, for different schedules, and for different relationships with students. And those can be difficult."
Purdue could afford to wait longer than nearly all other universities before it changes.
The school has a world-class reputation among the tech entrepreneurs in fast-growing places like Silicon Valley, Korea, Taiwan and China. And in an August report, Moody's Investors Service rated Purdue as one of only eight public universities with its highest Aaa credit rating.
The university pulled in a record $2 billion in cash last year from its 75,000 students and several other sources.
But Daniels is driven to change by a fear that Purdue's beautiful campus of brown brick buildings, fountains and mature trees will be rendered obsolete by online technologies that allow teaching to occur virtually anywhere.
"The stay-awake issue for somebody with an assignment like mine is, 'What is it that in five to 15 years will still persuade a student to spend a lot of money and go live somewhere for four years or more, to get something that people are offering in more convenient fashion, without you even having to leave your house?'" Daniels said. "To sustain the population of students that we have will not be an easy thing."
Four-part strategy
It will soon become clearer what exactly Daniels plans to do to combat these challenges. At the Sept. 9 meeting of the faculty Senate, Daniels will unveil four initiatives he and the trustees worked out during their summer meetings.
One plan is to strengthen Purdue's programs in science, technology, engineering, agriculture, aeronautics and math—what Purdue calls its STEAM disciplines. Late last year, Purdue committed to hiring 100 new engineering professors, which would mark a 30-percent expansion of its bread-and-butter program.
Another plan is to "transform the way learning occurs," using information technology. This is where student outcome metrics come in.
But Purdue will also continue its multiyear efforts to use information technology to reform the basic classroom lecture environment that has defined universities for at least the past century—and now to use IT to determine what parts of that experience are key to making a residential learning experience superior to merely watching classes online.
Daniels also said he wants to transform learning by "making Purdue more of a year-round university." That comment signals that he is revisiting the "trimester plan" first proposed by Daniels' predecessor, France Cordova.
The plan has been unpopular with Purdue professors and Daniels earlier this year backed off of it somewhat. But in more recent comments, he has said Purdue must look at allowing students to complete their degrees faster.
A third initiative is to make new investments in research, "especially a couple that we can generally excel in," Daniels said. Those investments will include the drug discovery initiative that got under way a couple of years ago. Purdue is working to add faculty in that area and is spending $29 million on a new building focused on drug discovery.
The idea is to capitalize on trends in the pharmaceutical industry, where drug companies have scaled back in-house discovery labs and are looking to spend more money funding academic drug research.
Finally, Daniels will talk more about how Purdue will make itself affordable without compromising quality. He put Purdue firmly on that path in March when he decided to freeze tuition for this new school year and instead cut annual spending $20 million. Daniels also cut prices at Purdue's food services operations 5 percent.
New revenue
Daniels knows he needs more than leaner operations to maintain low costs for students. So he is seeking new sources of revenue.
He said the three most likely sources are the usual suspects: fundraising, more public funding and better efforts at turning Purdue's vast array of patents and discoveries into money-making products and companies.
He even acknowledged Purdue is considering leasing its assets to private operators. In 2012, The Ohio State University leased its parking operations for a whopping $483 million. Indiana University looked at a similar transaction last year, but it is still evaluating it after significant controversy.
"No idea is out of bounds if it might allow us to concentrate our resources on what's most important: teaching, research and engagement," Daniels said. "There's no excuse for spending extra money or missing an opportunity to bring in funds that could help us make the university better."
Daniels tapped Dan Hasler, Indiana's secretary of commerce under Daniels, to head up Purdue Research Foundation. Hasler and the foundation staff have implemented a series of policies designed to give professors and students better terms for turning their ideas into commercial ventures.
Hasler has set a two-year goal of doubling the number of startup companies formed by Purdue each year, from eight last year to 16.

Spurgeon
And while Hasler said he has set no goal for increasing the $9 million in royalty revenue Purdue derived from its inventions last year, Thomas Spurgeon, chairman of the trustees, said he expects a significant increase in the next three to four years.
Getting new revenue soon is critical, Spurgeon said, so Purdue can continue to pay faculty at competitive rates.
"As you attempt to create a greater-value education, and you freeze tuition or you reduce it, you've got another problem then: Are you getting out of scale in terms of the monies we have to operate?" Spurgeon said. "It's even more important that this become a team decision and everybody accepts what that brings."
Rejected options
Daniels and the Purdue trustees settled on their present course after considering options that were, if anything, more daring.
One alternative was making Purdue an entirely private university. During Cordova's tenure, university leaders privately asked the Legislature if they could take Purdue private—which would have entailed raising tuition to nearly $30,000 for all students.
That idea went nowhere with Sen. Luke Kenley, R-Noblesville, head of the Senate Appropriations Committee. He said Purdue would have to write a check paying back the state for all the buildings the state had funded during the school's 144-year history.
A second option was known as the Cornell model. Cornell University in New York is, like Purdue, a land-grant institution that receives state funding. But that state funding is only for four of Cornell's 13 colleges. The other nine are operated as a private, Ivy League, university.
The high tuition for those private colleges helps subsidize the state-funded colleges.
Kenley said the Cornell model was never raised by Purdue leaders, but that if it were, it would be met with similar skepticism as the privatization option. Daniels acknowledged that he has considered the Cornell model, but is "not presently."
Blocked on its attempts to charge more for its degrees, Purdue has gone back to its roots: charging affordable tuition, but finding ways to conduct groundbreaking research that can be turned quickly into products and companies.
The only way to do that, however, is to create new ways to prove quality—other than price charged and money spent. And that's why the Purdue trustees made the creation of new measures of learning and academic quality two of the five things that will determine whether Daniels gets a $126,000 bonus each year.
"I believe the terms of competition going forward will be value," Daniels said. "It's my conviction that, when there are sensible measurements of how much students grew during their college experience, when they're out there and more common, that Purdue University is going to look great."•
Please enable JavaScript to view this content.