A pending bill could usher in unprecedented cooperation between Indianapolis Public Schools and the city's charter schools, resulting in significant financial benefits for both.
Backed by surprising support from new IPS Superintendent Lewis Ferebee, HB 1321 would allow IPS to sign contracts with charter school operators to provide building space, busing and possibly other services at cost or less to charter schools—alleviating what has been a huge financial headache for those schools.
New IPS Superintendent Lewis Ferebee is trying to work with charter schools.
If used widely, such contracts could help IPS reduce the $30 million it currently spends on unused space in its buildings.
The bill also would allow IPS to place most of its existing 65 schools with independent management teams—either a school's current leadership or even outside groups, like charter operators. Any school given such autonomy would not be part of the IPS union contract, a provision that has angered teachers unions.
That shift could save the district on teacher salaries—since non-unionized charter school teachers make $10,000 less, on average, than their unionized peers in traditional public schools. With more than 2,000 teachers in IPS, the savings could be substantial.
Without a new approach, IPS leaders say they likely will have to close more of IPS' 65 schools.
"We tried it the other way, and that didn't work—being protected, closed, the way Dr. White ran things," said Annie Roof, president of the IPS school board, referring to Ferebee's predecessor, Eugene White.
Ending IPS' long-standing ill will toward the 31 K-12 charter-operated schools within its borders could make Indianapolis a target market for large national foundations that have thrown millions into the expansion of charter schools in cities like New Orleans, New York and Washington, D.C.
For example, the Seattle-based Gates Foundation gave out $25 million in grants at the end of 2012 to cities that created "charter-district compacts" to encourage such cooperation.
Ferebee flew to Houston on Jan. 28 to observe one of the collaborations that has received Gates funding, the so-called SKY Partnership between suburban Houston public schools, the KIPP charter schools and the Yes! Prep charter schools.
"Looks like a win for all," Ferebee wrote on his Twitter account from Houston. "More options and enhanced efficiencies."
Teachers unions, including IPS' own teachers, were caught off guard by Ferebee's vocal support of HB 1321. They are dead-set against the bill.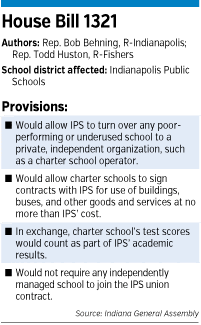 "The teachers felt very blindsided and disrespected when the superintendent shared what he did in his testimony," said Teresa Meredith, president of the Indiana State Teachers Association. "They felt stunned by his move."
The teachers, as well as some Democratic legislators that opposed the bill, are working to amend it to extend the union contract to any schools that receive this independent status.
Pressure builds
The growth of charter schools has been putting pressure on IPS to cooperate more.
In 2001-2002, the year just before charter schools arrived in Indianapolis, IPS enrolled 41,240 students. At the end of the 2012-2013 school year, the most recent for which data are available, enrollment at public schools within IPS boundaries was virtually unchanged at 41,723.
The only difference was that three out of every 10 students were attending a school run by a charter organization instead of IPS.
IPS now enrolls 29,800 students, while schools runs by charter organizations enroll nearly 11,920.
Those figures include students enrolled at four former IPS schools that were seized by the state and placed under the control of charter organizations: Arlington, Howe and Manual high schools, as well as Donnan Middle School.
And charter school enrollment continues to rise. Already this school year, five new charter schools opened inside IPS boundaries. And another six schools are approved and planning to open next year.
Combined, those 11 new schools expect to enroll 3,000 more students by the end of the year. If they succeed at hitting those numbers, it would mark a further 25-percent increase in charter school enrollment at schools inside IPS' boundaries and would give charters one out of every three public school students inside the district. 
Meanwhile, IPS' enrollment has declined to the point the district's buildings are only 72 percent occupied, on average.
The district spends $30 million each year on unused building space, according to a 2013 analysis published by the Lewis Hubbard Group, a group of local leaders seeking to find ways to help IPS.
That analysis estimated that IPS could fit more than 17,000 more students into its existing buildings.
IPS can form partnerships with charter schools now, even without HB 1321. For example, its Gambold High School on Indianapolis' west side is leasing space to Enlace Academy, a charter school that opened last summer.
And before that, KIPP Indy for several years shared space with an IPS middle school. The savings were "substantial," said Emily Pelino, the executive director for KIPP's Indianapolis schools.
KIPP would have kept leasing, Pelino said, but IPS decided to end the lease. So KIPP ended up buying a building from IPS for $1—which state law requires of vacant buildings held by traditional public school districts.
"It does seem like there would be opportunities to collaborate around co-location," said Pelino, who even now is talking to IPS about using space in one of its buildings for new schools that KIPP has been approved to start.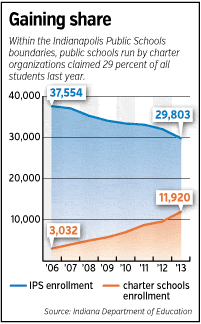 Finding a facility is one of the biggest challenges charter schools face, noted David Harris, CEO of The Mind Trust, an Indianapolis-based education reform group. And while public schools can fund buildings by raising local property taxes, charter schools have no access to such funding, meaning their spending on buildings comes either through funding that would otherwise go to instruction or through fundraising.
"If by partnering with IPS, charter operators can get access to buildings for free and transportation, it takes a significant burden off their budgets, which they can then reinvest in teachers," Harris said.
A 2011 analysis by The Mind Trust found that IPS spent $1,400 per student on transportation. But charter schools, such as KIPP Indy, spend about $1,000 by hiring private contractors.
So it's possible that IPS could, by selling services to charter schools, reduce some of its excess spending.
A new approach
Ferebee's predecessor, Eugene White, tried to compete with charters by creating innovative new schools within IPS, such as its Montessori schools and magnet programs focused on such topics as medicine, public policy and technology.
That strategy worked reasonably well, at least for propping up enrollment, until the 2012 state takeover of four IPS schools, which sapped IPS of about 3,000 students, including three of its high schools.
After a slate of reform-minded candidates won election to the IPS board in 2012, they forced out White and hired Ferebee last year.
Those board members see charter schools not as the enemy, but as a potential partner in their efforts to improve the district.
Roof, the IPS board president, said the district wants to act first to cooperate with charter schools before the state Legislature starts mandating that IPS share its buildings with charter or private schools, as lawmakers have done in other cities.
Also, the potential for efficiencies is another key goal.
"This plan can keep us sustainable and not be losing students out of our district," Roof said. "We still pay for services for 50,000 students, even though we have 30,000."
Another IPS board member, Caitlin Hannon, said HB 1321 would give IPS new tools to control the quality of charter schools that open inside its district.
"We can act as a barrier to entry for crappy charter schools. If we're willing to work with good ones by sharing space, the crappy ones will have to come up with their own infrastructure, which isn't easy to do," Hannon wrote on her public Facebook page.
Harris, The Mind Trust CEO, would like to see far more radical changes to IPS' governance, which would allow for a flowering of independently run schools that have access to the funding resources of the traditional district. But he said HB 1321 is a good start.
"Dr. Ferebee deserves great credit for courageously advocating for these kind of needed changes," Harris said, "particularly as it relates to the collective bargaining agreement."•
Please enable JavaScript to view this content.