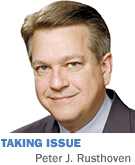 When this column first talked about Obamacare, a reader called the term disrespectful. The president disagreed—well, he did in 2012—saying he was "fond of this term" and "actually like[s] the name, because I do care—that's why we fought so hard to make it happen."
That was then. Now, Obama fights to keep his namesake achievement from happening.
The latest revisions-by-decree alter the mandate that businesses provide employee health insurance. The law says this takes effect this year. No matter. The president just exempted firms with 50 to 99 full-time employees till 2016. For larger firms, he changed the 100-percent coverage requirement to 70 percent in 2015 and 95 percent thereafter.
Obama's unilateral statutory rewrites now total in the 20s. "Obamacare," The Wall Street Journal notes, "is useful shorthand for the Affordable Care Act not least because the law increasingly means whatever President Obama says it does on any given day."
The lawlessness is astounding, underscored by Obama's promise to veto legislation making the very changes he imposes by fiat. Charles Krauthammer is right. "This is stuff you do in a banana republic."
Along the way, logic and language take a beating. Consider:
The president insists the act is not a tax. His lawyers argued otherwise to the Supreme Court. Changing the statute willy-nilly is now justified based on "authority to grant transition relief" under an Internal Revenue Code provision authorizing "needful rules and regulations" on taxes.
And why is "relief" even needed? The administration vehemently disputed GOP claims that the employer mandate disrupts the economy, causing firms to cut worker hours, shift employees to part time, and stop hiring. It now says delaying the mandate is needed to ease such disruption.
Then there's the new Congressional Budget Office analysis showing Obamacare will decrease the work force by 2.5 million because its subsidies discourage choosing to work. No surprise to those who understand people respond to government-created incentives. So let's look instead at what Obamacare defenders say.
Nancy Pelosi calls the CBO study good news, showing Obamacare frees workers from "job lock" (keeping a job just to keep health insurance). Nice touch. Job lock was thought bad because it kept folks from moving to better jobs or starting new businesses.
A GOP solution was insurance portability. Now, courtesy of Pelosi, we know the answer is subsidizing choices simply not to work, paid for by taxpayers who do.
Obama himself praises this as increasing worker (or should it be non-worker?) "flexibility." Others, including Press Secretary Jay Carney, delve deeper into Orwellian newspeak, saying this enhances "freedom," which must be good.
So, to FDR's list of four—freedom of speech, freedom to worship, freedom from want, freedom from fear—we may add Obama's fifth: freedom to choose not to work, because others must support you.
But let's use Carney's own, punchier phrasing of this Obamacare benefit for workers: "It's not anything but an added choice that they have that allows them more freedom, to use a certain buzzword."
How far we've come since President Kennedy, who called Americans "the watchmen on the walls of world freedom." So said his final speech, whose delivery was prevented by assassination.
Somehow, I don't think JFK had in mind "freedom not to work, paid for by others." But having actually fought for freedom, he probably didn't understand it was a "buzzword."•
__________
Rusthoven, an Indianapolis attorney and graduate of Harvard College and Harvard Law School, was associate counsel to President Reagan. Send comments on this column to ibjedit@ibj.com.
Please enable JavaScript to view this content.