Former criminal defense attorney Mark McSweeney admits his potato chips don't count as healthy. But cutting a slice off the $35 billion-and-growing snack food industry was hard to pass up.

"It's a food that everybody eats a lot of, even though they really shouldn't eat a lot of it," he said with a laugh. "It's like drink responsibly. Eat responsibly."

McSweeney launched Broad Ripple Potato Chip Co. last year out of his existing business, a franchise of Great Harvest Bread Co. near 62nd Street and Binford Boulevard.

His goal is to capitalize on the fresh-ingredient, buy-local movement—offering a snack food worthy of pairing with a local craft brew. The signature chips are dusted with salt, garlic, sugar and spices the company does not reveal, and they come in a brown paper sack that resembles a lunch bag.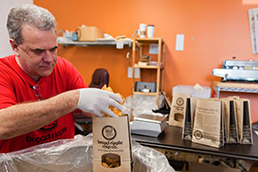 Mark McSweeney, owner of Broad Ripple Potato Chip Co., fills a chip bag at his north-side business. (IBJ Photo/Eric Learned)
A year after setting up in a handful of Indianapolis specialty shops, the chip maker will soon start supplying 17 Kroger stores in central Indiana. The deal with the major grocery chain adds to the four Marsh Supermarkets McSweeney already supplies, plus Pogue's Run Grocer, Safeway, Green BEAN Delivery and several other local businesses.

Broad Ripple Potato Chip finished 2013 with a meager $4,000 in revenue as it got off the ground. But with large contracts lining up, McSweeney expects sales to top $100,000 by the end of 2014.

The chips retail for about $3 for a 4-ounce bag, which pushes the prices well over big names such as Frito-Lay, which charge the same price for two or three times as many chips.

But in spite of the higher price point, buy-local trends have carved out a big share for small firms like McSweeney's. About 24 percent of U.S. snack-food companies had fewer than five employees, according to research firm IBISWorld.

"Due to the growing popularity of premium, organic and novel snack food, many consumers are willing to pay a premium for these goods," Hester Jeon, a food industry analyst for IBIS, wrote in an email.

Pogue's Run Grocer, which is part of the Indy Food Co-op, doesn't usually have any problem selling its weekly stock of 90 bags of Broad Ripple Potato Chips at $3.19 apiece, general manager Nathan Roberts said.

It helps that there isn't much competition save for The Amazing Potato Chip Co., which launched in 2008 and has a store at City Market.

Owner Larry Carman said the local "foodie" movement was already gaining steam when he launched the company, but no one was making chips for retail sale.

"It has been good for us right from the start," Carman said. "But if you're going to start a potato chip business, who do you turn to for help?"

Carman's company, which also makes popcorn, wholesales like McSweeney's, but they each have their own niches. While McSweeney targets grocers, Carman sells to four downtown hotels—The Alexander, Hyatt Regency, JW Marriott and The Omni Severin—as well as Bankers Life Fieldhouse.

Beyond bread

Frying potato chips and baking bread is a far cry from McSweeney's original career as a criminal defense attorney in St. Louis.

"I wasn't a very contentious person. I didn't like conflict," said the soft-spoken 56-year-old.

He knew about Great Harvest Bread because he shopped at one of the stores near his parents' home in St. Louis. Buying a gourmet bread franchise sounded like a better occupation to him.

Because another franchisee had already claimed St. Louis as a sales territory, McSweeney moved to his wife's hometown of Indianapolis in 1988.

He and six employees keep the bread franchise going. It has survived the low-carbohydrate-diet craze, the emergence of Panera Bread and personal health issues for McSweeney that resulted in a kidney transplant.

Even with all those challenges, after more than two decades of making and selling bread McSweeney decided he was ready to try something new.

Potato chips piqued his interest, so he bought a counter-top fryer for $150 on Amazon.com and began experimenting.

Spud science

He quickly found out that potatoes are complicated.

"My iPad must have 500 bookmarks for chips that I've read in the last two or three years," McSweeney said.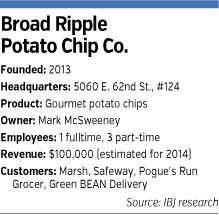 Major producers, such as Frito-Lay, buy potatoes with less sugar specifically grown for chips. Sugar caramelizes when cooked, darkening the color too much or outright burning them. But "chipping potato" suppliers only sell in massive quantities intended for large manufacturers, which cut McSweeney out of the picture.

He turned to grocery store staple Russets and began experimenting, with help from Boise State University researchers.

Some of their advice: Find a supplier that stores potatoes at 45 degrees Fahrenheit or higher; lower than that makes the potatoes too sugary. More than 60 degrees would be enough to actively reduce sugar levels, he learned.

After sizzling a few minutes in canola oil, the chips come out heartier and darker than the brand-name variety. Then, they get a dusting of salt, garlic, onion and sugar, along with spices.

It took about three years to get things right.

"A lot of it was trial and error," McSweeney said. "Figuring out which potatoes to use and how to condition them, how to fry them, the temperature, all that."

Consumers have responded favorably, according to Roberts, the general manager at Pogue's Run Grocer.

"You have this much better tasting product because they don't cook them to death," he said.

Chip labors

With the recipe in place, McSweeney had to figure out how to make and ship potato chips while simultaneously working through the red tape that comes with contracts at major grocery chains.

The production setup is far from Six Sigma perfect at the north-side shop set back from Binford Boulevard.

The company has graduated from a counter-top fryer to industrial units installed in a corner of McSweeney's bread business. One full-time and three part-time employees—some of whom also work part-time at the bakery—prepare and cook the chips by hand.

McSweeney spends most of his time in a van delivering to stores.

"Everything's done by hand, from cutting the potatoes to using these machines," he said as he pointed to a manually operated slicer.

"Every time they're fried in the fryer, you've got to be poking at them so they're not sticking together. Once they're done, we have to put them in bags, seal the bags, then deliver them. There's a lot of stages of work involved."

Pug mug

The bags themselves are a point of pride for McSweeney.

A pug—similar to his own—crowns a window showing the chips inside.

"They're just so photogenic," he said about the dog breed. "The only thing negative about it is some people think they're dog treats."

He found an Internet image of a pug by an artist in Brazil. However, the man did not speak English, so McSweeney used an interpreter to negotiate a deal. They agreed on $200 upfront and a small royalty fee—a pittance compared to the thousands of dollars a logo could have cost, McSweeney acknowledged.

New markets ahead

Broad Ripple Potato Chip, because it sells a gourmet product at a comparatively steep price, mainly focuses on vending to specialty shops and stores in the more affluent suburbs. McSweeney did nab a contract with the new Marsh downtown, he noted.

Most stores display gourmet chips separately from the big brands, often in deli sections or in checkout aisles, which has helped McSweeney's product stand out from what consumers usually find in the snack-food aisle.

The chips haven't developed enough of a following to draw people to stores on their own. But people are starting to recognize the brand when they shop, said Pogue's Run's Roberts.

"It's very much an impulse purchase," he said.

McSweeney is starting to eye new markets as he wraps up his deal with Kroger. Bloomington and Fort Wayne would likely be his first targets outside of Indianapolis.•