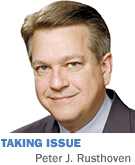 On June 3, Mississippi Republicans took a step down the path traveled two years ago by their Indiana counterparts. Ordinarily, Hoosiers might think Mississippians would do well to follow our lead. Not this time.

No, the Hoosier example being followed here is denying renomination to a GOP senator otherwise certain to be re-elected. In 2012, as we all know, Sen. Dick Lugar was challenged by Richard Mourdock. Mourdock, backed by Tea Party groups and the Club for Growth—headed by former Indiana congressman Chris Chocola—painted Lugar as insufficiently conservative.

Voters in a low-turnout primary agreed. Mourdock then lost to Democrat Joe Donnelly, who would never have defeated Lugar. Credit the Tea Party with another Democratic Senate victory, flipping an otherwise solidly Republican seat.

Another such flip is in the offing. Mississippi Sen. Thad Cochran is being "primaried" (to use the neologism) by Chris McDaniel. McDaniel, backed by Chocola's Club for Growth, Sarah Palin and other self-proclaimed "real" conservatives—paints Cochran as too liberal.

On June 3, McDaniel got 49.5 percent of the vote to Cochran's 48.9, forcing a run-off three weeks hence under state law requiring a majority for nomination. If Cochran wins, the seat stays Republican. If McDaniel emerges, who knows?

Here's another question: How many Senate seats do Republicans have to lose before some in my party quit listening to Palin, Chocola and other leaders of what one of my very conservative friends aptly calls the "conservative grievance industry"?

Remember the three races squandered in 2010?

In Delaware, the "establishment" GOP candidate was Mike Castle, who had won 10 statewide races (one for governor, and nine times for Delaware's lone House seat). Democrats couldn't defeat Castle. Tea Partier Christine O'Donnell, backed by Palin, spared them the bother, beating Castle in the primary.

O'Donnell's sketchy past forced her to run ads saying, "I am not a witch." Democrat Chris Coons slaughtered her.

In Colorado, Club for Growth choice Ken Buck won a GOP Senate primary over former Lt. Gov. Jane Norton, saying his advantages included, "I don't wear high heels." Buck lost what should have been a GOP pickup to Democrat Michael Bennet.

Then there's Nevada, home to ineffable Senate Majority Leader Harry Reid. Reid's re-election was unlikely against either top GOP contender. "Real" conservatives again rode to the rescue, nominating Sharron Angle, backed by the Tea Party Express and (again) Chocola's Club for Growth.

Leading Nevada Republicans found Angle unsupportable. Within a month, Reid turned an 11-point deficit to a seven-point lead. He marched to re-election, and remains the unspeakably divisive, iron-fisted leader of a Democratic Senate majority that he keeps firmly in line.

Two years later, Chocola et al. gave Reid the gift of another majority caucus member, knocking off Lugar and clearing the way for a Democratic win that elsewise was unimaginable.

Palin, Chocola and their compatriots assure us Mississippi's Senate seat will stay Republican if their candidate McDaniel ousts Cochran. Yeah, that's like what they said when Mourdock beat Lugar.

Among other things, McDaniel is a former radio talk show host who ranted on-air about topics like Mexican "mamacitas." Democrats have a strong nominee in former Rep. Travis Childers, a quintessential Blue Dog who voted against Obamacare.

Guess who Childers (and Reid) are rooting for in the GOP run-off? If they get their wish, Donnelly might have unexpected Mississippi company on the Senate Democratic backbench.•

__________

Rusthoven, an Indianapolis attorney and graduate of Harvard College and Harvard Law School, was associate counsel to President Reagan. Send comments on this column to ibjedit@ibj.com.