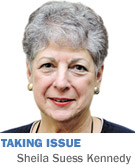 Next weekend is the Fourth of July. Along with the barbecues, parades and neighborhood get-togethers, we'll hear speeches about Truth, Justice and the American Way. We might raise a toast to the Founders, and count ourselves fortunate to live in a (mostly still) democratic country.
Well and good. But along with the hot dogs and the predictable laments about dysfunction in Washington, we might also think about elements of our local political life that encourage short-term approaches to long-term tasks.
Many years ago, social philosopher and dockworker Eric Hoffer insisted, "The sign of a good society and a good government is not in what it builds, but in what it maintains."
By that metric, Indianapolis isn't doing so well.
As I write this, Mayor Ballard and the City-County Council are promoting competing plans to fix some of the city's crumbling infrastructure. The council's plan is marginally preferable, since it would issue fewer 30-year bonds for improvements, most of which are unlikely to last even 10 years. But neither approach is optimal.
I tend to get impatient with people who insist that government should operate like a business; government's purpose and mission are very different from those of profit-seeking ventures. But ideally, government should pursue its distinctive mission in a businesslike fashion. What would such a businesslike approach mean for the proper maintenance of infrastructure like streets and sidewalks, roads and bridges, parks and other public goods? How would a business approach those entirely foreseeable costs?
At the very least, we would plan to resurface streets and rebuild curbs and sidewalks on a routine, rotating schedule—a certain percentage each year. We would have a similar schedule for inspecting and repairing bridges, swimming pools and other municipal assets. The dollars needed to effect that maintenance would be projected and budgeted each and every year.
The virtues of such an approach are obvious: Orderly maintenance is much less expensive over time than emergency repair. We save tax dollars by not waiting until the bridge is hazardous or the canal walks too deteriorated for patching. Prudent long-term planning also gives the private sector the information needed to estimate and bid competitively.
This all seems so reasonable: We know we will have to maintain public goods. Why don't we approach that necessary task in an orderly fashion? The answer is that our political system provides officeholders with powerful incentives to do otherwise.
In politics, as we know, long term is until the next election.
For mayors and others with aspirations for higher office, we provide an overwhelming temptation to minimize costs in the here and now, to defer major expenses until the next guy is in office, and to do what absolutely must be done "on the cheap," even though that means maintenance costs will be higher down the road.
But that's down the road, when someone else is in office.
This isn't a tactic unique to the Ballard administration. Every Indianapolis mayor has operated this way to a greater or lesser degree. (Steve Goldsmith was the master of this particular form of "fiscal magic," but there are no heroes in this story.)
As long as We the People demand public goods that we are unwilling to pay for, politicians will find ways to shortchange upkeep in favor of the Shiny Object and the Next New Thing—which will also require ongoing maintenance, but not right now.
Pogo was right: We have met the enemy and he is us.
Happy July Fourth.•
__________
Kennedy is a professor of law and public policy at the School of Public and Environmental Affairs at IUPUI. She blogs regularly at www.sheilakennedy.net. She can be reached at skennedy@ibj.com. Send comments on this column to ibjedit@ibj.com.
 
Please enable JavaScript to view this content.