At first, it just looks like a medium-size hole in the ground—only with a rectangular metal door attached. I look closer and clearly it is a barred gate, padlocked. Past the rusted metal frame, I stare into a shadowed abyss. Without a bright light, there's no way to know how deep it goes.
That's when a man in dirty, navy coveralls unlocks it. He's Charlie Vetters, our leader, and he goes in last.
He's not being polite—it's so he can lock the gate behind us.
We're a three-person caving group about to enter the underworld known as Sullivan Cave, just west of Bedford between Owensburg and Springville. I'd be more specific, but the exact location is kept under wraps to protect the cave from unwanted visitors and vandals. Same reason the gate was installed.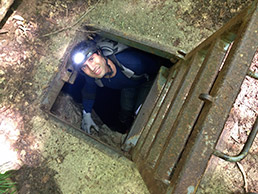 "You won't find Sullivan Cave on most maps. Still, I'm going in…" (Photo courtesy of Charlie Vetters)
To even access the place we're about to descend into, you need permission from Indiana Karst Conservancy, a not-for-profit that promotes cave conservation. The conservancy says Sullivan Cave is the fourth-longest cave in Indiana—out of more than 3,000, with concentrations in Monroe, Lawrence, Orange, Crawford and Harrison counties.
I was introduced to caving by an Indiana University classmate last fall. I had little-to-no knowledge of the pastime, but the prospect of doing something few people try—something that could be dangerous—was enough to hook me.
The danger? Well, there's drowning, falling rocks, or your own falling self—all outlined in a liability waiver. And that reality kicks in when I get my first sight of the Backbreaker.
Like most cave features, it is aptly named. With a 3- to 4-foot clearance, its long south passage seems to go on forever. After traversing, hunched, just a few of its 1,500 feet, I can feel the muscle burn in my thighs.
I should say here that I am in my late 20s and in good shape. I should also say that I'm patient. If there is one thing I've come to love about caving, it's that there is no rush. Most of the time you're looking at either a six-hour or 12-hour trip. Think of it sort of like a mini-vacation from the civilized world: No cell. No natural light. No noise. No traffic.
After the Backbreaker, I avoid the Merry-Go-Round, a circular, mud-covered canyon people tend to get stuck in. It's the first place search-and-rescue parties check when looking for trapped people in the cave, Charlie says.
We opt, instead, for the Mountain Room, where you really get a sense of how old and massive the cave is. Standing at 60 feet tall and 100 feet wide, the Mountain Room is a breakdown dome—meaning it features an area where the ceiling has collapsed due to water flow weakening the walls. Unfortunately,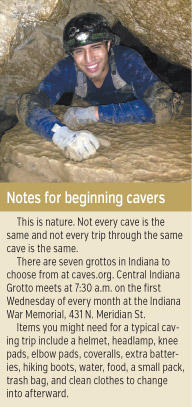 it's not all pristine. There's evidence of vandalized stalactites and stalagmites that have been broken off. Fortunately, many "straws"—thin-walled hollow formations created from dripping water—line part of the ceiling that is too high for human hands to grasp. Decades-old graffiti can also be found.
After the Mountain Room, we enjoy a few, glorious moments of upright walking on our way to the Popcorn Crawl, named for the clumps of calcite or cave coral that cover the ground of the 2-foot-tall passage. It's fairly painless if you remembered your knee and elbow pads, but you'll be working up a sweat regardless. In the Scotto Grotto room, named for a grotto group that initialed the ceiling in 1952, I decide to make my own, more organic mark: a decent-size, spit-mudball splatted on the 10-foot ceiling. Remember me fondly.
The Sorry Room is where our descent to the river begins. It's just your feet at first, but eventually—after you reach Armstrong's Folly— you'll find yourself waist deep in 50-something-degree water. The folly is a leading-nowhere excavated crawlway where apparently Armstrong swore he felt a draft and convinced himself there was another cave.
I feel no air crawling through Armstrong's Folly.
Around this point is where I realize we are not alone, catching my first sight of a Sullivan cavefish, a sculpin routinely found in this part of the river. This small brown fish doesn't dart away frantically; rather, it seems apathetic. Charlie explains that the sculpin get washed in from the outside part of the river, get stuck in the cave, and slowly starve to death.
The river's chilly water leads us to The Spiral Room, marking a large (about 46 feet high) circular collapse where progressive breakdown around the walls has formed an upward spiraling ledge. The towering spiral of precariously stacked boulders might make you think twice before standing anywhere near them.
Scaling up the breakdown pile is nerve-racking because of the significant drop, but luckily the old "not-looking-down" routine still works. Finding the exit from this room is a bit tricky, because it's a feet-first or head-first climb down a narrow hole crowded with fallen rocks from the cave-in.
We squeeze through this cumbersome crawlway, which is only about 100 feet, for what seems like an eternity. Here we encounter the Manhole, a hole in the wall leading to the Speed Hollow Entrance (our exit in this case), an up-to-your-neck frigid plunge. I am ahead of the group, and my measly 40-lumen headlamp makes the river entrance appear more ominous than it really is. I can't see the water, so my imagination gets the best of me and I envision free-falling 10 feet before body-smacking into the river.
Instead, my feet touch the water as soon as I perch on the edge of the hole. There's also a rope for lowering yourself into the river, but there's no touching the bottom. You have to swim to the exit for about 200 feet. The ceiling is so low that at some points I have to hold my head sideways to breathe.
After six hours underground, I can finally start to see the bright summer light glowing from a wide, thin slit. As I get closer to the exit, I can feel the blast of summer warmth hit, taking away my shivers. I crawl out onto the forest floor happy to see the green of moss-covered rocks and low-lying foliage.
And looking forward to caving again.•
Please enable JavaScript to view this content.