The team charged with designing and engineering downtown's $20 million transit center—which has begun to emerge south of Washington Street between Delaware and Alabama streets—took on three core challenges:

• Design a functional, rider-friendly and environmentally conscious bus terminal with 19 berths.

• Push the envelope on design—creating an iconic building that connects with the city and brings comfort and dignity to those who use public transportation.

• Overcome challenges that include traffic flow, basements of long-razed buildings and an underground tunnel used to transport prisoners between the City-County Building and the adjacent jail.
The sweeping canopies that will protect riders and the 14,000-square-foot terminal building have begun to emerge, and the project is on track to open by November. The facility is the centerpiece of IndyGo's plan to boost ridership by rearranging its service map to favor more frequent trips on the most popular routes.

A design team of Drew White and partner Eric Anderson of Axis Architecture + Interiors, landscape architect Kevin Osburn at Rundell Ernstberger Associates and project manager Steve Robinson of URS worked with IndyGo and city officials to design the project.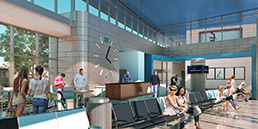 The center structure, designed to be a community space, might include a café or coffee shop. (Rendering courtesy Axis Architecture + Interiors)
The team considered about 15 different arrangements for the two-acre site and several structural iterations before settling on the project Weddle Bros. Construction is building, White said.

The transit center will feature 19 bus berths, including four for longer buses, arranged in a sawtooth pattern to allow easy-in, easy-out access. Buses will park in the same spot each day, saving riders from scurrying to find transfers, and each berth will show real-time information. The center will serve 27 routes.

A system of metal canopies will provide full weather coverage for riders waiting or transferring, while maximizing natural light and green space. A customer service structure—which might include a cafe—will be situated on the northeast portion of the site, to reinforce the Washington Street corner—and avoid any structural interference with the prisoner-transport tunnel 15 feet below grade.

Sunken gardens at the northwest corner will collect 90 percent of the stormwater from the transit center, which will get some of its power from solar installations on its canopies. Both features will help the project qualify for some level of LEED certification.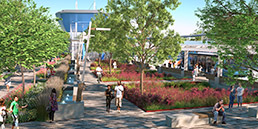 Sunken gardens will capture stormwater, and canopies will shield riders from weather. (Rendering courtesy Axis Architecture + Interiors)
Bike lockers and a bike-sharing station are planned for a spot near Alabama Street.

"It's a long-lasting civic structure that will hopefully set up a mass transit system that starts in my lifetime," White said. "Lots of people will be using it."

Dreams, challenges

Plans for an Indianapolis transit center have been in the works for more than a decade—as officials considered a variety of potential locations and designs. Getting it built required nods to reality—including settling on a site the city controlled—and pushing the envelope on design, said Adam Thies, director of the Department of Metropolitan Development.

"There was always this idea the building had to live within the time it becomes operational," Thies said. "There are dreams and aspirations of getting rid of the jail, but the reality is the jail will still be there and the tunnel has to be there. It has to work now."

That didn't stop Axis from designing a building with "drama and excitement—not the same thing you're going to see the next building over," said Thies, who noted the prisoner tunnel could eventually serve pedestrians headed to a mixed-use replacement for the jail.

The tunnel wasn't the only surprising challenge for the project. The site, which most recently served as a surface parking lot, contained nine brick basement structures from long-gone buildings. After 17 core samples, more digging and ground stabilization, the site was ready.

"The joke went around about finding Jimmy Hoffa," said Michael Terry, IndyGo's CEO. "If there was a reward, we would have applied it to the local match [to the project's federal grant]."

Thies sees the transit center as a worthy neighbor to the soon-to-break-ground Cummins Inc. office project and Flaherty & Collins Properties' apartment tower on the former home of Market Square Arena. The city also plans to revitalize the public space between the northern edge of Washington Street and the City-County Building. Plus, the transit center will have its own park-like features, and serve as an architectural welcome to visitors headed downtown from the east side.

The project also could become a model for a series of smaller transit hubs across the city—in spots, like Glendale, where several routes intersect.

"There was always this thread [that] the transit center should offer dignity to its riders and inspiration to its riders," Thies said. "There's this aspect of standing on the side of a street waiting for a bus … a car comes by and splashes the poor soul. Let's have the transit center say riding the bus is of value—it's a way to transport yourself. We wanted more than just a bus port with stalls."

Form and function

Functionality was the first priority for Terry, IndyGo's CEO. After all, the facility will be the transfer point for every bus route going through downtown.

A more orderly ebb and flow of buses will make it easier on riders who now have to hunt down their next bus, since buses currently park in order of arrival at transfer points, including along Ohio Street by the federal courthouse and Capitol Avenue by the Statehouse. A bus-only lane and new stoplight on Alabama Street will expedite the flow of buses.

Meanwhile, the glass-covered transit center structure will house rest rooms, a waiting area, IndyGo customer service and call center employees upstairs. IndyGo also plans to issue a request for information for a possible 640-square-foot coffee shop or cafe with separate access.

"It's not just a site for people to transfer," White said. "It becomes a community space."

"It's a glass box," he said of the structure. "It's a pavilion. It floats. It's iconic."

Whether the transit center ultimately works from an urban-design perspective depends largely on a number of decisions to come, including development of adjacent sites and potential changes to the streetscape, said Bruce Race, an architect and urban planner who teaches urban design at Ball State University's downtown Indianapolis Center.

"The site layout is fine, architecture is pretty zoomy, expressive roof, interesting at night," he said. "When people see it, they'll recognize it. It won't be generic."

Race also applauds the placement of the main building on Washington Street, a once-building-lined thoroughfare that has been "dismantled" in favor of parking lots and parks.

But the "football field worth of open space and wide one-way streets" around the transit center won't encourage pedestrian access or "psychological comfort" at night, Race said.

"Today, it's an island," he said. "Lots of decisions need to be made around it to make for a comfortable destination and origin."•