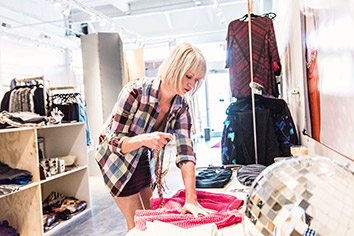 The corner of Brookside Avenue and 10th Street, just off Massachusetts Avenue, could soon be the center of what city planners hope is a model to address industrial blight.
By fall, the site should be home to the city's first "maker space"—a collaborative area where artisans have access to industrial tools and programming—housed in 30,000 square feet at the 539,000-square-foot Circle City Industrial Complex.
Named after the "maker movement," similar spaces have emerged across the country. The Indy space will anchor the latest phase of redevelopment for the sprawling 1920s building, which was built as an automobile-fan factory but is now home to a variety of users ranging from industrial to artistic.
Teagen Development Inc., the building's new owner, and Riley Area Development Corp. plan to renovate the south end of CCIC—a portion that is roughly 120,000 square feet.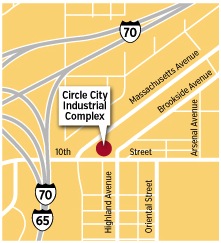 The maker space will take up about a quarter of that, with the rest allotted for retailers, restaurants, offices and studios. The overall project is expected to cost $5 million.
The concept will be similar to a shared kitchen for food entrepreneurs, but will be geared toward metal workers, clothing designers, woodworkers and other industrial craftspeople.
Dubbed Ruckus, the space will include a large room filled with tables, pods and industrial machinery for woodworking, fabrication and apparel/accessory design. It will likely be divided by how much dirt or dust or shavings each type of machine produces.
The not-for-profit fashion-advocacy organization behind the Pattern magazine and shop at 877 Massachusetts Ave. is a partner in the effort, along with People for Urban Progress, or PUP, best known for repurposing the seats from Bush Stadium.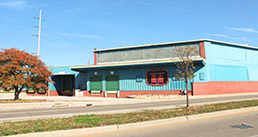 Teagen Development plans to transform 120,000 square feet at the south end of the Circle City Industrial Complex … (Photo courtesy of Teagan Development Inc.)
Catherine Fritsch, a clothing designer from Noblesville, said she could expand her business if she owned the type of machinery planned at Ruckus, but buying it just wouldn't make financial sense.
Fritsch, who plans to move her daily operations into the maker space, also likes the idea of working in a shared space with other artisans.
"You can exchange ideas," she said. "You can say, 'This person asked me to give them a quote and I'm really not sure. Can you hash it out with me?' It is just always nice to have another brain to exchange ideas with."
Ruckus will offer memberships, ranging in monthly cost from about $75 for something like a small open space with a table to upward of $400 for a private space with a lock.
The plan includes onsite help with business strategies, financing and marketing. The idea is to have members expand their businesses by using equipment and mentors, eventually allowing them to rent their own shops and studios elsewhere.
… into a maker space and home to restaurants and other retail. (Rendering courtesy of Teagan Development Inc.)
CCIC originally served as a factory for Schwitzer Corp., which designed and built automobile cooling fans and turbochargers. It has long been a studio home to artists and craftspeople, and the businesses occupying the north end of the building will remain.
Only 60 percent of the building is in use; there is room for an additional 60 to 80 small businesses.
The Cultural Trail, Monon Trail and Pogues Run all nearly collide just blocks from CCIC. Part of the development plan is to build a bike and walking path called Pogue's Run Trail to the Monon Trail and Massachusetts Avenue. The trail will feature an internal spur walled by windows to let riders see into the building.
How it began
The idea for the space was born out of an Urban Land Institute Fellowship, which allowed city leaders like Department of Metropolitan Development Director Adam Thies and Indy Chamber President Michael Huber to see what other cities were doing with similar manufacturing sites.
Granville Island, Vancouver, was one that caught their eye. The island is a former industrial peninsula turned shopping district. For Thies, this was an inspiration.
"There is a post-industrial storyline here that doesn't ignore its industrial past," he said.
Similar projects have blossomed in Columbus, Ohio, with the Idea Foundry and in Nashville, Tennessee, with Fort Houston.
 As Michael Bricker, founder of PUP, and Polina Osherov, co-founder and executive director of Pattern, networked around the country, they saw what Indianapolis makers were missing.
"We looked around and said, 'Oh, man, wouldn't it be cool to have something like that here?'" Osherov said. "What a step in the right direction for all those people working out of their garages and basements. So here we are—finally."
She said she often sees young fashion designers lured to either coast simply for access to better business-growth tools that can push them into the next weight class.
Fritsch, whose small design studio has overlooked Logan Street in downtown Noblesville since 2007, struggles daily with that limitation.
"There is always that huge financial bump when you go from a small business to a medium-sized business," she said. "When you are starting to do larger orders, especially with wholesale, they place an order and three months later, you ship it out. But they haven't paid for it. You need to have the money to fund producing the items before."
 Money isn't the only issue. Fritsch will also need a cut-and-sew manufacturer to make it happen. That way, she could submit a large order for partially made materials, which would allow her to finish details by hand and stay within a reasonable production time frame. She is ready to make the transition, but is missing the tools.
Because Indiana is already known for manufacturing, an urban-industrial transformation doesn't seem a far cry to Osherov. "I want people to realize that they can come [to Indianapolis] and build a really great business because there is a culture for that."
Is Indy ready?
While Indianapolis nurtures the arts, a support system for makers is more elusive, according to Bricker. The craft of makers like PUP aligns closer with Indiana's manufacturing history than with the artist culture it is often lumped into.
Even PUP is feeling the weight that comes with post-startup growth. It is facing the logistics of wholesale orders, and the need for micro loans to get ahead of the curve. 
Fritsch is concerned about the fine print behind Ruckus, like equipment and mentorship. She said a lot will depend on what kind of personalities go into the space.
"I do think it has a good chance of filling up quickly," she said.
While the businesses and makers are ready for the space, neighbors are keeping a close eye on the development.
"Our neighborhood is one of Indy's best-kept secrets," said Jen Eamon, board president of the Windsor Park Neighborhood Association. "Close to everything, good housing stock and yet affordable. Negative perceptions of life on the 'east side' don't really mirror the reality of living in our neighborhood."
The neighborhood east of CCIC has long been residential, with design that dates before construction of the factory that once employed 1,800 people.
'Overnight sensation' 
Teagen President Larry Jones has a proven nose for picking up-and-coming neighborhoods. Jones owns the Murphy building in Fountain Square, which helped catalyze much of that area's growth.
"Like any good developer, I look where everybody else has put in 20 years' worth of effort, and I rush to the front of the group and I say, 'Follow me,'" Jones said. "This area specifically … has all the bones to be the next overnight sensation."
He cited nearby cues like the development of East 10th Street, the Legacy center at Tech High School and Windsor Park.
The city awarded a $1.5 million grant to help defray the $5 million estimated cost of redeveloping CCIC. The remaining $3.5 million will come from "other sources" that Teagen declined to reveal until commitments are finalized.
Teagen purchased the building from the National Bank of Indianapolis, but would not reveal what it paid.
Partners on the project see its potential to create high-paying jobs for skilled workers in more realms than just tech.
"Three-hundred part-time minimum-wage jobs are really a negative impact on an area," Jones said. "There is a demand, or need, out there to create higher-income, higher-wage-paying skilled [and] semi-skilled jobs.
"What is intriguing about CCIC is that it crosses all of those lines. There are existing businesses in there that do exactly that; there is space in there for those businesses to grow and move in."•
Please enable JavaScript to view this content.