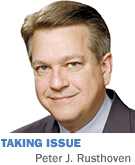 It's time we took some pity on the sadly misunderstood Clintons.
Bill, for one, is befuddled.
"People should draw their own conclusions," as he recently said. "I'm not in politics. All I'm saying is, the idea that there's one set of rules for us and another set for everybody else is true."
He's right. Many of us have been so influenced by distorted coverage that we thought Bill was "in politics."
Consider, too, how Hillary was derided when she confessed the couple was "dead broke" when Bill left the presidency. Yet the proof was there for all to see. Why else would they have had to ship $190,000 in White House furnishings to their $1.3 million Chappaqua cottage?
Bill was then mocked for saying he'd keep taking $500,000 speaking fees, since, "I gotta pay our bills." But mockers overlooked that the Clintons have made only $30 million in the past 16 months. And the bills now include the mortgage on a $4.5 million "second home" in D.C.
Then there's media mistreatment of Hillary in her presidential campaign. The press gives GOP candidates chances to express their views on a wide range of important matters, with reporters voluntarily asking hard questions.
Yet the media is unwilling—or is it unable?—to give Hillary the same opportunities. Before her five-minute scrum this week with reporters in Iowa, she'd been able to take only some 13 press questions since declaring her candidacy.
And these have hardly given her a chance to share her views. Among the baker's dozen are, "How are you liking Iowa?" and, "Is it good to be out here again?"
When reporters are kind enough to ask about issues, it appears she gets cut off. The only words she could get out when asked about campaign finance were, "We do have a plan. We have a plan for my plan."
And this email thing? Who knew you had to use a government account as a cabinet member? Who knew, when Hillary explained she wanted only one device, that she was carrying two? And who didn't tell her, as just came out, that she was also using a second private email address?
Her own lawyers misled her. Bill's impeachment counsel, David Kendall, told a House committee the second address didn't exist when Hillary was secretary of state. But it seems she was using it then to chat with old pal Sid Blumenthal about Libya policy—while he was advising a company seeking Libyan business, and also on the Clinton Foundation payroll.
Meanwhile, her wish to get the emails out "as soon as they can" is frustrated. First, someone deleted more than 30,000; then, rather than turn over searchable versions of the rest, someone gave the State Department 55,000 pages of paper to sift through.
Who is doing this to the Clintons? Probably the folks who got the foundation put on Charity Navigator's "watch list" of questionable entities, after it took in $140 million in 2013 but spent only $9 million on direct aid (about half of what it spent on travel and fundraising).
Bill's right. There's a different set of rules for the Clintons.
Robert Burns wrote, "O wad some Pow'r the giftie gie us, To see oursels as ithers see us!" Ach, Robbie—I fear that deity's not on the donor list for the Clintons or their foundation.•
__________
Rusthoven, an Indianapolis attorney and graduate of Harvard College and Harvard Law School, was associate counsel to President Reagan. Send comments on this column to ibjedit@ibj.com.
Please enable JavaScript to view this content.