After years of pipeline failures, Eli Lilly and Co. is on a bit of a hot streak.

This month alone, the Indianapolis-based drugmaker has reported positive results from clinical trials of four experimental drugs.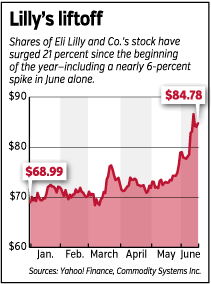 And next month, Lilly will release more data on its experimental Alzheimer's drug that could show more clearly whether it alters the memory-sapping disease—something no other drug has been able to do.

The combination of those announcements has pushed Lilly's stock price up 6 percent since June 1. The stock has surged 21 percent since the start of the year, compared with a 2-percent rise in the Standard & Poor's 500 Index.

Many of the successes are coming from Lilly's Bio-Medicines unit—the division that used to handle Lilly's most lucrative products, such as Zyprexa and Cymbalta, before patents on those $5 billion-a-year drugs expired.

That's also the unit that has had most of Lilly's high-profile failures in experimental drugs, including two other Alzheimer's drugs, medicines aimed at multiple sclerosis, rheumatoid arthritis and lupus, and a Zyprexa-like drug that was supposed to have fewer side effects.

Ricks
"We're transitioning from our focus on psychiatric illness, bone health and men's health to potentially new medicines in immunologic disorders, pain, cardiovascular disease and neurodegeneration, including Alzheimer's," Dave Ricks, president of Lilly Bio-Medicines, told investors during a June 11 conference call. "In each of these areas, we have assets that we believe can be best-in-class, providing meaningful benefits to patients in therapeutic areas with significant unmet need."

On June 10, Lilly announced that its autoimmune drug baricitinib, being developed with Delaware-based Incyte Corp., helped 62 percent of rheumatoid arthritis patients achieve at least a 20-percent improvement in symptoms. An existing drug, Pfizer Inc.'s Xeljanz, helped 55 percent of patients improve their symptoms 20 percent.

BMO Capital analyst Alex Arfaei predicts baricitinib could achieve $1.3 billion in annual sales by 2023.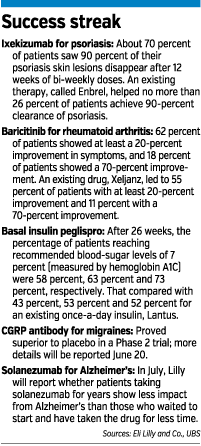 That same day, the British medical journal The Lancet published clinical trial results for Lilly's drug ixekizumab. The trial showed that about 70 percent of patients taking ixekizumab saw 90 percent of their psoriasis skin lesions disappear after 12 weeks of bi-weekly doses. An existing therapy, called Enbrel, helped no more than 26 percent of patients achieve 90-percent clearance of psoriasis.

Ixekizumab could top $550 million in annual revenue by 2020, according to an estimate by UBS.

On June 17, Lilly said that an experimental migraine medicine, called a CGRP antibody, proved superior to placebo in a Phase 2 trial. More details were scheduled for release June 20.

Lilly's diabetes unit has also contributed to the good news. On June 6, Lilly announced results of three clinical trials of basal insulin peglispro, a once-a-day insulin for Type 1 and Type 2 diabetes.

After 26 weeks, the percentage of patients reaching recommended blood sugar levels of 7 percent (measured by hemoglobin A1C) were 58 percent, 63 percent and 73 percent, respectively. That compared with 43 percent, 53 percent and 52 percent for an existing once-a-day insulin, Lantus.

Analysts think that drug could reach peak annual sales of $2 billion.

Of course, the drug that really gets investors excited is solanezumab. It failed in two previous clinical trials when it was given to patients with both mild and moderate Alzheimer's disease.

But Lilly noticed that mild patients did have a meaningful response to the drug. So it is conducting a new clinical trial that should wrap up near the end of 2016.

In the meantime, Lilly has continued to give solanezumab to nearly 1,300 patients from the failed trials, including some who were taking a placebo but have since switched to solanezumab.

So next month, Lilly will report results that compare those late-starting patients with the early-starting ones. If that comparison shows the early-starting patients continue to have better mental function than the late-starters, that would suggest solanezumab does, indeed, alter Alzheimer's disease—rather than providing temporary relief of symptoms.

Current Alzheimer's medicines, such as Aricept, only relieve the symptoms of the disease for a time.

Morgan Stanley analyst David Risinger, in a June 11 note to investors, wrote, "We hope to see maintenance of benefit in mild patients who were treated with solanezumab in [the earlier clinical trials]. … We also hope to see a benefit in patients who originally received placebo that is comparable to the benefit shown in [the earlier clinical trials] in patients who received solanezumab."

Risinger estimates solanezumab could reach $5.9 billion in annual sales. Arfaei, the BMO Capital analyst, predictssolanezumab could exceed $7.5 billion per year in sales.•