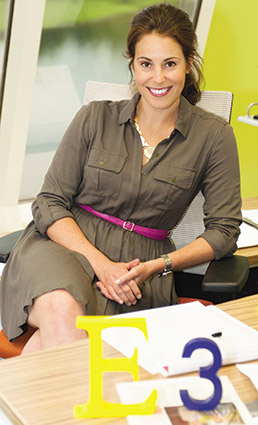 3-year growth: 114 percent
2014 revenue: $5.1 million
Winning business:
President Tiffany Sauder said that by giving clients marketing materials that combine "Silicon Valley intellect and Madison Avenue creativity, and forcing a collision," business has continued to grow at Element Three. Most of the company's growth has come from outside Indiana, she said.
An example:
To illustrate her point, Sauder talked about her company's work with Ohio-based Airstream, the maker of high-end trailers. In creating the marketing plan for that company, already known as a luxury product with a storied history, it was less necessary to get consumers to fall in love with the brand than it was to sell trailers. Element Three worked with Airstream on direct communications with its dealership network to promote the available product at each dealership and create a campaign of email, advertising on Google, and different content pieces to "help steward the customer through the buying process," Sauder said.
Go big or go home:
Marketing firms are abundant in Indianapolis and elsewhere, and competition is fierce. To differentiate itself, for the past three years, Element Three has put on an annual event called Go Inbound Marketing. Four-hundred to 500 advertising, marketing and public relations professionals typically attend, Sauder said, at a cost to Element Three in excess of $100,000. The point is "creating community in Indianapolis, developing our own brand, and serving our clients."
Planning to grow:
Sauder said Element Three's long-term strategy is to create a national presence and double its staff—now 40—in the next two years.
Target marketing:
Having ExactTarget in town "brought a lot of street cred to Indianapolis marketing," Sauder said. With ExactTarget having been purchased by Salesforce.com, "We think there's an interesting void to fill. We want to be part of the conversation and make sure smart marketing continues to live here and grows." •
Check out more of IBJ's ranking of Indy's fastest-growing companies.
Please enable JavaScript to view this content.