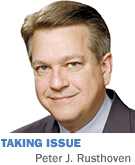 By now, you know about videos showing Planned Parenthood officials discussing selling organs from aborted fetuses. At this writing, there've been three.
In one, Planned Parenthood's senior director of medical services explains how it excels in this endeavor: "We've been very good at getting heart, lung, liver," because, "I'm not gonna crush that part, I'm gonna basically crush below, I'm gonna crush above, and I'm gonna see if I can get it all intact."
Video two shows the medical director of a Planned Parenthood clinic telling persons posing as buyers that clinic doctors can use a "less crunchy technique" to obtain intact specimens. She's unsure on price.
"Let me just figure out what others are getting, and if this is in the ballpark, then it's fine; if it's still low, then we can bump it up." Asked what she expects, she responds, "Well, why don't you start by telling me what you're used to paying."
Video three interviews an ex-employee of a Planned Parenthood donation partner, who thought she was hired to draw blood and fainted when asked to dissect an aborted fetus. It then shifts to the medical director of another Planned Parenthood clinic talking with someone posing as a buyer, while a technician pokes for organs among fetal remains.
The buyer says a spinal cord and kidneys being held with a tweezer look good. The medical director replies, "If I looked at that, I'd be like, 'That's good to go." She opposes a "flat fee" approach, because "a per-item thing works a little better, just because we can see how much we can get out of it."
Among the myriad responses these videos invite, let's note just three.
One, mainstream media hates this story. Over the first six days of the Confederate flag and Planned Parenthood stories, CNN mentioned the former 167 times and the latter only seven. Comparable figures on the first six days of the stories in The Washington Post are 126 and 28; in The New York Times, 31 and three; and on Politico.com, 29 and four.
The media mind-set this reveals is out of touch. Some 55 percent of Americans oppose abortion altogether or want limited legality, with only 29 percent wanting it legal in all circumstances.
Second, Planned Parenthood's defenses show its conduct is indefensible. It claims not to "profit," making its actions lawful. Hard to reconcile with price haggling, but never mind. Do you think it's "price level" that turns people's stomachs?
Planned Parenthood also attacks the messenger, saying the videos were obtained by "unlawful behavior, including possible violations of state recording laws." Right, that's the point—just like when Mitt Romney was secretly recorded saying 47 percent of Americans were freeloaders.
Best, though, is the protest that videos are "edited" and "out of context." Actually, full recordings have been posted. And precisely what "context" makes it OK to "crush above" or "crush below" or use "less crunchy" means in destroying a fetus to preserve intact organs for sale?
Which brings us to point three: What's your reaction? Not what you feel you can or should say to colleagues or friends. No, just your own reaction, looking into your heart and soul—as many believe God will someday look at each of us.
Are you repulsed? If so, that should tell you something about our culture, and what it permits.•
__________
Rusthoven, an Indianapolis attorney and graduate of Harvard College and Harvard Law School, was associate counsel to President Reagan. Send comments on this column to ibjedit@ibj.com.
Please enable JavaScript to view this content.