Indiana's manufacturers and municipal utilities are preparing to wage a battle with investor-owned power companies in their desire to get a handle on rising electricity costs.
The goal is to become less reliant on the electrical grid. To do so, industrial customers say, they want more flexibility from utilities—which essentially have a monopoly on power generation in Indiana—to produce their own energy on-site by recovering waste and turning it into power.
"We've tried to come up with a number of ideas that we think would improve the situation and private generation is one of them," said Jennifer Terry, a lobbyist for Indiana Industrial Energy Consumers Inc. "It makes a lot of sense."

Terry
But utilities project that a dramatic increase in private energy generation by manufacturers and municipalities would result in higher prices for residential and commercial ratepayers.
Still, the eager industrial customers might be providing a solution to a potentially tricky problem for the state: The ever-tightening need for capacity in Indiana could combust at any moment if Gov. Mike Pence is unsuccessful fighting federal rules aimed at curbing global warming.
If the federal rules are implemented, Indiana could be forced to retire some coal-fired power plants. Industrial users say coming off the grid could help utilities avoid the need to build an expensive new plant.
The municipal and industrial groups, who say they have felt deterred from investing in private generation because of uncertain state rules, have already started stating their case to legislators, who they hope act on the issue in 2016.
They want the Indiana Utility Regulatory Commission to direct utilities to offer competitive backup and maintenance rates—which they'd use during times they have to shut down their units—and to provide a clear regulatory framework for cogeneration projects, to reduce the risk of lawsuits.
"We're not talking about allowing customers to become utilities," Chris Cummings, director of business development for MacAllister Machinery Co., told legislators in August at a study committee meeting. "What we're talking about is giving customers an opportunity to cost-effectively and efficiently meet their own power-generation needs."
Terry said if energy-intensive industries can't produce goods cheaply here, they might look elsewhere to do it.
"They have the ability to shift production to those sites and compete with other sites for those capital investments," she said. "To the extent Indiana is losing out on that equation, we may be losing out on economic vitality."
Indiana's municipal utilities see private energy generation as a strategy to reduce costs for taxpayers and increase energy-efficiency. They're also advocating for legislative support.
In Fort Wayne, officials see an opportunity to reduce reliance on the electric grid by putting the city's own waste to use.
The city wants to take advantage of anaerobic digester systems they already have up and running, said Kumar Menon, director of utilities for the city. Instead of burning off the biogas it captures using flares—as it does now—it could be converted into energy under a cogeneration system. Cogeneration, also called combined heat and power, involves recovering wasted heat normally lost in power generation and putting it to work.
Menon
"The goal is to try to get our plants off the grid," Menon said.
But investor-owned utilities—including Duke Energy, Indianapolis Power and Light, and Vectren—say if large customers buy less power from utilities, their share of distribution and generation costs must be shifted to other ratepayers.

Maassel
"It's a fairly straightforward math problem," said Mark Maassel, president of the Indiana Energy Association, which advocates for utilities.
Others are skeptical.
The Indiana Office of Utility Consumer Counselor, which supports energy-efficiency efforts, said on its website that cogeneration could actually help in "reducing or stabilizing electricity costs for ratepayers" by lowering demand for power and reducing a utility's need to build a new plant.
Anthony Swinger, a spokesman for the office, said it is "too early for us to speculate" on how the growth of private generation might affect rates.
Tate & Lyle, which operates two large corn-processing plants in Lafayette, already has small cogeneration facilities on site. But it's looking into building more as electricity prices become more "alarming," said Chris Olsen, vice president for community and government affairs. Olsen urged utilities to be more open-minded.

Olsen
"Utility opposition to cogeneration continues a 'Just say no' approach that keeps the status quo in place," Olsen said. "And reinforcing the status quo will not reverse the trend that is bringing Indiana less-competitive energy prices."
There is likely a middle ground, said Doug Gotham, director of the State Utility Forecasting Group at Purdue University.
"If you come up with a scheme where the industrial customers have to pay for backup rates, then you could make the argument the industrial customers are subsidizing the other customers," he said. "But if you provide them with a free service, then the other customers are subsidizing the industrials. If you do it right, then nobody should be subsidizing anybody else. Doing it right is the hard part."
Uncertain needs
Private energy generation already exists in Indiana, but it's hardly widespread.
Indiana has about 35 combined heat and power units, according to the Indiana Office of Utility Consumer Counselor. They range in size from a booming 755-megawatt steam turbine at an Alcoa plant in Newburgh to a 30-kilowatt natural gas turbine at the University of Notre Dame in South Bend.
Cogeneration is typically used in manufacturing plants, but it has myriad applications. It's considered more efficient than conventional electricity generation, according to the EPA, because it happens close to an industrial site as opposed to a central power plant, and reduces energy usage, which results in lower greenhouse gas emissions.
The rising interest in private energy generation doesn't surprise industry experts who have watched electricity rates rise over the past decade.
During that time, Indiana's industrial power rates have become less competitive. In 2003, the state ranked fifth-lowest in cost, with the average industrial price at 3.92 cents per kilowatt-hour. By 2014, the state had shot up to 26th, with industrial electricity at 6.87 cents per kilowatt-hour.
Gotham said the costs of keeping an aging infrastructure operational and complying with stricter environmental regulations have increased the cost of electricity—and subsequently made private generation more attractive.
The State Utility Forecasting Group anticipates modest growth in Indiana capacity needs, albeit less than it once expected, according to its most recent forecast in late 2013. The group plans to release an updated forecast at the end of this year.
The 2013 forecast projects that industrial-sector electricity sales will grow 28 percent, to almost 50,000 gigawatt-hours, by 2031. That rate is "substantially higher" than what is predicted in the commercial and residential sectors, according to the group.
But it remains uncertain how Pence's pledge to defy EPA rules, which call for a 20-percent reduction in carbon dioxide emissions by 2030, will affect that.
Pence said the rules might force some older coal-fired plants to retire, which would threaten Indiana's coal industry.
Motivating manufacturers to be less reliant on existing plants would help mitigate impact of the EPA rules, Terry said.
"We're not pro-coal or anti-coal," she said. "The Clean Power Plan is the rule of the land. We know it will be challenged, but even before it, there had been a real shift away from coal-fired power plants."
Maassel said utilities can't change practices amid uncertainty.
"For us to speculate on what might happen is not a good basis for making good decisions for our customers," he said.
Asking for updates
The updates in backup and maintenance rates that industrial customers are asking the Legislature to push the IURC for would give them a more competitive rate structure when they need to connect back to the grid during planned or unplanned upkeep, they say.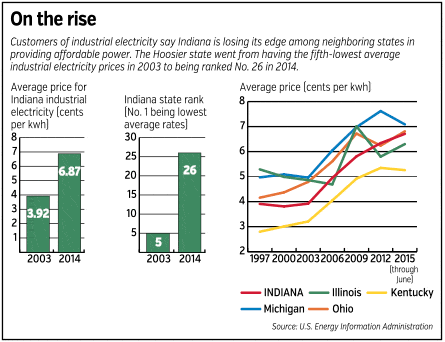 "In some cases, they haven't been updated in 20 years," Terry said. "They don't reflect some of the changes that have taken place, both in the energy industry as well as Indiana law."
Municipal groups say uncertainty around the backup rates is a significant deterrent from getting into cogeneration.
"If those tariffs are significant in cost, that may swing it, that it's unattractive," said Doug Fasick, a senior program manager who handles energy for the city of Fort Wayne.
Lawmakers have previously helped the cogeneration industry. In 2014, the General Assembly passed a bill directing regulators to encourage utilities to participate in private cogeneration projects. Lawmakers also eliminated an 80-megawatt cap on the projects.
Maassel, from the Indiana Energy Association, said generation projects shouldn't need flexibility beyond that.
"There are enormous abilities under existing law for industrial customers to self-serve to install a cogeneration unit that serves their load," he said. "They're not stranded."
Sen. Brandt Hershman, R-Buck Creek, said the increased interest in private generation "creates a potential for some innovation." He floated the idea of a pilot project to test the impact on utilities.
"Our goal is to make Indiana a competitive place to do business," Hershman said. "For some industries that are heavily energy-dependent, energy costs can be a factor. We want to thoughtfully listen to the concerns that are being raised on the issue."•
Please enable JavaScript to view this content.