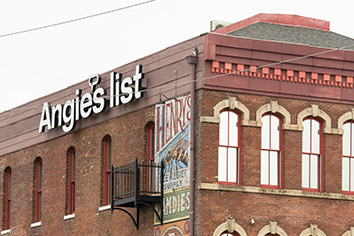 Angie's List Inc. is rejiggering its marketing strategy, a move that includes hiring a new branding agency to help get the home-services giant growing rapidly again.
The company, which connects consumers and service providers, announced Jan. 19 that it has selected Boston-based Arnold Worldwide as its lead agency for brand strategy and creative execution. The agency is best known for its long-standing Flo campaign for Progressive Insurance, and has won recent acclaim for Jack Daniel's and Hershey's campaigns that have played well on social media.
In the past, Angie's List has contracted with creative agencies on more of an ad hoc basis, enlisting them to help conceive and produce ad campaigns as needed. But Arnold is expected to take a more hands-on role and emphasize digital marketing at the company, which has historically spent heavily on TV ads.

Hicks
"We're asking them to think about each type of demographic that we want to attract," Chief Marketing Officer Angie Hicks said, "and also how the creative will live and breathe across different mediums—digital, video online, TV, social, the whole gamut."
Arnold, the fourth creative agency for the 20-year-old company, replaces New York-based Bradley and Montgomery. Terms of the deal were not disclosed. Angie's List recently switched vendors for media buying duties, too, replacing California-based Ocean Media with New York-based Horizon Media last October.
Since going public in late 2011, Angie's List has mostly traded profits for growth, spending heavily to obtain the 3.2 million paying members and roughly 54,000 service providers it touts today. Investors seemed OK with that initially, but have gotten antsy lately as revenue growth has stalled and profits are still elusive.
CEO Scott Durchslag, who took the helm in September, has told analysts he has a multi-pronged vision for turning around the company, and marketing is one piece of that.
"We must improve the effectiveness and efficiency of marketing," Durchslag said during the company's third-quarter earnings call last fall, a quarter that marked the first time revenue was down versus the previous quarter since its IPO.
"There is significant opportunity to implement proven leading-edge software and tools to optimize marketing spend to better leverage digital channels with a higher marketing return on investment," he said.

Hamlin
Pam Hamlin, Arnold Worldwide's global president, said representatives from her shop will make multiple visits to get "really immersed in their business."
She said her agency only recently has begun to brainstorm ideas for ad campaigns, so it's too early to tell what might be in store. She said Angie's List won't ditch TV ads, but digital will be a focus.
"This question is, 'What's the first screen today?' It's often the mobile phone, not the television," Hamlin said. "We're going to have much more of a digital-at-the-core approach, and that will have implications on their go-to market model."
Arnold's work is expected to hit eyeballs in the coming months. It remains to be seen whether its campaigns will emphasize Angie's List paid memberships—which include service provider reviews—or its free marketplace—where anyone can access service offerings like $99 gutter cleanings. Hicks said the company will adjust as its strategy develops.
Angie's List has curtailed its investment in marketing lately, spending $65.3 million through the first nine months of last year versus $81.9 million over the same period the preceding year.

Cain
David Cain, president of Indianapolis-based ad agency Magnitude, said the company might have battened down spending while it recalibrated following the resignation of longtime CEO Bill Oesterle last spring. "Sometimes, companies pull back on marketing when they're not quite sure what they want to accomplish," he said. "So the evolution of [Angie's] business model and leadership changes may have caused a shift in their strategic direction."
Cain said the company's move away from using agencies for one-off projects signals it intends to loosen its grip on the process.
"If you're doing project work with people, it probably means you're directing it from inside your organization. When you start doing an integrated partnership, it means you're bringing new ideas into your house … giving them a seat at the table with you."•
Please enable JavaScript to view this content.