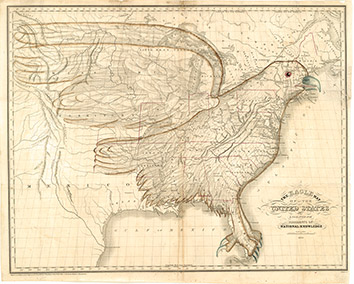 In these days of Mapquest and smartphones, it's easy to think of maps as simply painstakingly accurate guidance for getting from here to there with a minimum of hassle.
But maps have, historically, been much more than that. They captured history in snapshot form, revealing not just what was known, but what was unknown. Maps betrayed our cultural biases. They showcased our optimism. They offered unique insight into who we were and what we prioritized at particular moments in time.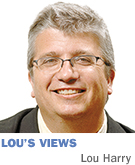 All of that is made clear in "Mapping Indiana," the Indiana Historical Society's new book (now on sale, $59.95) and exhibit (through April 2).
The book, a decade-in-the-making 10-pounder with the full title "Mapping Indiana: Five Centuries of Treasures from the Indiana Historical Society," not only presents more than 100 maps from the collection within its handsome binding, it also contains lucid, accessible, insightful essays throughout.
Of course, the actual act of reading it might be a challenge. You certainly won't be taking this hefty tome to bed with you.
And lest you be concerned that, in this bicentennial year, such a book/exhibit would gloss over our troubled past, rest assured that both provide context that helps clarify not just inclusions but omissions. (Physical mapping was antithetical to the very idea of the underground railroad, for instance.)
While the essays are well worth reading, the maps are often fascinating in and of themselves. For instance, I don't recall crossing a mountain range on my last drive to Chicago. But there's one in an 1814 Mathew Carey map stretching from Illinois to Michigan.
The book contains maps of canals (and would-be canals) and river charts of the Ohio and Wabash. It's got a geological map of our gas and oil fields, a bus/trolley/streetcar map of Indianapolis, a postal route and airport map of the state (with clear DANGER markings near Air Force bases).
A section on Native Americans showcases maps devoted to locations of tribes and Pottawatomie and Miami trails. There's even one with the bluntly disturbing title "View of the Maumee Towns Destroyed by General Harmar." (The story behind it makes for fascinating reading.)
Wisely, "Mapping Indiana" doesn't try to construct a single narrative for the state's history. Rather, it presents a series of snapshots and provides context. It asks readers to imagine the perspective of cartographers from the 1600s when "geographers had no idea of how large or what comprised the land we now know as Indiana." It puts us in the heads of opportunists who recorded "rich cities that held amazing promise"—even if such cities were speculative and never wound up existing.
It paints a multi-faceted picture of a territory evolving, and I'm not going to pretend I've yet mined it for all its riches. What I've gotten through, though, makes it clear that "Mapping Indiana" is a worthy addition to any history buff's bookshelf—provided your bookshelf can handle it.•
__________
This column appears weekly. Send information on upcoming arts and entertainment events to lharry@ibj.com.
Please enable JavaScript to view this content.