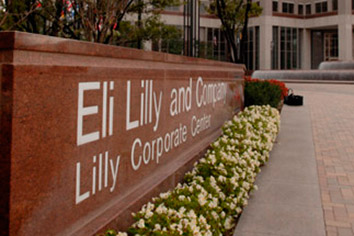 And now, the waiting begins.
Within six months, Eli Lilly and Co. could know whether the Food and Drug Administration has approved its latest drug, baricitinib, a once-a-day tablet for treating rheumatoid arthritis—a market poised to grow to $80 billion by 2020.
Lilly submitted the drug in January. If all goes according to plan, the FDA will give a green light, with the widest possible label use, and the Indianapolis-based company could launch the drug by early next year.
That can't come too soon for Lilly, after a string of tough years, as several of its top drugs lost patent protection and sales dipped. The company has struggled to launch drugs to replace them, but got good news on March 22, when the FDA approved a drug for plaque psoriasis called Taltz.
Even if the latest submission gets FDA approval, the challenge for Lilly is huge. The company is going after a market dominated by steady, big-selling products made by some of the world's biggest drugmakers, including AbbVie, Amgen and Pfizer.
And many doctors seem satisfied with the current choices, although some say they would consider new treatments.
Many rheumatologists initially prescribe methotrexate, one of the most commonly used drugs, to treat pain and swelling.
If patients don't respond to methotrexate, doctors move to one of a hot-selling batch of biologics, including Humira, Enbrel and Remicade.
"I would say that, for every 10 people I put on either Humira, Enbrel or Remicade, at the end of the year, probably nine of them are still on it because the drugs work so well and their side-effect profile is reasonably good," said Dr. David S. Batt, a rheumatologist with Indiana University Health Physicians.
But Lilly is optimistic it can sell doctors and patients on the new treatment. The challenge will be to show that the drug works better, is easier to use, and is not a "me-too" product.
On the first point, Lilly seems to have the data in its favor. The company has reported four successful late-stage trials for the medicine. The latest showed baricitinib worked better than even Humira, the world's best-selling medicine, which racked up sales last year of $13 billion.
"What is disclosed is quite impressive—about as good an outcome as Lilly could hope for," Dr. Tim Anderson, senior analyst at Sanford C. Bernstein, wrote in a research note last fall after Lilly reported its results against Humira. He expects sales of baricitinib to hit $1.6 billion by 2016.
Lilly officials told analysts in January they think the drug could be a game-changer.
"We believe baricitinib, if approved, could be a best-in-class medicine," Derica Rice, Lilly's chief financial officer, said at the time.

Batt
Yet predicting sales of new drugs is a tricky business. Nearly a decade ago, Lilly was hoping for a home run with another experimental drug, a blood-thinner called prasugrel.
Many analysts were saying it could become a blockbuster within a few years. But even after eight years on the market, the drug (also known by the brand name Effient), rang up 2015 sales of $523 million—far short of the $1 billion threshold to be considered a blockbuster.
Likewise, in 2001 Lilly had huge hopes for the launch of Xigris, designed to fight sepsis.
"No medicine better symbolizes our mission than Xigris," said Sidney Taurel, then Lilly's CEO. He called it "one of our industry's genuine breakthroughs."
But the drug never lived up to its financial promises, ringing up worldwide sales of only $104 million for 2010. A year later, Lilly pulled the drug off the market after it failed to show benefits in a post-market trial.
Avoiding needles
Lilly is hoping baricitinib will be a different story. In addition to the medical benefits, the drug could be attractive because it is a daily pill, not an injectable like Humira or Enbrel, or an intravenous infusion like Remicade.

LaMattina
"An oral drug is something a lot of people want," said Batt at IU Health Physicians. "They don't like needles."
But a tablet is no guarantee of high sales, either. Three years ago, Pfizer launched a tablet medication for rheumatoid arthritis called Xeljanz. Analysts had hoped the drug could ring up $3 billion a year if approved for multiple inflammatory conditions.
But Xeljanz disappointed, bringing in sales last year of just $523 million. And last fall, the FDA rejected Pfizer's application for it to be approved as a treatment for a second use, moderate-to-severe chronic plaque psoriasis.
Some pharmaceutical veterans explain that drug's disappointing performance by noting it's difficult to get physicians to try a new drug if they are satisfied with current medications.
"There is a natural tendency to stick with what you know," said John LaMattina, senior partner with the Boston biotech firm PureTech Health and a former president of Pfizer's research and development. "If a doctor's been using Humira for a decade, he's probably comfortable with it, and it's tough to get him to try something new."
But some rheumatologists, like Batt, said they would welcome a new drug as an option for patients who don't respond to existing medications as much as they had hoped.
"We always want more bullets in our gun," he said.
A different approach
Lilly is quick to point out that baricitinib is not a copycat of current best-selling drugs. Many of the existing drugs for rheumatoid arthritis, including Humira and Enbrel, work by blocking a small protein called TNF-alpha, which circulates in the bloodstream and can cause inflammation.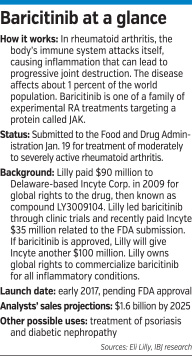 Baricitinib, on the other hand, works by inhibiting a family of enzymes linked to inflammation and by interfering with the signaling pathway.
It's a different approach, and one that could give Lilly the best shot at muscling its way into the market, which is expected to grow from $56.6 billion in 2013 to $80.7 billion in 2020, according to Radiant Insights, a market research firm based in San Francisco.
In the meantime, other drugmakers are rushing to launch so-called biosimilars—or lower-cost versions of Humira, hoping to tap into its massive revenue stream. At least six biosimilars are in late-stage development, including products by Amgen and Novartis, Morningstar analyst Damien Conover said.
But Humira's maker, Chicago-based AbbVie, says its 70 patents on the drug will keep biosimilars on the sidelines until 2022. Some observers say Lilly's different type of drug with its different mechanism of action could give the drugmaker a huge opportunity.
"There's no guarantee that baricitinib will win over FDA regulators or garner widespread support from doctors and patients, but if it does, the payoff could be big," said a January report from Motley Fool analyst Todd Campbell.•
Please enable JavaScript to view this content.