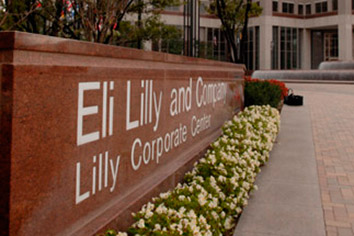 Federal regulators have approved a new immunotherapy drug developed by Eli Lilly and Co. for moderate-to-severe plaque psoriasis.
The drug will be sold under the name Taltz, and is also known by the generic name ixekizumab. It is administered by injection.
The Food and Drug Administration said Tuesday afternoon the drug can help relieve skin irritation and discomfort. Psoriasis is a skin condition that causes patches of skin redness and flaking, and most often begins in people between the ages of 15 and 35.
For Lilly, the approval marks a decade-long effort to re-enter the biotech and autoimmune spaces that it helped pioneer in the 1980s but then abandoned in the 1990s, just before biotech and autoimmune drugs caught fire in the marketplace.
It's unclear how much the new drug might ring up in sales for Lilly, or whether it has the potential to reach blockbuster status, typically defined as $1 billion in annual sales. Analysts surveyed last year expected the drug to fall short of $1 billion in annual sales by 2020.
Lilly said last summer that the drug helped six times as many patients completely clear up their skin irritations as Enbrel, a popular anti-inflammatory drug made by Amgen. It was tested in two large-scale clinical trials.
Psoriasis affects more than 3 percent of the U.S. population, or more than 5 million adults, according to the National Institute of Arthritis and Musculoskeletal and Skin Diseases.
The FDA said patients who take Taltz might have a greater risk of infection, or an allergic or autoimmune condition. Serious allergic reactions and development or worsening of inflammatory bowel disease have been reported with the use of Taltz, the agency said. The most common side effects include upper respiratory infections, injection site reactions and fungal infections.
 
Please enable JavaScript to view this content.