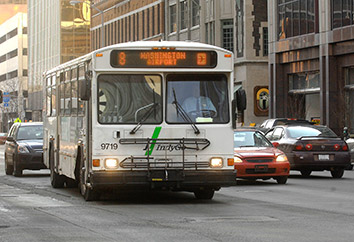 Monday night's City-County Council decision to put an income-tax hike question on November's ballot was just the latest step forward for mass-transit advocates.
Now comes a months-long campaign to convince voters to vote "yes."
Business leaders in charge of the advocacy work said Tuesday morning they expect to launch a "targeted" advertising and informational campaign by highlighting the possible benefits of expanded mass transit to a wide variety of groups—from low-income people who need more reliable transportation to work, to environmentally concerned residents who'd prefer fewer cars on the road, to millennials who see transit as a preferred way to get to work and other places.
"We feel very comfortable heading into November that if we're able to get our message out and speak to the different reasons people would support transit, polling does show we have a path for success," said Mark Fisher, Indy Chamber's vice president of government relations and policy development, to a room full of business leaders and government officials. "This is going to be a turnout game."
The 0.25 percent tax increase would pay for the Marion County Transit Plan, which aims to provide more frequent service and extended hours for buses. It also is expected to pay operational costs for three planned bus rapid-transit lines (a lower-cost version of light rail). The increase amounts to 25 cents per $100 of income annually—roughly $125 for a taxpayer making $50,000 a year.
But some advocates say the challenge will be getting the message out in a general election season that includes an unpredictable presidential race and a competitive governor's race, along with other state and federal races. The election is Nov. 8.
"This election defies any kind of logic we've ever seen," said James Corless, director of national advocacy group Transportation for America. "Do not take this for granted. This is going to take everybody getting together behind it."
Because of the "crowded" market, Fisher said it's unlikely that voters will see advocacy ads for transit on TV. They are more likely to hear radio advertisements, or see advertisements on social media or other digital spots that are focused toward specific groups.
The Indy Chamber has "sufficient resources to run an aggressive campaign," but told IBJ it would not release its budget. However, Fisher said advocates "do not have millions of dollars to spend," despite a claim to that effect made by Republican Councilwoman Christine Scales.
"There are influential groups that are well-funded that have the money to put out to control the message that residents will hear about details on this plan (and) about what it will do for them," Scales said Monday night before voting against sending the proposal to voters.
Opponents are also likely to launch anti-referendum campaign efforts. For now, an opposition group has already formed against building the Red Line bus rapid transit component of the plan. The tax referendum question would not specifically pay to build the Marion County portion of the line but is expected to cover its $6 million in estimated annual operational costs. About $75 million from a federal grant is expected to pay for most of the $96 million in construction costs.
For now, advocates have started a website and social media accounts with the slogan "Transit Drives Indy" and the Central Indiana Community Foundation has funded a coordinator to help advocates "get into the neighborhoods and talk about the plan," Fisher said.
Fisher said improved transit is "not a silver bullet to cure all of our ills," but it would better connect people with jobs, education, health care and the city's amenities.
The benefits advocates say would come by 2021 as a result of the tax increase include:
— 247,985 jobs within 0.5 miles of a frequent transit route (arriving every 15 minutes), compared with 140,057 jobs today.
— 45 percent of Indianapolis' minority population would have access to a frequent route, compared to 14 percent today.
— 32,770 low-income households would have access to a frequent route, compared with 10,517 households today.
Please enable JavaScript to view this content.