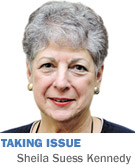 As the dust begins to settle from a bizarre election season that was starting to resemble a game of Whack-A-Mole, Hoosiers are just being introduced to our brand-new candidate for governor and the policies he proposes to pursue if elected.

According to several media reports, Holcomb has said it is his intention to "embrace" Gov. Mike Pence's record and has declared he is "quite proud" of Pence's tenure and "proud of where the state is now."

Holcomb's decision to tie himself firmly to Pence's record—a record many of us thought would elect John Gregg in November—raises a number of interesting questions.

The most obvious, of course, is whether Holcomb shares Pence's "culture war" goals, and if so, which ones. No sane candidate is likely to promote passage of another RFRA, given the civic and economic damage caused by that unforced error. But what about adding "four words and a comma" to Indiana's civil rights law, and protecting LGBTQ Hoosiers from being unfairly fired or denied housing, simply because of who they are? Pence clearly opposed civil rights protections for Indiana's gay citizens. Is that part of the record Holcomb "embraces"?

Another question that comes to mind: Which of Pence's approaches to preschool funding does Holcomb "embrace": his original decision to decline an $80 million grant that would have created a statewide preschool program or the U-turn he took on that issue this year, when that decision proved to be politically disadvantageous?

Speaking of education, if Glenda Ritz is re-elected as superintendent of public instruction, is Holcomb prepared to let her do her job or will he "embrace" Pence's determined efforts to strip her of authority over the state's educational policies?

Will he "embrace" and continue the governor's diversion of funds from Indiana's public schools to support the nation's largest and least-restrictive school voucher program—even though studies (including one from the highly respected Brookings Institution) found that voucher students attending private schools scored significantly lower on reading and math tests compared to similar students who remained in public schools?

Will Holcomb "embrace" Pence's continuing war on Planned Parenthood and women's reproductive rights? Did he support the bill the governor so eagerly signed—subsequently struck down by a federal court as blatantly unconstitutional—that, among other indignities, required women to conduct funerals for their aborted or miscarried fetuses?

Will Holcomb "embrace" and continue Pence's efforts to keep organizations like Catholic Charities and Exodus from resettling Syrian refugees in Indiana? Is he "proud" of this version of "Hoosier hospitality"?

And what about Indiana's crumbling infrastructure? Is Holcomb "proud" of the condition of Indiana's roads and bridges?

These are just a few of the questions candidate Holcomb will undoubtedly confront during his campaign, so he probably should start working on his answers.

It's hard not to feel some sympathy for Holcomb, and for all Republican candidates this year. In a number of states, Republicans running for office must decide whether to endorse Donald Trump, thus sending a message to moderate Republicans and independents that they place party above country, or repudiate him and lose the votes of Trump's supporters.

As difficult as that decision is for people like Arizona's John McCain and New Hampshire's Kelly Ayotte, it will be excruciating for Holcomb, given that the Mike Pence whose record he "embraces" has tied himself and his political future to a man increasingly perceived as dangerously unstable.

November will be interesting.•

__________

Kennedy is a professor of law and public policy at the School of Public and Environmental Affairs at IUPUI. She can be reached at skennedy@ibj.com.