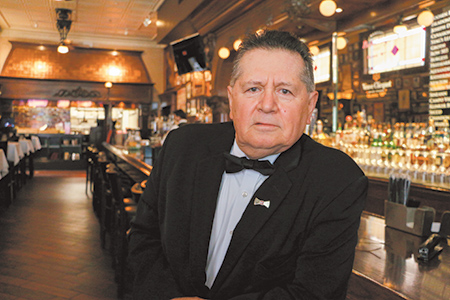 Lorenzo Acuna just celebrated his 40th year as a server at the iconic St. Elmo Steak House—and he has no plan to retire anytime soon.
It wasn't his first job. The 67-year-old native of Mexico, who still speaks with a heavy accent, worked in a few other restaurants after immigrating to Indianapolis. But St. Elmo, he said, is a special place and he's never thought seriously about leaving.
Tell me what makes a great server.
What makes a great server is doing what you like. Whatever you do, you've got to be good. I choose to be in this kind of business and so I choose to do my best—always, no matter who it is, who I talk to.
Do you think being a good server is something you're born with or something you can learn?
It's something you have with you and you try to do and the more you do the better you are. It takes practice. Everybody is different. You have to make sure everybody is happy. Some people like to, you know, be in and out. Some people like to be slow. You have to learn, to be with the crowd. We're not here for us. We're here for the people. You have to make it good.
What has helped you adapt to this job well?
Attitude. 100 percent. No matter what it is—bad weather, good weather—it's always good. … I get along with everybody—busboys, bartenders, cooks. I get along with everybody so it makes things easy. When you have communication, it makes things much easier.
 
What is it that made you stay at St. Elmo for so long?
It's not just a restaurant. It's a special place. St. Elmo is one of a kind. You know, same business, same location 114 years. Three owners. So, you know, it's something special. We're the best.
Do most customers come back over and over, or do you see new people all the time?
I see people come over and over and over. I been here so long, I see parents, I see sons, I see grandsons. It's like a family thing. I'm old now. When I start 40 years ago, I waited on their folks or their grandfolks. The people I used to wait on 40 years ago, I don't see anymore … they're old, they move to Florida, or something, but the young people still come in. That makes it special.
Who is the most interesting person or people you've come across in your job?
Wow. You know, this question, every day I have people asking me. I say the most important people are you. I never say somebody else is most important. I say: You are the most important person. The people I wait on at the moment, sitting at my table, are 100 percent special.
I see many important people, many famous people. But to me, all good.
But have you ever been star-struck by anyone?
I try to don't be that way. I try to see that everyone is important. Somebody very important is announced there or in the next table to me, it's nice to have VIP people. But, you know, pretty much to me, everybody is VIP.
Can you guess how many people you have served over 40 years?
Wow. No. Way too many. I need a calculator. But quite a few. At least 25 to 30 people every night. I used to work seven days, but now I'm old and work five days. So if I work five days in 40 years, I need a calculator.
You used to work seven days and now you work five days?
Yes. I'm old.
I don't think most people would think five days is taking it easy.
I still, you know, feel good. I'm old but I can take it. I don't know about tomorrow. But for the moment, five days is a full-time job.
Was it hard to make a living as a server?
No. Sometimes if you try to live very high, it's hard. I don't have a fancy life. A small house, a small car, a small family. We don't spend too much but we have the money to live comfortably.
How has the job changed?
The place changed. It used to be a small place. There used to be one bartender, one cook, couple servers. When I start here, there were five old guys and I was a young one. It was a small business. But now we're big. The menu got better. The wine selection is amazing. So, you know—wine selection, employees, a five-star chef—it's all good.
Do you think you'll ever retire?
It's something I don't ever think about. Most people ask me. Yes, I'm old, but it doesn't cross my mind too much to retire. One day I might feel bad and say that's it. But not now.•
Click here for other interviews.
Please enable JavaScript to view this content.