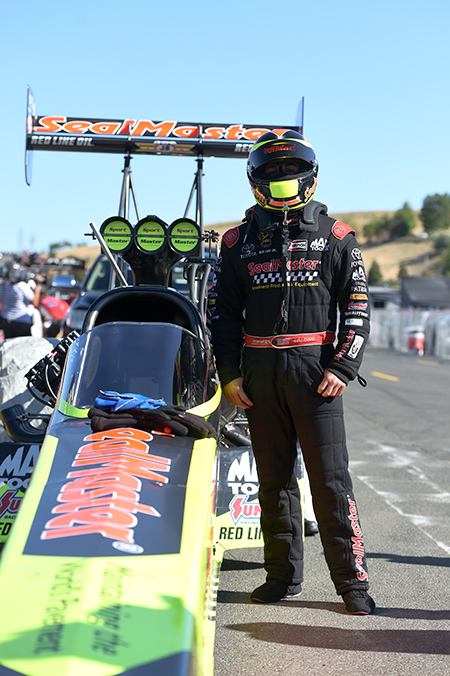 Meet J.R. Todd—on a lot of days, the fastest-moving person in Indiana.
The 34-year-old Indianapolis resident is one of the leading drag racers in the nation, a Top 10 mainstay in the NHRA Top Fuel division. Indy 500 cars? They might as well be under the yellow flag when a drag racer hits full roar.
He's also a history-maker, becoming the first African-American to win a Top Fuel competition, back in his rookie year in 2006 in Denver.
The story all started in Lawrenceburg, where Todd grew up riding dirt bikes and idolizing his father, Mario Todd Sr., who raced dirt-track motorcycles. Speed is what young J.R. (for Jr., as in Mario Jr.) loved, and speed is where he wanted to spend his life.
But it has been a winding road. He was Top Fuel rookie of the year in 2006 but lost his sponsorship in 2008 and knocked around the sport for nearly six years, trying to find a new sponsor.
One phone call changed everything. In 2014, team owner Connie Kalitta fired his driver in the middle of an event in Las Vegas, then asked Todd if he could get to Nevada the next day. Todd was on the first flight out the next morning, drove well, earned a permanent spot on Kalitta's team and now has become a fixture in the Top 10 points standings.
So what's the appeal to drag racing?
The thrill of going 330 miles an hour in about 3.7 seconds and a thousand feet, it's hard to describe. If you see it on TV as a fan, you need to get out there and experience it in person. I mean, 10,000 horsepower, it rocks the ground like an earthquake. When you're the one stepping on the gas and creating that much horsepower, having the fastest car on the planet, it's quite a rush.
Any other sports back in Lawrenceburg draw your interest?
I played Little League baseball and Pee Wee football. I would have loved to have gone to Notre Dame and play college football. Once we got to high school and all my buddies kept growing and I didn't, I knew I'd better stick to racing and give up on football.
How did your parents feel about you going into racing?
Growing up, they steered me away from racing motorcycles just because of the injuries my dad had had in the past. They felt it was safer for me to get involved in racing cars. They know the dangers. They go to—I'd say—90 percent of my races, so they've seen accidents along the way and know the risks out there.
At the same time, they know that I'm in the best possible equipment and I'm as safe as I can be. I feel like I'm safer in that Top Fuel dragster than I am driving my Toyota Tundra out here on [Interstate] 465.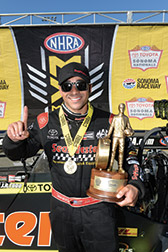 (Photo courtesy of Gary Nastase)
What did becoming the first African-American driver to win a Top Fuel race mean to you then and now?
At the time, I didn't even know. I was just so pumped to win my first race and then the NHRA media filled me in. I still didn't really realize or care at the time. The following days, you have CNN calling you and ESPN and USA Today and they're wanting to interview you about this big accomplishment, and it finally sunk in to me that, yeah, this is a pretty big deal.
Looking back on it, I'm extremely proud to have been able to do that. But at the same time, Antron Brown beat me as the first African-American to win a Top Fuel championship. That's my ultimate goal. As far as the diversity angle, drag racing I feel like has always been ahead of the game, whereas NASCAR and IndyCar and other forms of racing, they're extremely hungry to see an African-American win.
You lost a good friend, Eric Medlen, in a testing accident in 2007. How hard was that?
That was really tough. I was talking to him two minutes before he hit the gas there, so I saw the whole thing go down. I was in the hospital with him the next couple of days and just saw what his family had to go through. After it happened, you're down and out, but at the same time, I couldn't wait to get back to the track and try to go out there and win a race in his honor and give the trophy to his mom and dad—and it worked out the very next event. We went up there and we won. To see the look on their face, it brought tears to their eyes.
How tough were those years with no sponsors?
That was probably the ultimate low point in my life. Just bouncing around, getting turned down for sponsorship deals. You're trying to live off what money you saved off racing. You start pinching pennies and watch the way you spend. It's tough. It would have been way easier for me to give up.
Drag racing is out of sight, out of mind. If you're not out there, they can just forget about you. I had that happen in the past. At the end of 2013, I thought pretty much that was going to be it. I wasn't getting a full-time ride and I was down to my last few thousand dollars to pay my bills. Luckily, things worked out with getting a call from Connie in 2014 and the rest is history, so to speak. It makes you appreciate what you have now more than anything.
What about that call from Vegas?
We were at Buffalo Wild Wings watching March Madness and I think it was around 10 or 11 o'clock when I got the call. I had to go get my race gear, go home and pack my bags and buy a plane ticket. By the time I got to sleep, I think it was maybe an hour or two before I had to get to the airport. I tried to get some sleep on the flight to Vegas, but I don't ever sleep too well on planes. I think I had too much excitement and anxiety to sleep anyhow.
So next day you were driving 300 miles an hour on virtually no sleep?
That's pretty much it. I don't recommend that to anybody. I think I was pretty much going on emotion at that point.
It can be said … you paid your dues?
I'm not someone to toot my own horn and say that I deserved this and that I paid my dues. I just feel like I'm extremely lucky to be able to have gotten that call. I like to think Connie maybe saw something in me. Here we are, this is my third season, and we're still here and having a lot of fun. He hasn't gotten rid of me yet.
What's the future look like to you?
If it were up to me, I would love to finish my career at Kalitta Motorsports, and then when that day comes, hopefully get involved as maybe a team owner or a higher-up at Kalitta Motorsports. That's my ultimate goal—to be an old man and still be out there racing and winning and hopefully have a handful of rings and be able to tell stories to all the younger drivers.•
Click here for other interviews.
Please enable JavaScript to view this content.