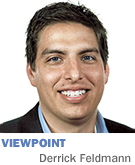 I sat in the client's board meeting, trying hard to play the "fly on the wall," listening closely
but not commenting on what I heard. And sure enough, before long, I heard those six magic words: "To
get our name out there."
My colleagues and I often hear this phrase in such sessions.
Then we usually see almost everyone in the room nod to approve whatever had been proposed and, without
comment or question, move on to discuss other matters. In so doing, they often give validation to activities
that offer no real return.
Recently, when a client used that phrase to justify an initiative
that, to us, seemed off-mission and ineffective, we decided to test their "get our name out there"
approach. We pulled analytics from the client's Web site to see if it was getting the traffic its staff suggested. We
analyzed impressions from public relations efforts and media coverage to see if the client was, indeed, gaining marketplace
"traction" as a result of the effort.
What did we learn? Not only did the client receive little to
no mentions as a result of the initiative, but it spent so much of its financial and human resources on the program that core
work was being ignored. As a result, not only was the return on the program negative, the organization also was losing opportunities
by focusing on it.
We weren't surprised. In case after case, we see businesses and not-for-profit organizations
launching initiatives, holding events and undertaking other activities for the sole purpose of "awareness raising."
And in case after case, we see that the public failed to respond the way the organization expected.
So, if "getting
our name out there" doesn't get the attention you want, what should you do? Focus less on the act of self-promotion
and more on your mission. Here's how effective businesses and not-for-profits do that:
• Focus
on the need. Solve problems for your clients or community. Your passionate dedication to solving
a problem transforms what you do from a service or product into a need or cause. Build awareness of that
cause—whether it's the need for a cancer cure, the importance of financial planning or the
happiness of owning a home—and you'll build awareness of your organizations.
•
Lead with your impact. Demonstrate how you address your need by showing how you make a difference
in people's lives. Tell stories that highlight the people, organizations and communities affected by your work and the
work will speak for itself. That will re-energize your current constituency, and ignite interest among those who offer the
best opportunities for you.
• Let others spread the good news. Effective communicators turn
to customers, partners and the people affected by their work—those who receive services, buy products
or use your expertise—to spread the good news. Through word-of-mouth, technology and other peer-to-peer
strategies, those people will become your evangelists, telling others why what you do is relevant and
important.
• Show expertise. Businesses and organizations generate
attention by talking, writing and doing things that showcase their people as experts. But they don't talk,
write or do things to promote themselves. They talk about research in their field, offer guidance, explain unmet needs and
showcase groundbreaking work being done in the field. And through this, they prod people to think, "The next time we
need help on this issue, we know who to call."
So, if you find yourself in a meeting in which someone utters
those six magic words, speak up. Tell them you need to focus less on getting attention and more on generating legitimate attention.
People like to hear stories about people overcoming challenges; they don't enjoy reading about how many people you hired,
how long you've been in business or the size of your headquarters. That kind of news might "get your name out
there," but it won't make people pay attention.•
__________
Feldmann is CEO of Achieve,
an Indianapolis-based consulting firm for not-for-profits.
Please enable JavaScript to view this content.