There have been more changes at the 76-year-old Indianapolis Speedrome in the last four months than in the last two decades.

Kevin Garrigus bought the Speedrome in November with the goal of revitalizing the historic east-side short track, believed to be the oldest figure 8 track in the country. He's already put $500,000 into upgrades—with more on the way.

It's a place where some of the biggest names in auto racing—guys like A.J. Foyt, Mario Andretti and Tony Stewart—raced in their early years. And it still could spawn the next great NASCAR or open-wheel racer—assuming it stays in business.

A year ago, that was very much in doubt.

Racers—concerned with the track's dwindling number of patrons—buzzed that the Speedrome, which opened in 1941, might be running out of gas. For good.

The nearly 6,000-seat facility, which features a one-fifth-mile paved oval and quarter-mile paved figure 8, was in clear need of repairs and upgrades, racers said, and then-owners Pete Watson and Jeff Hammel were looking to get out at the close of last season.



Enter Garrigus.

"I'm intent on making this one of the premier short tracks in the Midwest," he said.

The owner of two south-side used-auto dealerships and one soon to open on the north side, Garrigus has been involved in racing since childhood.

His family spent many nights at the Speedrome, which is just north of Brookville Road between Arlington and Shadeland avenues.

The Speedrome's heyday was auto racing's national heyday—the 1960s and 1970s. Figure 8 racing was regularly televised on ABC back then.

For the last three decades, the fan following at the local track has faded. Still, Garrigus' son started racing karts there a decade ago.

Garrigus later became a team owner, winning the late-model championship the last two years at the Speedrome.

But he had no intention of becoming a track owner.

"It just kind of fell into my lap," he said. "I have a great passion for racing and this track. I didn't want to see it close."

After buying the Speedrome, Garrigus hired Jonathan Byrd II, who had overseen marketing for the track, as its president handling day-to-day operations.

"Immediately when Kevin took over, there was a big difference," said Byrd, son of the late Jonathan Byrd, founder of Jonathan Byrd's Cafeteria (now Byrd Enterprises Inc.) and a former IndyCar Series team owner. "He has put his money where his mouth is."

Though the 2017 season doesn't open until April 1 (open practice starts March 11), Byrd said enthusiasm is already building.

"In 2015, we had 111 at our year-end banquet," Byrd said. "In 2016, shortly after the sale was announced, we had 225. … It's been incredible."

Byrd promises that racers and fans this season "won't recognize the place."

"The weather this winter has been great. It's allowed us to get so much done," he said. "I think people will be amazed. We're focused on making this the equivalent of Victory Field."

Byrd and Garrigus have their work cut out for them. Victory Field, home of the Indianapolis Indians, has been named the nation's best minor-league baseball park multiple times by Baseball America magazine.

Amped up

So far, Speedrome changes have focused on improving the track's appearance, making fans more comfortable, and giving drivers a better experience. Garrigus has added 560 stadium-style seats along the front stretch and bleachers in the third turn (both replaced metal folding chairs); improved ADA-accessible seating; installed a new sound system; improved the track's payment system (which now accepts credit cards at every ticket window and concession stand); and remodeled bathrooms, a kitchen and concession stands.

He's also repaved the oval and figure 8 tracks and expanded the pit area, built a larger winner's circle just outside the racetrack, and remodeled the pit/racing office, which now has central air and new lighting.

Garrigus repainted infrastructure, erected an arched brick entrance and new fencing throughout, rewired the venue with wires buried underground, and added signage, including a 60-foot banner at the southwest entrance, as well as new flags encircling the track. He also removed refuse and cut down overgrowth, especially on the south and west sides of the venue, giving it room for expansion.

Byrd, meanwhile, is taking all concession operations in-house and promising to add several menu items. Six additional security guards—to a total of eight—will be on duty during races "to assure a safe environment for families," Garrigus said. For the track's biggest events, 12 security guards will be on hand.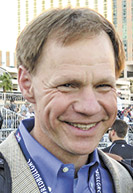 Frost
"In this day and age, attracting new fans and young people to auto racing events is a challenge," said Tim Frost, a Chicago-based motorsports business consultant and publisher of National Speedway Directory.

"But with the kind of commitment the new owner has shown and the reputation of the Byrd family not only in racing but in the hospitality industry, I think they're going to create a real buzz there when they open next month."

Drivers have been promised that races will be better organized, victory celebrations will be bigger, and prize purses will be paid out the night of the race, which hasn't always been the case.

"We know the racers may need the money to get ready for a race the next week," Byrd said.

He is also promising the track will start hosting different kinds of races and events, including a monster truck show June 3-4.

Grand plans

The improvements aren't done yet, Byrd said. The spectators' parking lot will be upgraded this summer, he said, and within three years, Speedrome officials intend to totally replace the grandstands.

Byrd and Garrigus are contemplating flipping the track—making the back stretch the start/finish line and main straight and making the current front stretch the back stretch. That grand plan, Byrd said, includes building eight to 10 suites and a new scoring tower.

"We think that's the best arrangement," he said. "That way, fans aren't looking into the sun so much."

A one-fifth-mile dirt track is also on the drawing board.

"Right now, it's just a dream, but we're definitely thinking about it," Byrd said.

But Garrigus said he won't increase ticket prices to recoup his investment.

In fact, adult ticket prices for Saturday nights have dropped from $12 to $10 and the cost of a pit pass has been lowered from $30 to $25. Tickets for senior citizens, first responders and military veterans cost $8. Tickets for children 9 to 12 will cost $5 while those younger than 9 will attend free.

"To reintroduce this track and to show this is the place for affordable family fun, we think this is the right price point," Byrd said.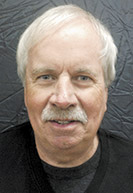 Miller
Longtime Indianapolis-based motorsports journalist Robin Miller, who now covers racing for Racer Magazine and NBC Sports Network, said the Speedrome also needs to repair its reputation.

"I think for a long time the Speedrome has had the stigma of a bunch of guys going out there in junkers, drinking beer, crashing their cars in the figure 8, and getting into fist fights," Miller said.

But he said great drivers also have raced at the Speedrome.

And Garrigus stressed that the team owners who race at the track are still serious. They invest $60,000 or more in each car in the late-model division.

"If fans were aware of the kinds of cars and investments that go into the racing at this track, they would know it's real intense racing," Garrigus said.

The Speedrome is known as the oldest of 110 U.S. figure 8 tracks, according to multiple sources, and in September hosts the Figure 8 World Championships.

Several classes of cars race at the Speedrome, from four-cylinder Honda Civic-types to big hunks of Detroit-made iron on steroids. Many of the cars look like a cross between a NASCAR fendered car and an open-wheel IndyCar.

"Figure 8 racing is the original extreme sport," Byrd said. "These drivers are highly skilled."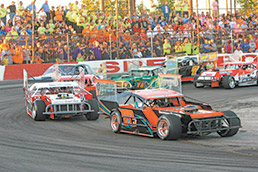 Teams invest $60,000 or more to put a single car on the track at the Indianapolis Speedrome. (Photo courtesy of Indianapolis Speedrome)
Evangelism

Garrigus isn't relying solely on lower ticket prices to amp up attendance. On April 1, the Speedrome is launching a television, radio, direct mail and digital ad campaign—bigger than anything it has run in years, Byrd said.

Frost said Speedrome officials will need to enlist sponsors willing to help with marketing.

"The key to any short track is promotion. And it's a challenge for many tracks to reach the numbers of people they need to by themselves," Frost said. "They have to find sponsors who are enthusiastic boosters for the venue. They need evangelists for the track. That type of support is every bit as important as cash for sponsorships."

Byrd and Garrigus are working on enlisting new sponsors, but Byrd added that might not happen until later this season or next. "We wanted to focus on getting everything up and running first, then show sponsors what we have to offer."

The goal this season is to double attendance for Saturday night races—which run from April to the end of October—and the track's eight Sunday races to 1,500 per day, Garrigus said, with a two-year goal of pushing it to 2,500.

If Speedrome operators can pull that off, they likely will generate a low-six-figure profit, motorsports business experts said.

Garrigus pledges to put any profits over the next three years back into the track.

"This is definitely a long-term investment," he said.

That doesn't mean Garrigus is treating the Speedrome as a not-for-profit, adding that he's "confident" he'll recoup his initial $500,000 investment in three years. He's also hopeful that his 19-year-old son, Jacob, will someday step into a management role.

"Right now, it's a labor of love," Garrigus said. "But the long-term goal is for this to turn a profit. If the track is going to make it for the long haul, like any other business, it has to stand on its own. That's what this revitalization effort is all about, to give it the engine to do just that."•