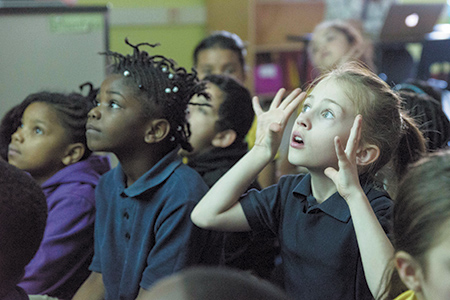 Indianapolis Public Schools sought to disrupt the K-12 education world two years ago in launching "innovation schools," an idea for an entirely autonomous group of schools that would operate within IPS boundaries.
In exchange for academic and financial freedom, the schools would be accountable for results. But in evaluating results, IPS would act more like a charter school authorizer than the central office.
The idea was and still is controversial among some public school advocates, who resent the blurred lines that have emerged between district schools and charters.
Several innovation schools are about to finish their first year with the designation—nine have been approved, but only eight are up and running—and the leaders behind them and district officials told IBJ about the lessons they're learning as they go along.
1. Some innovation schools have unique academic program models. But sometimes school is just school.
Inside a classroom at Global Preparatory Academy on a recent weekday, grade-school students were writing down the title, author and main idea of a book they'd just read.
It seemed typical of an English assignment—but the kids were doing it in Spanish.
Global Preparatory, a dual-language school where students spend the day learning in both English and Spanish, aims to provide instruction that will help students become global citizens and master two languages.
"Within our school, we have teachers from 18 different countries, kids from 16 different countries," said school leader Mariama Carson. "It's not just about bilingualism, but bi-literacy. You can read, write and understand completely in both languages."
At Purdue Polytechnic High School, which will begin its first school year July 31, students will encounter a project-centered learning model, and the school day won't look like your typical high school's. Instead of an English class every day for a semester, there might be a two-hour daily English lab for three weeks that will be treated more like a workshop, according to Principal Shatoya Jordan.
When they graduate, students will have experience working with an industry partner and will have direct admittance to the Purdue Polytechnic Institute in West Lafayette.
"We're reinventing high school," Jordan said.
Some innovation schools are using more familiar models.
Cold Spring School has wholly embraced a focus on environmental studies and science. It's apparent all around the school, from the goats and chickens in the back yard to a large garden out another doorway to plants and reptiles in the classrooms.
Principal Carrie Bruns even has a pet rabbit—named Milly Sue—in her office. But she said instruction is "still very similar to what we did before, but now we are able to add on and provide more opportunities, more time for science and being very purposeful about trying to integrate science into every content area."
"When we became an innovation school, we did so for the flexibility in our finances and curriculum," Bruns said. "So, we really didn't want to change a lot of what we were doing because we had a very sound program already in place."
Other innovation schools, including Enlace and Kindezi Academies, are using blended learning, which combines computer instruction with small-group time with a teacher.
2. The model of approving and incubating schools might be where the innovation comes from.
The innovation-school model was enabled by 2014 legislation, which was lobbied for by IPS, former Indianapolis Mayor Greg Ballard and the influential education-reform advocacy group The Mind Trust.
Since then, schools have taken several routes on their innovation journeys. Available pathways include restarting an existing underperforming school, converting an existing high-performing school, launching as a new innovation school, and launching as an innovation charter school.
Working alongside the district in the process of selecting innovation schools—which the IPS board must approve—is The Mind Trust's innovation school fellowship program, which launched in 2014 as a way to kickstart the network. Fellows receive a one- or two-year salary at up to $100,000 per year, health care and benefits—and all the resources (and consultants) necessary to incubate and plan out a school.
Mind Trust CEO David Harris said that model is unprecedented across the country.
"I don't know of any community that has a program that empowers educators to propose ideas for new schools in the district, and if they're selected, they're given resources to launch those schools, and once they're up and operating, the educators get all the authority to run those schools," Harris said. "That is in and of itself extraordinarily unique and innovative and important. It's empowering educators."
The biggest gift of the incubation period is time, said Kevin Kubacki, executive director of the Neighborhood Charter Network, which runs Enlace and Kindezi Academies. That sounds simple, but he said it leads to a world of difference in being able to think through a vision and plan around it.
"The reality of leading a school is, once you're in the day-to-day," Kubacki said, "that kind of time just isn't there anymore."
3. Innovation school principals are enjoying the financial flexibility.
Carson said the financial freedom she receives is a "huge game changer" and is allowing her to invest in things she believes aren't always possible at district schools.
Carson restarted Riverside School 44 and, through the partnership with the district, was able to pay a nominal price for the relatively new building. She's also receiving transportation, special education services and other expenses through a contract with the district.
"A building like this, what would it cost? Oh my gosh," Carson said. "A ton of money. If I had to pay dollar-for-dollar for this building, I could not have two teachers in every classroom. No way."
Carson said serving kids in a large-district setting involves hurdles she doesn't have to deal with.
"If there's a need that these kids have, we don't have to go through the bureaucratic process of, 'Let's get this approved, let's talk to this person, let's see if there's money for this,'" Carson said. "We have the whole pot of money to serve our kids. Now you decide how you use those funds based on what the kids need."
Carson said the school tries to be frugal in some areas so it can invest in others—such as bonuses for teachers for perfect attendance, performance and leadership.
"That has been huge for our teachers," she said.
At Cold Spring School, Bruns said she is finally able to prioritize and invest in her science curriculum the way she wants to by having a dedicated teacher.
"One thing that I could not understand when I came here was that this was a science magnet for the district but we had no designated science teacher," she said. "Whereas, you look at a performing-arts school, and they have very specific art and music instructors. I asked every year, and it was, 'No, we don't really have the funds.' There wasn't a lot of openness."
4. Freedom from district practices hasn't solved all the problems.
The innovation-school leaders are also learning that, while some challenges at a school can be fixed fairly quickly, other realities and struggles are more entrenched.
At Global Prep, Carson said it was a "heartbreak" to realize that some of her students weren't ready for 50-50 dual-language immersion and would be better off 70 percent of the day in English.
"That was a hard pill to swallow," she said. "While language immersion is an unbelievable opportunity, if kids can't read and write and compute in their own language, they're not going to be successful. Our challenge is, how do we make sure kids have the foundational skills to be successful in a dual-language program? I do believe this program is for all kids."
And Kindezi Academy is still struggling with the excessive mobility of its students that the school faced when it was under district leadership. Churn during the school year—frequently due to families moving—has been shown to put students behind their peers academically.
"We've seen that high transiency," Kubacki said. "It isn't because people don't buy into what we're doing. It comes down to housing issues and maybe getting a job on the other side of town. There are things outside of the school's reach, so that's something that we're continually trying to think through and work with the district."
5. The collaboration with charters—and the separation from unions—has affected innovation schools differently across the network.
Believers in the innovation-school concept say they see the tearing down of walls between IPS and charters as a good thing. Kubacki said IPS' innovation network "really embodies what the charter movement originally wanted to accomplish."
"I don't think [charters] were originally designed as an anti-public-school movement, but it allowed for schools to be able to think in new ways," Kubacki said. "To be able to implement innovative practices, to show proven results, and to influence and impact the district schools and bring some of those ideas to a larger population of schools."
But the most controversial part of the concept—that the teachers at the schools aren't part of the teachers union—has still affected staffing. However, schools retain the right to bargain collectively at the school level.
During School 69's transition to becoming Kindezi Academy, only a couple of existing staff members even interviewed to stay on.
"We would have loved to have kept some teachers and created more consistency and continuity," Kubacki said. "I would attribute some of that to the idea that it required them to leave collective bargaining."
However, at Cold Spring School, Bruns said nearly the opposite situation happened. She said she has retained most of her staff of 23.
"Many of them had been here for a long time and many of them are just science teachers at heart," she said. "We have teachers that drive over an hour just to work here because they are that dedicated to the mission of what we're trying to do for kids."
The first year of the innovation schools in action hasn't done much to impress the union. Indiana State Teachers Association Executive Director Teresa Meredith told IBJ, "We still believe the purpose of them is to eliminate unions and do away with unions in a school setting."
6. The innovation schools have made IPS think about how traditional district schools can change.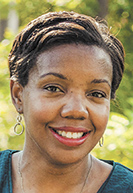 Johnson
IPS Innovation Officer Aleesia Johnson said the launch of innovation schools has accelerated the district's thinking on how it can support increased school-level decision-making. That, she said, has to include a fairly significant paradigm shift.
"We are a big organization with lots of established practices," Johnson said. "What innovation schools have done is upended that and forced the district to think about our relationship with schools. What does it need to be?"
The district has made inroads in its new student-based budgeting model. But it goes deeper than just flexibility with money, Johnson said. She said the key is "cultivating two-way communication."
"It can no longer be central office as central command, pushing out one thing," Johnson said. "Central office perhaps has some models, some suggestions, protocols, but schools [need to] be able to respond back saying, 'This piece works for us,' or, 'We're going to take this and massage it or modify it.' We're learning how to do that."
7. IPS says it's taking accountability seriously.
Johnson said there have been misconceptions about IPS' commitment to holding schools accountable. She said she views the district's role "much like a charter authorizer."
"We are charged to hold them accountable," Johnson said. "With autonomy has to come accountability. Those things have to be lock-step."
For instance, IPS Superintendent Lewis Ferebee put an innovation school on academic notice in late April, signaling to those at the district that if Emma Donnan Elementary School doesn't improve, it could be restarted again.
Donnan is run by for-profit education group Charter Schools USA, which also operates Manual and Howe high schools. The Indiana Charter School Board recently revoked other charters that the group had planned to open in the state, partly due to lack of communication.
Board members told Donnan's leaders last August that they weren't impressed with the school's academic achievement levels. And Ferebee announced in April that it had selected the school, along with several others, to take part in a "quality review process."
"If their performance is not strong for this current school year, and their performance is not strong for [next year], there could be another restart or a termination of the contract," Ferebee said. "If you have a lot of students not meeting the bar of proficiency and not growing academically, that's not a good place for our students."•
Please enable JavaScript to view this content.