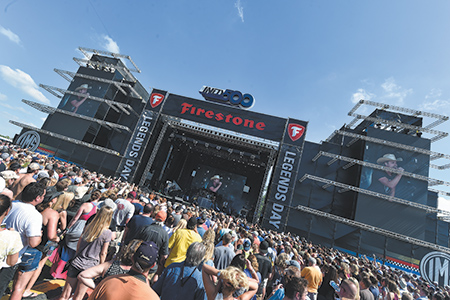 Hulman & Co. CEO Mark Miles is firing up an effort to go after consumer-oriented sponsors—a move aimed at helping the Indianapolis Motor Speedway sell more tickets for its events.
The Speedway—and IndyCar Series—have traditionally been heavy in business-to-business sponsorships, making the new tack something of a right turn for a track known for turning left.
It's a move that could put the Speedway in direct competition with the likes of the Indianapolis Colts and Indiana Pacers.
"If you're looking to drive attendance, sponsors can do that. But [Speedway officials] have to know this drives them right into the crosshairs of the stick-and-ball teams in this market," said Larry DeGaris, director of sports marketing at the University of Indianapolis.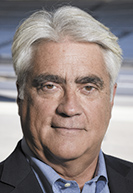 Miles
"Teams like the Colts and Pacers are definitely seeking this type of sponsor, too, and there are only so many of them to go around," he said. "It's a very finite resource."
After a handful of meetings with his top lieutenants, Miles this month decided to punch the gas on an intensive effort to sell sponsorships to companies in four primary categories: banks, convenience stores, fast-food restaurants and fast-casual restaurants.
"Business-to-business partnerships are and will always be a very big focus for us," Miles told IBJ. "Now we're trying to get more consumer companies involved."
While attendance for the Indianapolis 500 has been robust in recent years, there was still a 10-percent-plus decline in 2017 from the sellout crowd for 2016's 100th running of the race. Other Speedway events, especially the Brickyard 400 NASCAR race, have played out before acres of empty seats.
The new initiative is not a reaction to declining attendance, Miles said, but rather an effort to bolster the profile of the track and all its events.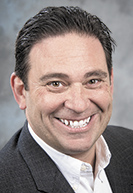 DeGaris
"We want companies with lots of points of sales," such as stores, he said. "We want companies that do a lot of advertising, and we're looking for companies that understand all the power of what goes on here."
Miles said he and his staff will talk to local, regional and national companies—but it's key that the new partners have a strong presence in Indiana and, ideally, Indianapolis, where a huge chunk of the Speedway's tickets sales are generated.
"If they do business in Indianapolis, they understand the power of the Indianapolis 500, and that's a logical place to start," he said. "We would be delighted if they are national, but a focus on where we're selling tickets is key."
Miles is aiming to sign deals of $500,000 per year and up, with some reaching the seven-figure range. He wants cash as part of the deals. But just as important, he wants sponsors who will spend money to promote Speedway happenings and to help the track sell tickets.
Ungar
"These deals will be a combination of spending in [the corporate partner's] marketing and advertising to promote the events at the track, and cash," Miles said. "Both of those things are really valuable to us."
Miles said the new deals will focus on May events—including the Grand Prix, which needs a new title sponsor, and the Indianapolis 500 and its qualifications—but would not be limited to that month.
The Brickyard 400 has been moved from July to September for 2018; an LPGA Tour event is set for September; the Red Bull Air Race is in October; and the Lights at the Brickyard will be in November and December.
"We definitely want to leverage the month of May," Miles said. "Because of the strong position in the marketplace of the Indianapolis Motor Speedway, I'm confident these will be attractive."
Miles said "brainstorming" conversations with potential new business-to-consumer companies has already begun, and he is hopeful one or more deals can be in place for the start of the 2018 racing season.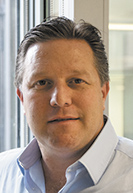 Brown
The packages will be customized for the client, Miles said. Some might focus on just May events with others on year-round events.
Sports marketers told IBJ that nearly two-thirds of IMS' sponsors—companies like CDW and Borg Warner—are business-to-business-oriented. One sports marketer said the Speedway has only four active corporate partners that are primarily business-to-consumer: Honda, Chevrolet, Firestone and Verizon.
Compare that to NASCAR, where three-fourths of sponsors are business-to-consumer, sports marketers said.
"Sponsor activation—enlisting sponsors to help promote your property—is the fuel for expansion for any sport," said Ken Ungar, president and founder of Charge, an Indianapolis-based sports marketing agency. "That's what really helped boost NASCAR from a regional to a national racing circuit."
Miles doesn't completely agree with the marketers' characterization of the IMS' marketing roster. He cited other business-to-consumer sponsors—including Miller/Coors, Coca-Cola and Fuzzy's Ultra Premium Vodka—that are active at the Speedway. Still, he readily admitted the track needs more and is confident his staff can sign new deals.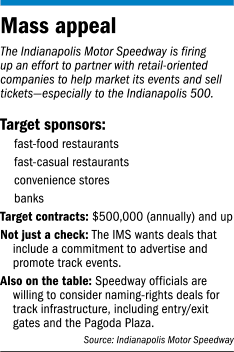 While Miles said he isn't limiting the number of B-to-C partners the Speedway will engage, all new deals will be "category-exclusive."
"I think three to five is probably what's possible," Miles said. "We're trying to give them a distinctive place in the marketplace, and that implies some type of limit."
The Speedway isn't the only racing entity trying to diversify its sponsor base.
Zak Brown, founder and former owner of Zionsville-based motorsports marketing consultancy Just Marketing International, said the same shift is happening in Formula One.
"Formula One, too, has been traditionally heavy in B-to-B sponsors," said Brown, now executive director of the McLaren F1 team. "F1 has seen the power of partnering with companies with enormous B-to-C footprints.
"I think Mark [Miles] is targeting the right categories with his effort," Brown added. "Those types of restaurants, along with banks and convenience stores, have a massive reach."
Brown predicted Speedway officials could "absolutely" score $1-million-plus deals with this new initiative.
"That track is so iconic and the Indianapolis 500 is a worldwide brand; I think these sponsorships will be very appealing," Brown said.
Separately, the Speedway is also approaching companies to buy the naming rights of key parts of the track's infrastructure. For instance, Miles said, Speedway officials could sell naming rights to Gate 1—or other entry/exit points—and the Pagoda Plaza.
Ungar, a former chief of staff at IMS, said Miles' strategy is a good one, but he warned that business-to-consumer sponsors today will demand proof that a deal with the track is actually helping grow their business.
"It has to be a two-way street," Ungar said. "Gone are the days when you can just put a sign on something or call someone a sponsor and put a display in their store. You can't just ask your sponsors to help sell your tickets and expect to get nothing in return. The Speedway will have to show any potential sponsor it can help drive traffic to their stores and move products off the shelves."•
Please enable JavaScript to view this content.