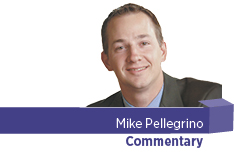 I started two intellectual-property-based businesses in 2003 and 2011, respectively. Today, I am at a positive turning point with both companies, which spurred me to reflect on the trials and tribulations I have had with each. I find it amazing the quantity and clarity of memories I have tied to these businesses—especially memories associated with the thousands of people I have interacted with.
One of those people told me a parable that involved a wise and successful businessman and a reporter. The reporter asked the businessman for his secret to success. The businessman replied, "Two words: good decisions." The reporter, unsatisfied, asked the businessman how to make good decisions. The businessman replied, "One word: experience." Frustrated, the reporter then asked how the businessman gained experience. The businessman replied, "Two words: bad decisions."
Apparently, this story has moved me enough to remember the year and month I heard it: October 1996, nearly 22 years ago. I find it remarkable how prescient that parable was for me in developing and growing my businesses.
A natural inclination for an aspiring entrepreneur is to seek out the advice of more senior and successful entrepreneurs. A primary goal is education: namely, to gain wisdom from others about what does and does not work in business.
Years ago, when I was first forming my valuation-consulting business in Fort Wayne, this parable was at the top of my mind. Heeding the moral of the story, I sought out the wisdom of many successful entrepreneurs. While many provided good advice, I found a surprising number provided absolutely poor advice. I am thankful for the advice of the former group and I am also thankful I ignored the advice of the latter group.
Living in Fort Wayne at the time, I introduced myself to Keith Busse, founder and then CEO of Steel Dynamics, at a Rotary Club meeting where he was guest speaker. I marveled at the fact that a guy like Keith could start a Fortune 500 company in Fort Wayne, but also that he was willing to share his time with me. In my mind, Keith was legit. The guy had his face pixelated on the cover of The Wall Street Journal. The only other person I knew at the time who had that kind of treatment was Bill McComb—another Fort Wayne native and success story who went on to run Fortune 500 company Liz Claiborne.
Keith was most gracious with his time. When I lived in Fort Wayne, we used to get together occasionally for lunch. Starting a business is an emotional roller coaster. A voicemail from Keith or his assistant was always a high point in the cycles of getting a business off the ground. Keith regaled me with wonderful stories about the genesis of Steel Dynamics and its formative days—especially how to go about raising hundreds of millions of dollars to form a company.
It was important to me to never ask Keith to buy a thing from me—even if Steel Dynamics might have been a great prospective client. Rather, the goal was to learn from him what he was willing to share. Over our lunches, Keith gave me wonderful bits of advice and reinforced other ideas I was concurrently figuring out for myself. While he might not have known it, Keith offered encouragement at every meeting we had.
At the time, I traveled a lot to Indianapolis before moving here in 2007. Like in Fort Wayne, I was able to meet here with a variety of successful local entrepreneurs. One was an officer of several public companies in Indiana. He had some great success stories and clearly achieved remarkable financial success.
His advice was to fold up my business and go work for a mid-tier accounting firm and apprentice there before trying to go out on my own. Maybe, if I was good enough and could stay at the firm, I could make partner after eight to 10 years of hard work and make the average partner salary of about $250,000 per year at the time.
I thanked this successful person for his time and never requested another meeting. Entrepreneurs tend to have an optimism bias, which can cause them to make and reinforce poor decisions; however, at the time, the advice to fold up my young business appeared uninformed and quite premature. Wanting further clarity on the topic, I researched the success rates for entrepreneurs to see what might help explain whether I should heed the advice of this successful entrepreneur. The research results surprised me.
Academic research indicates that successful entrepreneurs do, indeed, have a better track record than first-time entrepreneurs—but only barely. A successful entrepreneur's odds of success are 25 percent on average versus 20 percent for the first-time entrepreneur. That small disparity does not engender much confidence about skill versus luck in entrepreneurship. Ultimately, this can influence the quality of advice an aspiring entrepreneur receives.
Beyond the basic mathematical probabilities, successful people can sometimes overrate themselves, erroneously believing their good fortune in one business readily transfers to other businesses. Aspiring entrepreneurs might not be aware of this data or that the possible arrogance of successful entrepreneurs coupled with circumspection breeds a mentality of kingmakers who can do more harm than good.
But it is important for entrepreneurs to realize that even the best investors bat .250, which means they fail 75 percent of the time. So the next time a successful entrepreneur provides advice that appears uninformed or close-minded, do not be afraid to ignore it, as the odds might be in your favor that ignoring the advice is the right decision.•
__________
Pellegrino is founder and president of locally based intellectual property firm Pellegrino & Associates. 
 
Please enable JavaScript to view this content.