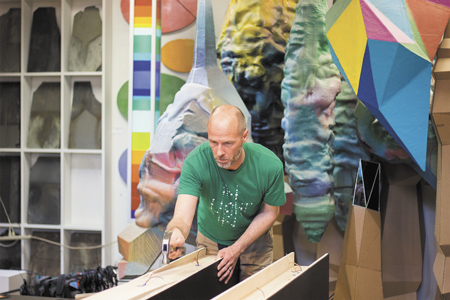 In 2017, the Indianapolis Downtown Artists & Dealers Association disbanded, taking with it its official monthly art gallery crawl, First Friday.
But nobody seems to have told the Harrison Center for the Arts.
At the Harrison Center, 1505 N. Delaware St., art openings on the first Friday of every month still feel like special events, with packed galleries, lively additional programming, and food well beyond the standard cheap wine and nondescript cheese.
But unlike many other galleries that empty out on non-opening days, the Harrison Center is a constant whir of activity. A visitor any day might find a class from nearby Herron High School on an outing, a composer scoring new music in a hidden studio, artists with disabilities creating new work at ArtMix, or a gathering of art patrons at an intimate dinner prepared by a leading local chef.
And the creativity goes beyond the building. On June 16, the Harrison Center presents the 17th annual Independent Art + Music Festival, a day-long, outdoor event featuring local musicians and visual artists.
And on Oct. 6, for the second year, it will take over three blocks of 16th Street for its innovative PreEnact Indy event.
Thirteen professional theater groups will take part as "actors perform an equitable way of living and model a neighborhood that is revitalized, but is also inclusive," the event website says.
At the center of it all is Joanna Taft, 54, the Harrison's executive director.
Taft doesn't have an actual office. Why bother when there are so many cool nooks, crannies and inspiring spaces to work and hold meetings?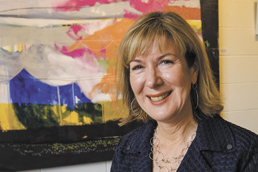 Harrison Center Executive Director Joanna Taft has worked almost 20 years to build community in the Old Northside neighborhood through art. (IBJ photo/Eric Learned) (IBJ photo/Eric Learned)
She first became aware of the then-nearly vacant Presbyterian Church building in 1998 when she worked for Indiana Landmarks. She and her husband, Bill Taft, a longtime leader in Indianapolis community development, were among those who persuaded philanthropist Jeremy Efroymson to buy the building in 2000 and rent it to Redeemer Presbyterian Church, artists and arts organizations.
A handful of artists moved in before Efroymson stabilized the building and sold it to Redeemer.
That's when Taft stepped up. "You've loved the neighborhood through a thrift store and food pantry; how about loving it through the arts?" she asked church leaders. "That's what your community wants. We need the energy of the arts to have a good ecosystem."
Redeemer hired Taft to make that transition happen.
"I wasn't really qualified to figure this out, but the church didn't have a pastor at the time, so I got away with a lot," she said. Taft opened up spaces in the 65,000-square-foot building (60 percent of which is leased to the art center), rented them out inexpensively to artists, and had a hundred people show up to the first art opening.
By the fifth art opening, there were 500 visitors. Within a year, 900 or more were showing up. And soon it became an independent not-for-profit, the Harrison Center for the Arts Inc.
'A culture of collecting'
What did Taft and company do right?
Shannon Linker, vice president of the Arts Council of Indianapolis, said it has to do with making sure the artists were at the center of everything the center did.
"And they cultivated their community, starting with their neighbors," she said. "It's quite a brilliant strategy that seems to be working even as other spaces continue struggling to build and/or keep this type of loyalty and engagement with their patrons."
"One of the most impressive achievements," Linker added, "has been the development of a culture of collecting. The visitors that regularly attend their openings purchase artwork and many of them have purchased multiple times."
Taft—and the Harrison Center—became more central to the arts with the forming of IDADA in 2003 and the birth of First Fridays. (Others wanted to do Final Fridays; Taft pushed for First.)
"What I learned early on was the need to work with people like me who love art but are intimidated by the art scene," she said. "We did a lot of theme shows. We would do a show that would attract people who would come to something about sports. We partnered with the med school and did research triangles to attract scientists, including a reception table that had test tubes and beakers and dry ice."
It helps, of course, that the 36 artists with studios at the Harrison Center are some of the most notable in the region.
"We have not tried to be super cutting-edge," said Kyle Ragsdale, a Harrison Center artist since 2001, "but we're working hard to be more approachable to everyday Hoosiers."
Added artist Emma Overman: "I can still remember the first time I attended an opening at the Harrison Center. It was 2003, and I came with the purpose of showing people the slides of my work I had stashed away in my purse.
"It just happened that, while I was there, I encountered an artwork both compelling and inexpensive enough that I purchased it. This put me on their emailing list, which served as a reminder to keep visiting. I participated in a couple of shows before applying for a studio. I moved in back in August of 2006. I really feel like 2006 was one of the best years for growth for me, and obtaining that studio was a big part of that."
Seeing visitors go from buying posters to their first piece of art to becoming regular art buyers has been a dream fulfilled for Taft. A family from the Greenwood area, for instance, had a tradition of going to the mall every Friday night for shopping or a movie.
"They ended up here and started buying art every month, gift certificates for weddings, and they'd always make a family decision," Taft said. "We have story after story like that."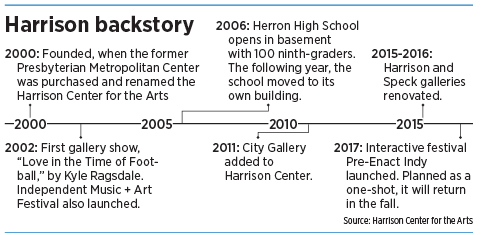 Creative programs
A more visible sign of connectivity is the Harrison's annual Independent Art + Music Festival. Even more ambitious—and unprecedented—is PreEnact, a word Taft came up with while contemplating how to introduce new and prospective residents to the community in a way that embraces rather than overwrites its history.
Using local set designers, every vacant lot and building—as well as existing buildings and sidewalks—becomes part of a three-block-long stage. The spectacle blurs the boundary between theater production and street festival. What was planned as a one-shot event in 2017 will return in October—even though Taft has yet to secure all funding.
Taft also rolled out smaller events, including Art Dish, an intimate monthly gathering that combines a talk by a currently exhibiting artist with fine dinner in the gallery by a noted local chef. (A July event with Jonathan Brooks of Milktooth fame is sold out at $150 a ticket.)
What's good for the artists has been good for the neighborhood.
Harrison's programs have helped fight urban blight by guiding new residents to abandoned homes in the area. To help attract low- and middle-income residents, Taft in 2011 created City Gallery at the Harrison Center, with work devoted to celebrating neighborhood life. Since then, about 150 houses per year have found renters or buyers.
"I think people are hungry for community," Taft said. "They're hungry for beauty and being connected to ideas. It wasn't rocket science. It was simply opening our doors and loving artists, and people responded to that."•
Please enable JavaScript to view this content.