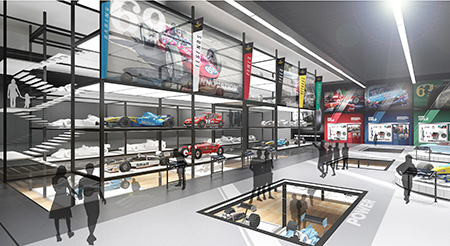 For the better part of its first 60 years, the Indianapolis Motor Speedway Museum has been more a classic-car showroom than a museum.
Its exhibits are mostly static, and stale for return visitors.
While the collection of vintage automobiles, race cars and motorcycles has always been impressive, the museum hasn't done a good job of telling the story of the Brickyard and of the men and women who built its legacy.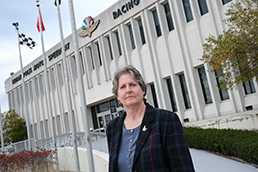 The museum's executive director, Betsy Smith, oversees an annual budget of $4.2 million and a staff of 21 full-time and 40 seasonal employees. (IBJ photo/Eric Learned)
The museum, on the inside of the track's short chute between turns 1 and 2, provides visitors little context for what they're seeing and has few interactive elements. Until recently, it also rarely changed its exhibits or rotated pieces in its collection of 350 cars and thousands of other artifacts, only about 20 percent of which space allows for display.
"It was a look-but-don't-touch museum," said Betsy Smith, who was hired as executive director in 2014 from her post in charge of fundraising at The Nature Conservancy in Indiana.
Even the name—IMS Hall of Fame Museum, which the not-for-profit used until 2016—was confusing. The museum has a hall of fame component but was not designed primarily as a hall of fame.
So its board has launched an ambitious—some might say daunting—strategy to address the museum's shortcomings and expand its horizons.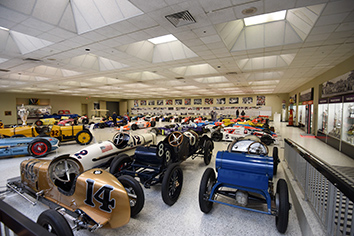 Currently, cars at the Indianapolis Motor Speedway Museum are displayed on one level with little context. Museum officials also want to remove skylights that allow in damaging ultra-violet rays. (IBJ photo/Eric Learned)
Rather than a quick tire change and a spritz of fuel, museum leaders have opted for an overhaul that will—if all goes well—include tens of millions of dollars in upgrades and expansions.
Plans are in the early stages—too early for a projected cost. But if they come to fruition, the revamped museum will be nearly twice as large, with a 3-D theater, elevated cars, interactive digital experiences, racing simulators, and virtual- and augmented-reality displays. Portions of see-through flooring might even give visitors a peek at what has until now been a secretive collection in the vault-like basement.
Tourism and hospitality experts say the museum could become one of the city's biggest drawing cards.
And although renovation details and a timeline are a long way from being finalized, it's possible the museum will be out of its building and closed for up to 18 months.
"Every single system in this facility needs to be replaced," Smith told IBJ during a recent tour. "We determined that it would be too difficult to keep it open while we rehabilitated the facility and made improvements. And it would take the project a lot longer to be completed."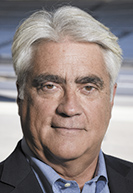 Miles
The project is important not just for the museum but also for the Speedway. That's why it's a safe bet the track's owner—Hulman & Co., which has no ownership in the museum—will contribute.
"We're delighted they're working hard to expand and improve the museum to ensure our place in history going forward," Hulman & Co. CEO Mark Miles said. "We look forward to deciding how we can best support the museum as their plans and needs are fully developed."
Miles said Smith is the right person to take the museum full throttle into the future.
"Betsy is a real pro. She's not a car person and she wasn't a big-time racing person, but she's been a great leader and I know her to be very competent and focused, and she knows what it takes to move projects like this forward," Miles said.
Brick by brick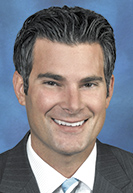 Gahl
Museum leaders and local hospitality experts predict the project's payoff will be worth the investment and the hassle.
"The museum is already a massive attraction for visitors from around the world," said Visit Indy Vice President Chris Gahl. "And it goes beyond racing fans to general sports fans and car and history buffs. It's an iconic attraction inside another iconic attraction."
Gahl said Visit Indy already uses the museum to "help sell the city," and that the scope of improvements the museum is considering would make it an even bigger draw.
"In terms of attracting visitors and bolstering tourism, cities lead with what they're best known for," he added. "Orlando leads with Disney; we lead with the Indianapolis Motor Speedway and Indianapolis 500."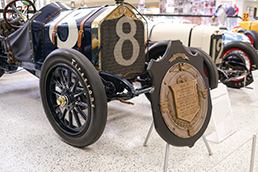 The museum displays contemporary and historic cars, including this 1912 winner of what was then the International 500-Mile Sweepstakes Race. (IBJ photos/Eric Learned)
But it will take more than just exhibit upgrades to get the museum ready for prime time.
The building design also is problematic. For example, the massive skylight in the middle creates beautiful lighting, but the sun's ultraviolet rays damage artifacts. Some museums that have lent items to the IMS Museum have insisted they be kept as far from the skylight as possible.
The museum also desperately needs a freight elevator to move large items, including cars, from basement storage to the first-floor exhibit space. Currently, those items have to be hauled outside and around the museum.
Like the Indianapolis 500's legacy, the museum transformation will take time to build. The first step, already underway, is to double the size of the museum board to 14 members within two years—not only to diversify leadership but also to help build support for the planned capital campaign. Three board members have been added since 2014, and another will be added within a month.
The capital campaign likely won't launch for two to three years. It comes during a challenging time for museums—especially specialty museums.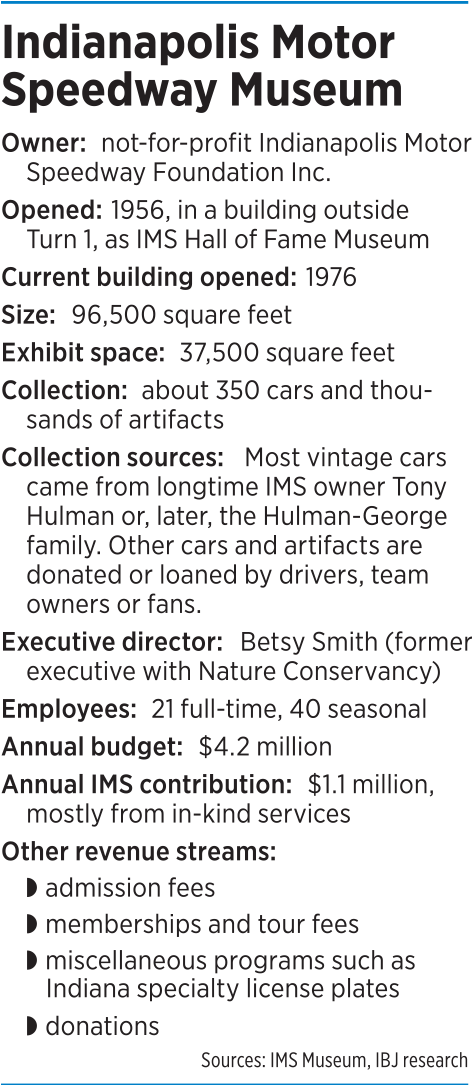 In recent years, museum attendance has been nudging downward, and a report from consultant PGAV Destination found a decline of nearly 4 percent in people's intent to visit a museum in the coming year.
"Museums are exploring ways to be relevant to the next generation of audiences," said Tom Owen, vice president for St. Louis-based PGAV Destinations, which helps design museums, historic sites, zoos, aquariums and themed attractions. "People used to visit museums for information, but technology puts information at our fingertips."
Museums, Owen said, must find ways to offer experiences technology can't.
"Specialty museums have a unique challenge," he added. "They enjoy a potential audience of passionate enthusiasts, but may not even be considered by non-fans. Specialty museums need to capture a very high percentage of the enthusiasts, while also finding ways to appeal to a broader audience."
Tourists often visit a specialty museum only once, he said, which makes creating reasons for repeat visits critical.
First steps
While the IMS Museum's ambitious overhaul will take five or six years to complete, leaders have already adopted some significant changes to strengthen the museum's draw now.
In 2015, the foundation that owns the museum adopted its first master plan, which included the new name. That moniker went live in April 2016.
The next month, in conjunction with the 100th running of the Indy 500, the museum completed the conversion of 6,000 square feet of office space into new exhibit space, including some of the museum's first see, touch and listen displays.
In December 2016, 1,500 square feet of office space was converted into an art gallery, which doubles as space for meetings and events with racing-related speakers.
In total, the IMS Museum now has 37,500 square feet of exhibit and meeting space. The two conversions combined cost $310,000.
The impact of those improvements was immediate, with attendance jumping 27 percent in 2016, to 165,000. Part of that increase was due to the sellout of the 100th running of the Indy 500, but museum attendance has not declined to pre-2016 levels. One national museum consultant predicted that the museum's transformation could bring an additional 100,000 visitors a year.
In the meantime, improvements continue. Interactive displays added this year tell stories of the stars that built the track's legacy—from the worlds of IndyCar, NASCAR and Formula One. And more interactive displays are coming soon, including a digital map that will mark the hometown of each of the 771 drivers in the Indianapolis 500.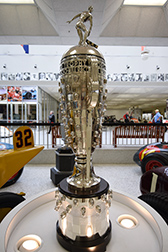 The Borg-Warner Trophy features the face of every winning driver but none takes it home. It is on permanent display at the Indianapolis Motor Speedway Museum. (IBJ photo/Eric Learned)
The museum's operating procedures also have changed. For example, the museum in 2016 launched its own website—indyracingmuseum.org. Until then, it only had a static landing page on the Speedway's website. The museum that year also launched its first social media presence with Twitter, Facebook and Instagram accounts.
Three years ago, the museum—which owns 350 cars and borrows others for display—started offering memberships to bolster attendance and revenue. In 2016, it launched rotating, themed exhibits. "The Amazing Unsers" recently wrapped up its run, and "Hoosier Thunder: Indiana's Short Track Heritage" opened Nov. 8.
Speaker series, like occasional "Fuel Up Fridays" that offer members coffee-and-doughnut chats with IMS personalities, have been added. And the museum's 7,500 reels of film are being evaluated for digitization, which would make them more easily incorporated into displays. In 2017, the museum received a $500,000 grant for film and archives preservation and digitization.
The museum's tour options have been greatly expanded in recent years. They now include a Kiss the Bricks Tour, Behind the Scenes Tour, The VIP Full Grounds Tour and, new this summer, a Private Golf Cart Tour.
To clarify the hall of fame portion of the museum, its name was changed from Auto Racing Hall of Fame to the Indianapolis Motor Speedway Hall of Fame. The parameters for inclusion were tightened to reflect only drivers, team owners and personalities who have built a significant legacy at IMS, including the Brickyard 400 and Formula One. Jeff Gordon and Tony Stewart were 2018 inductees.
Plan comes to life

Preliminary plans for a revamped museum include adding two wings and a partial third floor. (Rendering courtesy Indianapolis Motor Speedway Museum)
Several board members have donated a combined $1.25 million to fund staff additions—in fundraising, membership, communications, collections management and curating. The museum hopes to elevate its film collection and improve overall archives.
In August 2016, local architecture firm Schmidt Associates drafted a design for the museum's renovation and expansion, including possible east and west wings and a third floor in the front. The design calls for expanding the basement to provide more storage and upgrading an off-site restoration facility, moving it on site, and making it part of the museum tour.
A year later, the museum hired Washington, D.C.-based Gallagher & Associates, which presented a plan for a thorough aesthetic and technological upgrade of exhibit space. That report recommended 170,000 square feet as a "sustainable footprint" for the building, which currently has just short of 97,000 square feet.
The expansion will likely include a cafe, education space, more exhibit space and an expanded lobby. Preliminary plans call for the 3-D theater to have an oval bank of screens with displays surrounding the seating area. The cars could have projection maps that make it appear they are moving.
It's possible, she said, that the theater seats could move to give visitors the feel of what it's like in a race car. The plan calls for seating capacity of 150, a little more than double that of the current theater. It also calls for a 3-D interactive display of the Speedway's 2-1/2-mile oval track with the ability to simultaneously show speeds of race cars from different eras.
"For a sport that moves fast and has a lot of sound, nothing in here moves and everything is mostly silent," said Smith, who spent nearly 15 years as an attorney and later a partner at Ice Miller. "We have to change that.
"We need to figure out a way for the museum to tell the stories, not just about racing and this track, but how this track has had a major impact on the development of Indianapolis, the state of Indiana, and on automobile manufacturing and development in this country."
More fuel needed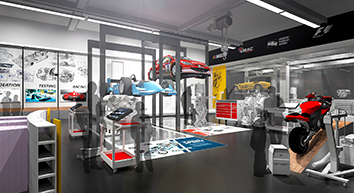 Preliminary plans to expand and update the Indianapolis Motor Speedway Museum include creating more interactive exhibits. (Rendering courtesy Indianapolis Motor Speedway Museum)
Although she called the overhaul "a complete transformation," she emphasized the IMS Museum "is not a children's museum. But we still want to make this facility family-friendly and interactive for older kids."
Early plans call for the exterior to be reminiscent of the Speedway's pagoda, although Smith cautioned nothing is "set in stone" and that the scope of the project will depend on how much the museum is able to raise in its capital campaign.
She emphasized that considerable outside funding—beyond any contribution from Hulman & Co.—will be necessary.
IMS Museum officials realize the venue will be much costlier to operate if the expansion is completed. The full-time staff will need to grow from its current 21 to about 50, Smith said. The museum also hires about 40 seasonal employees.
The strategy includes establishing a $10 million endowment to help with future expenses. The museum in 2017 formed an endowment and has just over $1 million—revenue generated from selling mostly non-racing-related artifacts.
The museum's annual budget is $4.2 million. The Speedway provides $1.1 million annually in mostly in-kind contributions. That leaves the museum to raise $3.1 million—about half of which comes from ticket and tour revenue. The rest comes from membership fees, sponsorship revenue, events, donations and a handful of other categories.
Smith said she expects the fundraising to be difficult and knows her staff is still very much in fact-finding mode.
"We have some indication there is support for this," she said. "But saying you support something and a willingness to financially contribute are two different things."•
Please enable JavaScript to view this content.