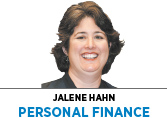 People often dream of getting a big financial windfall. The most common sources of sudden money are lawsuit judgments, divorces, business sales, inheritances, retirement packages and stock options.
Susan Bradley, founder of the Sudden Money Institute, said, "When money changes, life changes. The reason is that people get used to their own level of wealth. Suddenly, they don't have the same limitations they had before, but many don't realize they still do have limitations. We define sudden money as having more money than you're used to dealing with. It's enough money that it has the potential to rock your world. For some people, $100,000 would do it; for others, a couple of million plunges them into sudden wealth."
People mistakenly believe a large windfall will solve their problems, but if they are not prepared, it can have a dark side. "Sudden wealth syndrome" is a term coined by psychologist Stephen Goldbart to describe "the stress, guilt, social isolation and confusion" that often accompanies a giant windfall. You might also not have the experience to hold onto the money and will find it disappears as quickly as it arrived.
As the boomers age, the wealth transfer to the next generation over the next 30 to 40 years is estimated to be $30 trillion. Seventy percent of those intergenerational wealth transfers will fail. In our society, talking about money is taboo and inheritors often have no idea what will come their way.
Ann Perry, author of "The Wise Inheritor: A Guide to Managing, Investing and Enjoying Your Inheritance," calls this phenomenon the "'triple taboo'—the unnerving intersection of money, death and close family relationships. Many people feel uncomfortable discussing even one of those topics honestly, let alone all three at the same time."
What can you do to be part of the 30 percent whose intergenerational wealth transfers are successful? Communicate. Start the conversation early. Talk about what is most important to you about having money. If it is only about material possessions, there will in all likelihood not be enough. Carolyn Rosenblatt, a personal finance contributor to Forbes, wrote, "the 30 percent of families who succeeded did so with broad and well-thought-out planning, preparing both children and grandchildren for their futures. A key component was to identify a family mission as well as a strategy to attain it."
It is possible to learn how to manage sudden wealth and make it enhance your life. Experts agree on a fewcommon steps:
◗ Don't do anything rash. Think about your decisions before spending or investing. Give yourself time to adjust to your new circumstances and understand the emotions that come with money. There might be some decisions that need to be made in the short term, but most can wait a few months.
◗ Set realistic expectations and priorities. Do you need to pay off debt, save for college education or invest for your own retirement? Depending on the sum received, it might not be possible to achieve all your goals immediately.
◗ Don't go it alone. Hire or consult with a team of advisers. Work with tax experts to identify strategies to reduce taxes. Find a financial adviser who can guide you through new financial opportunities and make sound plans for your future. Attorneys might be needed to develop strategies to limit access to money. You might also need to find a good therapist to work through some of the emotional issues.
◗ Learn to say no. Once others find out you have come into a windfall, you will be approached for gifts, grants and loans.
A sudden windfall is an opportunity to take a deep breath, sit back and examine your life. Work with trusted advisers to develop a plan for not only your new wealth, but also your life.•
__________
Hahn is a certified financial planner with WWA Planning and Investments. She can be reached at 812-379-1120 or jalene@wwafp.com.
Please enable JavaScript to view this content.