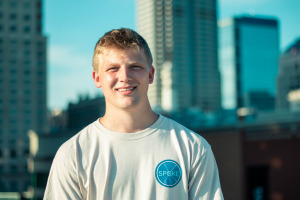 Matt Baggott has wanted to run his own business for as long as he can remember.
It's not surprising. The 21-year-old son of ExactTarget and ClusterTruck co-founder Chris Baggott has grown up watching his dad hit it big as a tech entrepreneur multiple times.
And the younger Baggott isn't afraid of a challenge—or getting his hands dirty.
That goes all the way back to high school, when he ran a poultry business, raising and selling hundreds of chickens.
"The summer after my junior year was spent cleaning out a poultry barn," Baggott said. "It was a lot of hard work and it was pretty messy. It was a huge learning curve."
The poultry business ended when predators swooped in—literally—and killed three-fourths of his flock.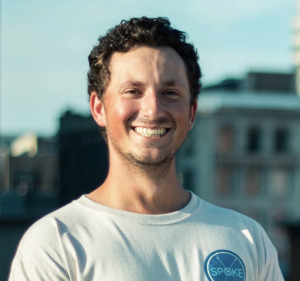 Now Baggott—and his business partners, Aaron Miller and Hanna Wade—have a new, decidedly more high-tech business.
But the challenge is still big and the work still long to get it off the ground.
Last spring, as the pandemic was about to erupt across the U.S., Baggott bumped into Miller at an Economic Club of Indiana gathering where the elder Baggott was speaking.
Matt Baggott and Miller had been in an entrepreneurial program at DePauw University a few years earlier—when Baggott was a freshman and Miller was a senior. Baggott later transferred to Hanover, where he started an entrepreneurial group there.
Baggott and Miller began discussing business ideas—and ways to help other businesses.
They landed on the idea of a hyper local way to market businesses. And Spoke Locally was born.
Baggott says the app gives local businesses a way to communicate with customers and potential customers in their direct area in a way no other platform does.
Miller, who previously worked for local marketing tech company Sigstr, is the startup's CEO. Baggott is chief marketing officer. And Wade—who also is a DePauw graduate—is the chief technology officer. Carmel-based Swan Software Solutions is helping with coding and other technical aspects of the app.
Miller and Baggott are majority shareholders. Wade and some family and friends investors have a minority stake.
Spoke Locally has raised $70,000 in capital, and the founders have been busy going door-to-door and cold calling area businesses to sell them on becoming members of the network. Businesses downtown, in Fountain Square, Speedway and Irvington—where the startup is focusing its initial launch—are being offered a three-month free trial and then will be asked to pay $30 a month to be a part of the Spoke Locally network.
The startup has signed up more than 120 businesses, including Cunningham Restaurants, Bazbeaux Pizza, Yard House, Greek Island Restaurant, Center Point Brewery, City Dog Grocery, The Rathskeller, Mesh, Downtown Comics, Sun King Brewery, Taxman Brewing Co. and Jack's Donuts.
Business members can be almost any business-to-consumer enterprise, from restaurants to yoga studios and live event centers.
Local residents can download the app for free. Initially, Spoke Locally is using influencers to invite people to use the app. Baggott is also hopeful that the businesses using the app will promote it as well.
Spoke Locally is also heavily promoting the soon-to-be launched app as well as the company's journey through its Instagram account, @spoke_locally.
The way the app works is pretty simple. Users log in and the app uses geolocation software to tell the user what's happening where he or she is, including deals and features at restaurants, live events and more.
Businesses can input messages either in real time or can schedule announcements to be broadcast through the app in advance—even on a weekly or monthly basis. The app can also tell the business owner a host of information about users, including how many Spoke Locally users are in the neighborhood, how many are in their establishment and how long they've been there or stayed.
Individual users can like certain elements of what the businesses are doing and offering, but the interaction is limited, Baggott said, to eliminate a lot of the noise that is heard through apps like Yelp.
"We need some consumer engagement, but not verbal engagement," Baggott explained. "The goal is not to get consumers scrolling through the listing all day. The idea is to get on, find what you're looking for and get off."
The idea is also to give businesses more control over the app's content. Baggott explains that Yelp gives over much of the control to consumers, who can essentially torpedo businesses with bad reviews. Meanwhile, not many apps allow businesses to message consumers. He also said businesses can spend five to 10 times as much money with other apps as they would on Spoke Locally and not get nearly the benefit.
"We're not adding a platform to a business' plate," Baggott said. "We're trying to take three or four platforms off their plate. We're trying to give them an uncorrupted form of communication with customers and potential customers."
Baggott admits going door-to-door and cold calling has been challenging—especially during a pandemic, but he said the feedback has been largely positive. He said he and his business partners have signed about one in three businesses they've approached.
"These business owners have a million things to do, so they don't have much time to listen to another sales pitch," Baggott said. "If they're going to take the time to talk with us, they want to know we have something that can help them. And we do."
Baggott aims to have 200 businesses signed up by the time the app goes live in July and is hopeful the app will have 10,000 users in the coming months. When Spoke Locally earns its chops in its initial markets, Baggott said, it will expand to the north side and Hamilton County as well as the south and west sides of the city. From there, he thinks the sky is the limit.
"We want to take this global for sure," Baggott said. "We want people to be local anywhere in the world. If I go to San Francisco for a pitch competition, I want to know immediately where to go for a drink or to get something to eat. We think we're going to replace Yelp. We want to bring a new energy and solution to businesses. The plan is to build up a huge customer base before we expand beyond Indiana."
Spoke Locally has some heavy hitters going to bat for them.
In addition to Baggott's famous father, Spoke Locally also has enlisted Steve Fouty, the James W. Emison director of the McDermond Center for Management and Entrepreneurship at DePauw. Fouty has consulted with a number of successful startups, including ClusterTruck and local tech firm Compendium. Rodrigo Castro, Midwest strategic partnerships lead for Door Dash, also is an advisor for the company.
But no one has had a bigger impact on the younger Baggott's business approach than his dad.
"I've been fortunate I've been able to shadow him through some of the phases in his own business operations," Baggott said. I've been able to see what he's accomplished and how his passion for his businesses has carried over. I think my biggest takeaway that he has shown from where he started is that your story doesn't matter. You have to do the work."
Please enable JavaScript to view this content.