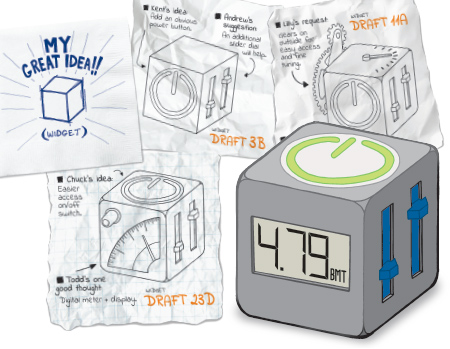 Entrepreneur Max Yoder failed out of the gate when he launched his first company.
No, not Lessonly, the training software firm that is still growing seven years after he co-founded it with the folks who created the High Alpha venture studio.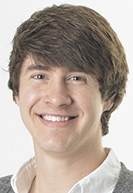 Yoder's first company was Quipol, which offered a social polling product that he worked on for nine months, sequestered away from its potential customers, trying to make the product perfect before he released it.
"I thought I'd pull back the curtain and go, 'Ta-da,' and people would go, 'Wow, he really nailed it!'" Yoder said, looking back. "But that's not what happened."
Instead, Yoder emailed his final product to 300 people who had expressed interest in the idea. Within minutes, a recipient emailed back and said, "Good job, but why doesn't Quipol do X?" And X was a really good idea.
"It was an early indication that I had missed out on a tremendous opportunity to get early feedback from folks," Yoder said. "But I didn't have a big budget to keep going, to make the changes."
Roughly two years after launching, Quipol failed, having never recovered from skipping the feedback step.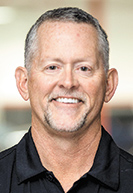 Yoder and Quipol are not alone. About 30% of startups fail by the end of their second year, according to the U.S. Bureau of Labor Statistics. By the fifth year, about 44% have failed. And by year 10, nearly 70% have failed.
"If anyone looked at the math around probabilities, no one would do it," said Mike Simmons, who founded the parking software firm T2 Systems in 1994 and stepped down as its CEO in 2016 after a sale. Now, he's the chairman and CEO of Sharpen Technologies, which makes customer service software, and managing director of Jupiter Peak LLC, which invests in startups.
"It just doesn't make sense," Simmons said. "I mean, you're absolutely fighting the odds."
But experts say there are plenty of ways for entrepreneurs to boost those odds—and chief among them is making sure there's a match between the product and a group of customers who will pay for it.
"The number one reason for new product failure is not meeting an unmet market need. You have an idea, and nobody wants it," said Kim Saxton, a clinical professor of marketing at the Indiana University Kelley School of Business at IUPUI.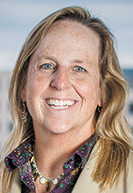 'What do they need?'
That sounds simple enough, but the problem manifests itself in a number of ways.
It could mean the entrepreneur's idea is not a good one and should be abandoned. That's certainly a possibility.
But more likely, the idea just hasn't been fleshed out, or there's a better way to solve the problem. The key is doing what Yoder didn't do: Talk to the product's potential users early.
"A lot of startups really haven't done enough good customer research to think of, who really has this problem and what do they need to solve the problem?" Saxton said.
Startups "have this product idea in their head and they start spending money to develop this perfect product, but they overspend too early without really knowing who the buyer is," she said. "Those two things have to move in tandem, and they rarely do."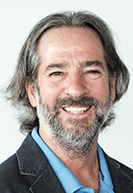 Saxton is co-author of the recently released book "The Titanic Effect: Successfully Navigating the Uncertainties that Sink Most Startups" with her husband, Todd Saxton, associate professor of entrepreneurship and strategy at the Kelley School, and Michael Cloran, who has founded multiple startups and is a partner at DeveloperTown.
Using the tragedy of the Titanic as its outline, the book details some of the icebergs entrepreneurs face on their journey to building what they hope will be successful companies. There are dozens of potential icebergs, but the Saxtons say the disconnect between what a company produces and what customers want is a huge one.
And they say it can happen when a company—like Quipol—develops its product in a vacuum. Conversely, it can also occur when a company hasn't thought enough about its product before it talks to customers.
Todd Saxton used his daughters' Girl Scout troops' strategies for selling cookies to illustrate the point.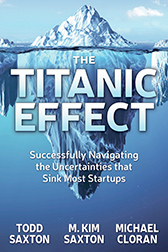 One daughter is in a troop that spent hours planning how the girls would sell the cookies, what their pitch would be to customers, and how they would counter customer reasons not to buy. "They had it all nailed down," he said. "They knew the pricing, they knew the messaging." But they struggled to get moving. "At some point, you've got to leave the house and get out there and start ringing doorbells," he said.
Another daughter was part of a troop that immediately rushed out with its boxes and started knocking on doors. But when customers asked about cookie flavors and prices, the scouts were unprepared to answer.
Like the Girl Scouts, what entrepreneurs need, Todd Saxton said, is some balance. "You need enough of that kind of courage to go actually talk to a customer and show them a very early working prototype that you haven't invested a lot in to get feedback," he said. "At the same time, you've got to spend some time on thoughtfully experimenting and developing a product that you can take out without just, you know, running out and knocking on doors."
Tweaks, pivots
Business experts often refer to the minimum viable product. It's a term coined by Eric Ries, author of "The Lean Startup," who defines it as the "version of a new product which allows a team to collect the maximum amount of validated learning about customers with the least effort."
It's not a shortcut. The minimum viable product is actually the start of a longer process that involves lots of interaction with potential customers. It helps a company try to prevent spending too much time or money developing a product that customers won't actually use. It allows tweaks and adjustments—sometimes wholesale pivots—along the way to creating a viable product.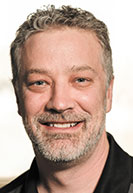 "Entrepreneurs sometimes are in a very big rush to share their solution before they actually understand the problem through the customer's eyes," Todd Saxton said. "So that kind of customer empathy is really important in the early stages, to deeply understand their journey and what it is that they're going through, how they see it."
Jeff Ready—who has launched more than a dozen companies, including some successes and some failures—talks often to college students and entrepreneurs about that very issue.
Rule No. 1 of starting a company, he tells them: "Your idea sucks." And rule No. 2? "You need more ideas."
"Obviously, that's for shock value," Ready said. "But I'm leading them into this discussion of, 'Hey, before you go and write a business plan and get investors and start writing code or start doing marketing or whatever, pick up the phone and talk to some people that might be a customer.'"
Too many entrepreneurs spend their time Googling, bent over a computer instead of out talking to customers, Ready said. They check the prices competitors charge for similar products rather than asking customers what they're willing to pay.
He urges founders to contact potential customers and pitch their ideas as though they have a product or ask to meet with people in the industry to learn about the problems they are facing.
"You would find that a very surprising percentage of people are willing to give you two minutes, five minutes, an hour," he said. "Then you fast forward to six months, a year, two years later, when you actually have that product, and, well, guess who the first people are that you call as potential customers? Those same people—and then it's not cold calling."
The product you end up with at the end of all that listening and tweaking might not be the one you started with.

Changing course
That's what happened to Ready when he founded Scale Computing about a dozen years ago. He set out with an idea that was simple: Compete with VMware, a company now owned by Dell Inc. that specialized then in a narrow aspect of cloud computing.
Ready went to VMware's website, read its case studies, and called those customers. He asked whether they would buy from him instead of VMware if he could provide the same services for 30% less. When they said no, he called other customers and asked if they'd buy it for 50% less. No. What about 70% less? No.
"Why not?" Ready asked. One customer finally explained that the amount of money he was spending on VMware services was just a tiny part of what he was spending overall for his project—a data center. What he really needed was a price cut on the most expensive part of the project: data storage.
So Ready and Scale Computing launched as a data storage company. "Not because that's what I was pitching at the time, but because that's where I found the need," Ready said. And that customer, the one who explained the problem, became one of Scale's first customers.
Over the years, Scale expanded its products—as technology and customer needs changed. And today, it's actually providing services that compete directly with VMware. Still, without talking to customers and making changes accordingly, Scale "would have just been a complete failure from the beginning," Ready said.
So what about Yoder?
When he had his next idea—create a simple platform to handle corporate training—he embraced the concept of the minimum viable product. Yoder and his team at Lessonly spent several months on the initial idea, but they left plenty of time and resources for making changes.
"We were out of the gate super-early," said Yoder, who has written his experiences in the book "Do Better Work."
"I was not shy with our prospective customers, that this was a very early draft of something that we were going to continue to improve on for a very long time, and that, by coming aboard, they could help us improve on it," he said.
Even after Lessonly made its first sale, the team continued to evolve the product methodically, "because we didn't want to guess—we wanted to know."
The good news, he said, is that some customers like to be first. They like to help mold a product and put their fingerprints on it and help a company make it better—a process, Yoder said, that never stops. And the product is paramount.
"Your business doesn't exist just because you have a good logo or a website," he said. "Your business exists because you're able to sell your product—and it's a good product. To do that, you have to get out and talk to people. It solves everything."•
Please enable JavaScript to view this content.