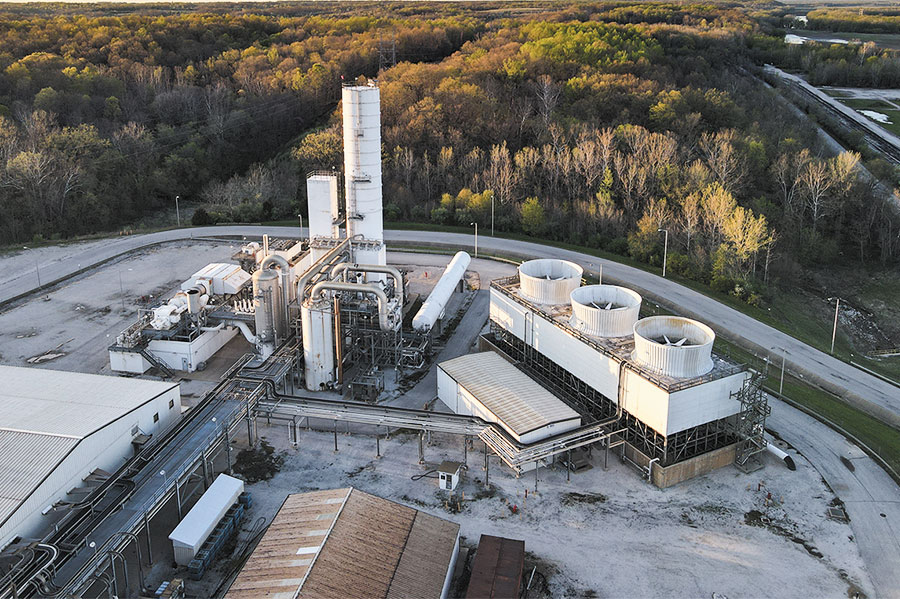 By the time it's expected to come online in 2026, a West Terre Haute-based fertilizer plant will have the capacity to capture and store as much as 1.65 million tons of carbon dioxide annually, making it one of the largest carbon-sequestration projects in the country.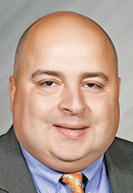 Wabash Valley Resources, which was formed in 2016 to acquire a shuttered Duke Energy coal plant in Vigo County, is moving forward with the project after state lawmakers passed legislation requiring the company to compensate landowners for the porous, underground rock formations underneath their property that will hold carbon dioxide.
The plant currently produces hydrogen-rich syngas, but the company plans to retrofit the facility to also produce anhydrous ammonia fertilizer and separate CO2 for sequestration.
"This is a billion-dollar asset that we're repurposing to make fertilizer and, maybe down the road, hydrogen," said Sen. Jon Ford, a Republican from Terre Haute who supports the development. "I think there's a lot of possibilities with a project like this."
The $900 million endeavor, which has received funding from Arizona-based battery manufacturer Nikola Corp. as well as the U.S. Department of Energy's Carbon Storage Program, will address a high demand for a reliable supply of agricultural ammonia used for crops such as corn and wheat without harming air quality, company officials say.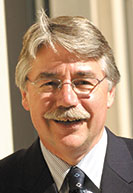 "Both the Department of Energy and the Environmental Protection Agency are very excited about us doing this at scale because it's the path forward to avoid the kind of air pollution that comes from the burning of carbon," said Greg Zoeller, vice president of external affairs for Wabash Valley Resources.
While carbon-capture technology has the support of the Biden administration and EPA officials, some environmental advocates and consumer protection groups caution that the process does not come without risk, pointing to an incident in Mississippi in February 2020 when a CO2 pipeline burst, resulting in 45 people being hospitalized.
It also carries the risk of contaminating drinking water and stimulating earthquakes, according to the National Resources Defense Council.
"It's a completely unproven technology that we are pushing forward based on extreme and extraordinary lobbying done by the fossil-fuel industry," said Kerwin Olson, executive director of the Indianapolis-based Citizens Action Coalition.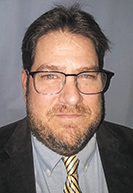 Wabash Valley Resources plans to purchase environmental waste to produce ammonia fertilizer. The resulting chemical process emits carbon dioxide, but instead of traveling through a smokestack and into the atmosphere, the CO2 will be injected about a mile and a half underground into rock formations that capture and store the carbon.
The company says the facility will produce 500,000 metric tons of anhydrous ammonia a year, equal to about half the current annual usage by the Eastern Corn Belt, which covers most of central Indiana and western Ohio, plus part of southern Michigan.
Wabash Valley Resources is one of several energy companies competing for incentives provided by last year's Inflation Reduction Act, which includes tax credits for carbon-sequestration projects. The company could also receive up to $500 million in federal funding for green energy projects from the 2021 infrastructure bill.
The company worked with local unions to supply anywhere from 500 to 750 temporary construction jobs as part of the project. When completed, the facility is expected to provide 135 permanent jobs with an average annual compensation of around $129,000.
At its peak, the Duke Energy station employed 225 people, though about 600 coal mining jobs were lost indirectly as a result of the plant's closure.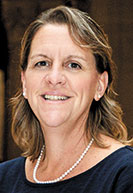 "I think it represents such a great potential for the western side of the state to be forerunners in clean energy," said Rep. Tonya Pfaff, a Democrat from Terre Haute who co-sponsored Ford's bill. "The Hoosier State would also reduce overreliance on imported fertilizer. If we can help farmers and cut costs, I think it's a win."
WVR still needs to obtain a Class 6 permit from the EPA to inject carbon underground.
The Indiana General Assembly authorized WVR to be Indiana's pilot project for carbon-capture technology in 2019, but subsequent efforts by the company to gain easier access to the land above the porous rock formations faced intense opposition from groups like the CAC and the Indiana Farm Bureau, which sought compensation for landowners who owned property above the rock formations.
In 2022, lawmakers established a statewide policy for siting, zoning and permitting carbon-sequestration storage and pipeline networks, but the Vigo County project was excluded from the requirements in the bill. A separate piece of legislation faced intense opposition from groups representing property owners and ultimately failed.
This year, the parties were able to reach a deal on a bill that allows Wabash Valley Resources to exercise eminent domain over property owners who refuse to sell their land but requires that the company compensate landowners in the form of a yearly payment of 40% of the average estimated rent per acre, based on Purdue University's annual Farmland Values & Cash Rents Survey Results.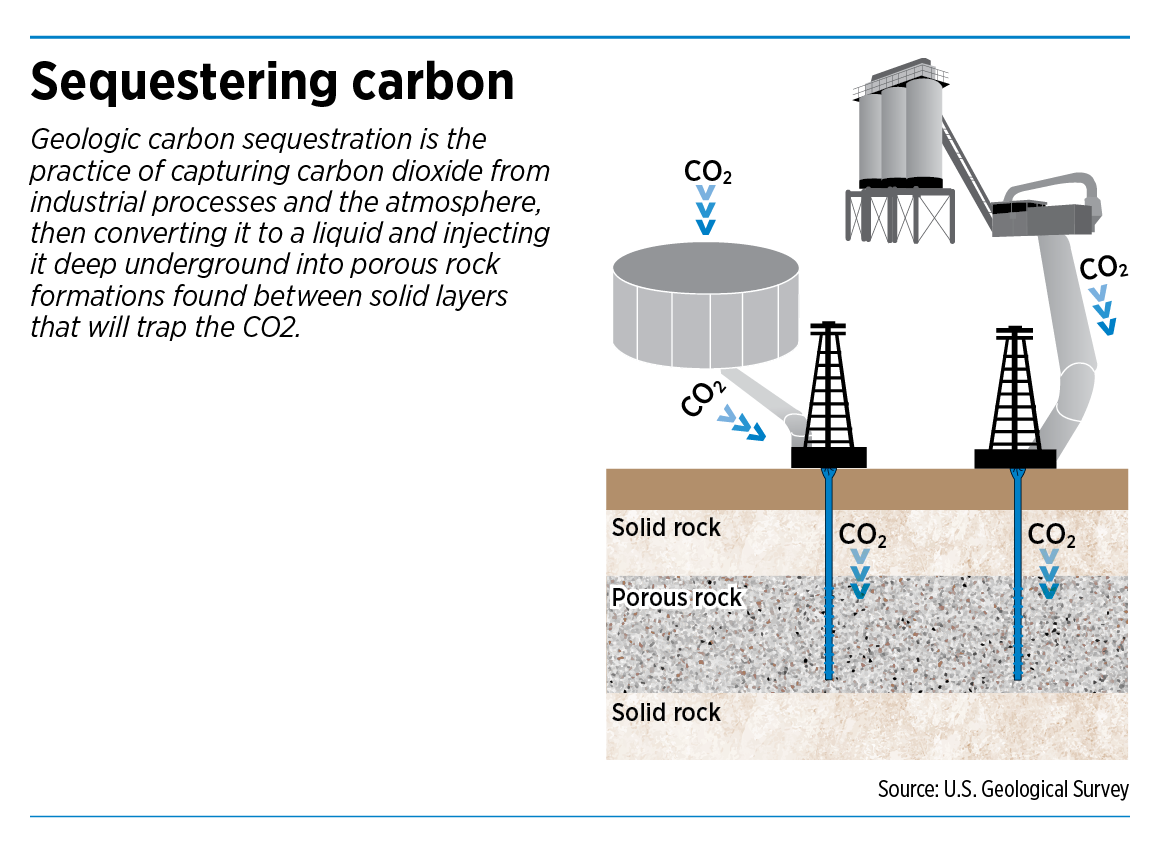 The law also allows a property owner to pursue civil action through mediation should the landowner and company fail to reach an agreement.
"It was a real and total deprivation of property rights in last year's version," said Jeff Cummins, Indiana Farm Bureau's executive director. "Thankfully, we were able to get some concessions."
While the injection site and pipeline are expected to initially impact only about 12 landowners, as many as 100 landowners could be affected as carbon sequestration grows, Zoeller said.
Olson said that, while CAC was neutral on the 2023 legislation, it opposes opening carbon-capture technology to other parts of the state.
"What the bill did this session is what they wanted all along, which is the right to condemn personal property without having to notify the customer," he said.
The 2023 bill received bipartisan support; five Senate Democrats and 23 House Democrats joined Republicans in voting for it.
Environmental groups remain divided on whether carbon-capture technology can truly be considered green energy.
In 2019, a coalition of more than 600 environmental groups sent a letter to Congress vowing to oppose federal climate legislation that promotes carbon capture and storage, saying such projects allow fossil-fuel companies to continue with business as usual. The United Nations Intergovernmental Panel on Climate Change, meanwhile, argues that carbon capture is necessary to achieve a goal of zero emissions by 2050.
What is clear is that federal funding made available through the 2021 Infrastructure Act and the Inflation Reduction Act is driving the development of carbon-sequestration projects across the country, said Sam Carpenter, executive director of the Hoosier Environmental Council.
"It's a complicated issue for us," Carpenter said. "We need to have zero emissions to mitigate the worst effects of climate change, and through the Inflation Reduction Act, carbon capture and storage is part of the road map on how to get there."•
Correction: An earlier version of this article misspelled the name of Indiana state Rep. Tonya Pfaff, D-Terre Haute. See a list of our corrections and clarifications here. 
Please enable JavaScript to view this content.