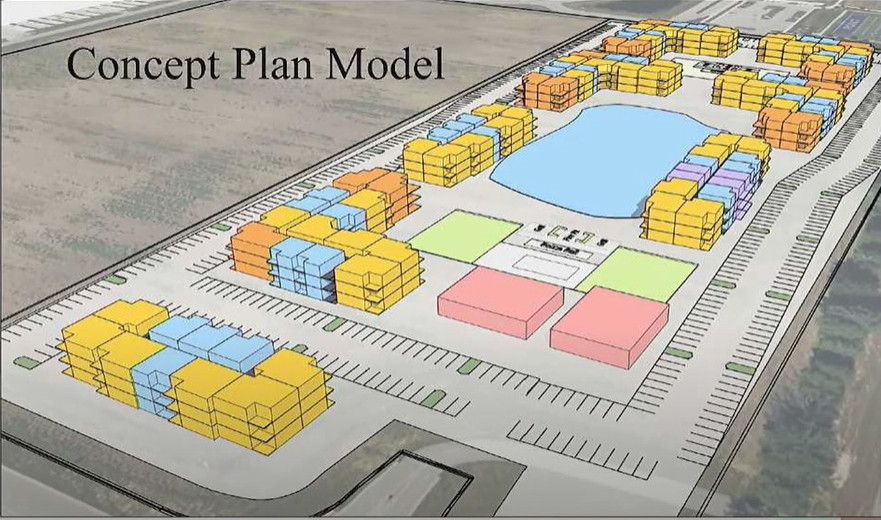 A subsidiary of Carmel-based developer Pedcor Cos. plans to build a 400-unit apartment complex near the Golf Club of Indiana in fast-growing Whitestown.
Village Capital Corp. filed plans with the town earlier this year to construct The Maddox, which would feature 11 residential buildings on about 33 acres near the intersection of East Whitestown Parkway and Cardinal Lane, west of Interstate 65.
The development would be near Cardinal Pointe, which includes two subdivisions built by Lennar Homes of Indiana—a division of Miami-based Lennar Corp.—and Pulte Homes of Indiana LLC.
Brandon Delk, vice president of development for Carmel-based Pedcor, told the Whitestown Plan Commission in February that apartments at The Maddox would range from 640-square-foot studios to 1,340-square-foot three-bedroom units.
He said he expected monthly rent rates would be $1,200 for studios, $1,500 for one bedroom, $1,750 for two bedrooms and $2,150 for three bedrooms.
"We are talking about a high-end, luxury-type apartment product marketing to those folks that are working up and down I-65 and then the professional services that we have here in Whitestown," Delk said.
The eastern portion of the development would be built first, with construction beginning in late 2023. The first residents would move into The Maddox in the middle of 2025, according to documents filed with the city.
The Maddox would also include a clubhouse, pool, fitness building and 805 parking spaces. Access points to the development would be off Powell Drive and Cardinal Lane.
The Maddox would be named for Charles Maddox, who along with Mickey Powell, designed the Golf Club of Indiana. The 18-hole course on 175 acres opened in 1974 and has played host to the likes of Jack Nicklaus, Arnold Palmer and Greg Norman.
If constructed with 400 units, The Maddox would equal the second-largest apartment complex in Boone County. The E at Whitestown, at the former site of an Emmis Communications radio tower and transmission facility, is due to have 408 units.
A three-building, 400-unit apartment complex is planned as part of a 48-acre development called The Farm at the former site of Pittman Farms in Zionsville. Construction of the apartments at the southwest corner of North Michigan Road and Sycamore Street is expected to be complete by 2025.
With more than 10,000 residents in 2020, Whitestown has more than 20 times the number of residents it did at the beginning of the 21st century, when it was a small town of 471, according to U.S. Census data.
Town officials expect the population to surpass 25,000 in the next decade.
Boone County's population is up 29% since 2010, the second-highest growth rate in Indiana and the 68th highest rate in the nation. The number of housing units in Boone County has increased 27% over the past 12 years, nearly the same rate as the county's population.
"I think it goes without saying that as the fastest-growing community in Indiana, apartments are coming," Delk said. "I think with the amount of growth that we've seen along I-65, the planning commission and the county have put together a fantastic economic growth plan. Now, it's time to house people."
The Golf Club of Indiana Planned Unit Development is owned by Indianapolis-based BHI Retirement Communities, which sold land to Lennar and Pulte for their Cardinal Pointe developments.
The 433-acre PUD was adopted by Boone County in 1999 and annexed into Whitestown in 2008. An amendment to the PUD in 2015 added single-family and multifamily housing and commercial uses.
Residents of Cardinal Pointe have voiced their objections to The Maddox due to concerns about the number of apartment units, traffic, a lack of planned buffers between the apartments and their homes, and its proximity to Traders Point Christian Schools.
"We can't stop it," Mark Peters told IBJ. "We can only hope we can scale it back and make it more integrated with the community."
Residents also said they moved into their homes only to learn shortly after about plans for The Maddox.
"I didn't move into a community and pay the money that we have paid for our home to have a development outside our window," Rosanne Gonzalez told the plan commission in February. "That's not acceptable."
The Whitestown Plan Commission, which approved a concept plan for The Maddox last month, will consider a development plan for the complex at a future meeting this spring.
Please enable JavaScript to view this content.