Boone County is booming by almost any measure.
Its population is up 29% since 2010, the second-highest growth rate in Indiana and the 68th-highest rate in the nation. Its median household income is rising and now tops $92,000, second only to Hamilton County statewide.
Commercial and industrial developments are exploding along Interstate 65, bringing with them hundreds of new jobs every year.
But with all that growth comes a demand for housing—affordable and workforce housing, in particular—that builders and apartment developers have not been able to meet.
The scarcity of supply has pushed up rents and home prices, making Boone County one of the most expensive places to live in Indiana.
It's a problem—and an opportunity—local officials have in their sights.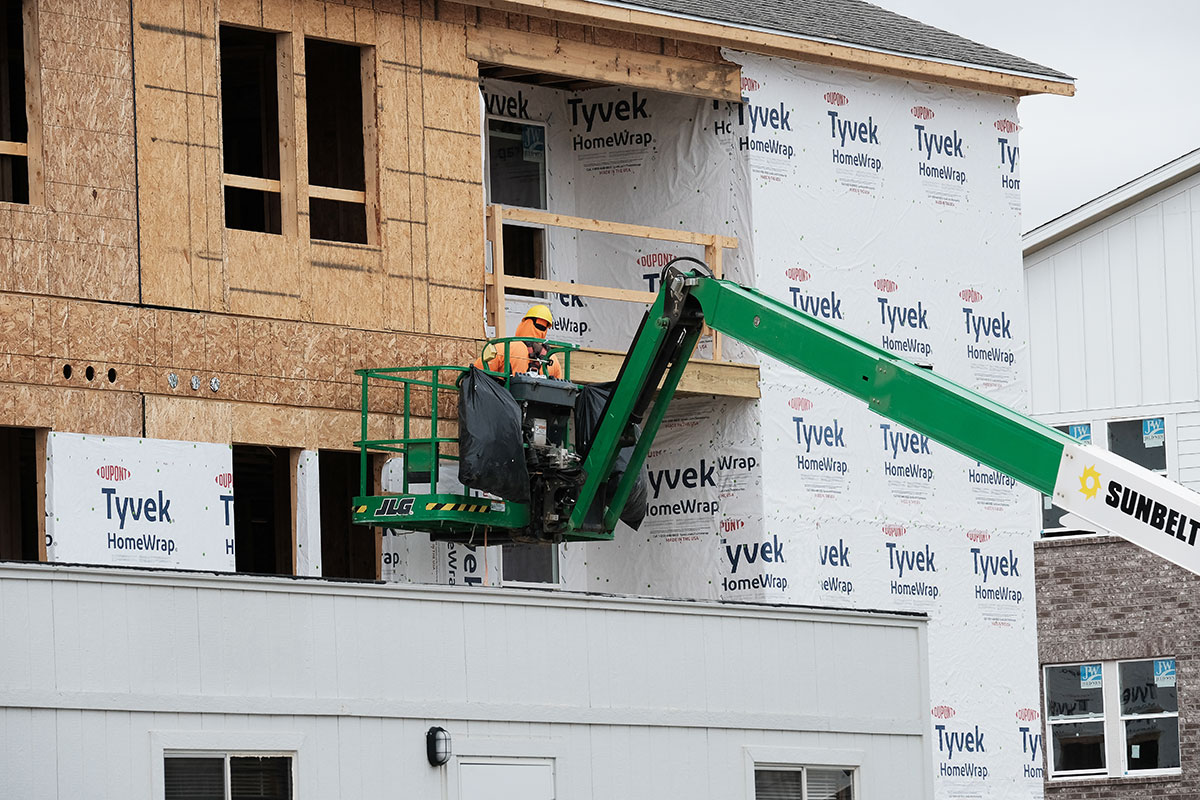 Both the Boone County Commissioners and the Boone County Economic Development Corp. are working to commission separate studies to learn about what types of housing are needed in Boone County.
The studies are particularly important as work gets underway northwest of Lebanon on the LEAP Lebanon Innovation and Research District, where the Indiana Economic Development Corp. has identified at least 7,000 acres for a large-scale research and innovation park.
Already, Eli Lilly and Co. has announced plans to build two manufacturing plants at the park that are expected to create up to 500 jobs, in addition to 1,500 temporary construction jobs.
Molly Whitehead, executive director of the Boone County EDC, said her organization is looking to form a five-year strategy that outlines barriers to employment. Housing is near the top of the list.
The number of housing units in Boone County has increased 27% over the past 12 years, nearly the same rate as the county's population, according to U.S. Census counts.
But the demand for workers has grown far faster. Private employment in Boone County has risen more than 93% over the past decade.
The EDC study will examine the workforce housing needs of Lebanon and Whitestown, along with the workforce housing and utility needs of the western part of the county.
"As part of this study, we hope to gather data that shows not only what is the current inventory [of housing] but match up wages with what you need to make to live here," Whitehead said.
That number was $17.50 per hour before the pandemic. But the recent rise in inflation has likely pushed the needed hourly rate higher.
It's a conversation Whitehead and her colleagues have with area employers.
"Something's got to give," she said. "And that's either the wages [increase], or you just have to agree that people are going to have to drive farther to come to your place of employment."
Whitestown Director of Economic Development Nathan Messer said town officials have already started signaling to businesses that they need to pay higher wages. The average household income in Whitestown is $85,000, and the town is looking to push for jobs in that range.
"We're just trying to make sure we bring in businesses that fit the people that are coming," Messer said.
Commuting to work
A look at the number of people employed in the county versus the size of the county's workforce and commuter data illustrates the situation.
Just over 35,000 people were employed in the private sector in Boone County in March 2022, the last month for which the U.S. Bureau of Labor Statistics has data. The Census estimates the county had a workforce of just under 37,000 in 2021.
But Census data shows that most of those workers leave Boone County for jobs, requiring the county to import workers from elsewhere.
Commuting data for 2019 shows that 19,000 workers commuted into Boone County for jobs.
Roughly half of those commuters work in the trade, transportation and utilities industries, which include the warehouse positions that have been growing quickly, the Census reports. And more than half earn less than $40,000.
John Steward, plant manager at suburban Boston-based Ken's Foods in Lebanon, said only 40% to 50% of the facility's employees live in Boone County and that both housing and transportation are barriers for workers.
For many people who live outside the county, Steward said, "they can't work here because of the drive, and … they can't afford to live here."
That's a point echoed by Andrea Davis, executive director for Noblesville-based HAND Inc., which advocates for and provides affordable housing in Hamilton County and in Lebanon in Boone County.
Davis said workers do not become invested in a community if they don't live there. And if they have to drive a long distance to work at a low-wage job, they are most likely passing many other low-wage jobs along the way.
"At what point do employees go, 'Well, geez, why would I continue to operate in this environment that costs me more when I could go to another community where people can afford to live?'" Davis said.
Steward, who lives in Hamilton County, added that housing is also a challenge when he hires senior-level employees due to the low inventory of single-family homes for sale in Boone County.
More transportation options would also help Steward and his fellow managers find workers.
To try to combat the problem, the Central Indiana Regional Transportation Authority launched the Whitestown Connector in 2014. The bus route, which costs $1 per one-way trip, begins near West 86th Street and Zionsville Road in Indianapolis and makes multiple stops in the morning, afternoon and evening throughout Whitestown.
However, Messer said, the Whitestown Connector has not taken off the way town leaders had hoped, and the pandemic decreased ridership.
"The employees that are using it are coming up here, getting better-paying jobs and then eventually buying a vehicle and not needing the public transportation anymore," he said.
Driving economic development
Housing that workers can afford is one of the top economic-development issues the Boone County EDC will study.
"We know that, nationwide, there are more jobs than people available," Whitehead said. "Same is true within the state and locally, so that is already a barrier. So, what are those things that we can do to make it a more desirable place to live and help provide [workers] with those job opportunities?"
The EDC study will help give Boone County leaders information to discuss with developers as they try to guide construction of the types of housing that would serve the county's economic needs.
Perhaps nowhere in Boone County is the need for housing more evident than in Whitestown, which is about 25 miles northwest of Indianapolis and is the fastest-growing community in the state.
While Whitestown's birth in the 19th century was tied to its location along the railroad, its growth in the 21st century is linked to its spot along Interstate 65.
The town's population ballooned from 471 in 2000 to more than 10,000 in the 2020 U.S. Census count. And its population is projected to surge past 25,000 in the next decade, Messer said.
For workers in the town's ever-expanding industrial sector, housing needs to be affordable and easily accessible.
One option opened in October when residents began moving into the $54 million Meadows on Main, a workforce-housing complex developed by Indianapolis-based Kittle Property Group at 3863 S. Main St.
It's an income-restricted complex that serves individuals and families making 40% to 70% of the area's median income.
Workforce housing is defined as housing that ensures residents earning between 50% and 120% of the area median income are not spending more than 30% of their income on housing.
Monthly rents at Meadows on Main range from $700 for a one-bedroom apartment to $1,400 for a four-bedroom unit. According to statistics from Rent.com, the average rent for apartments in Whitestown ranges from $1,395 for a one-bedroom to $2,062 for a three-bedroom unit.
Caroline Kimmel, a development director for Kittle Property Group, oversees the Meadows on Main project. She said she hopes the complex will serve as a catalyst for other communities in Boone and Hamilton counties to recognize that workforce housing is "vital and beneficial to community growth."
"Creating a variety of housing types at varying affordability levels creates a more vibrant neighborhood because it allows people to live closer to where they work and keeps their dollars in the community," Kimmel said.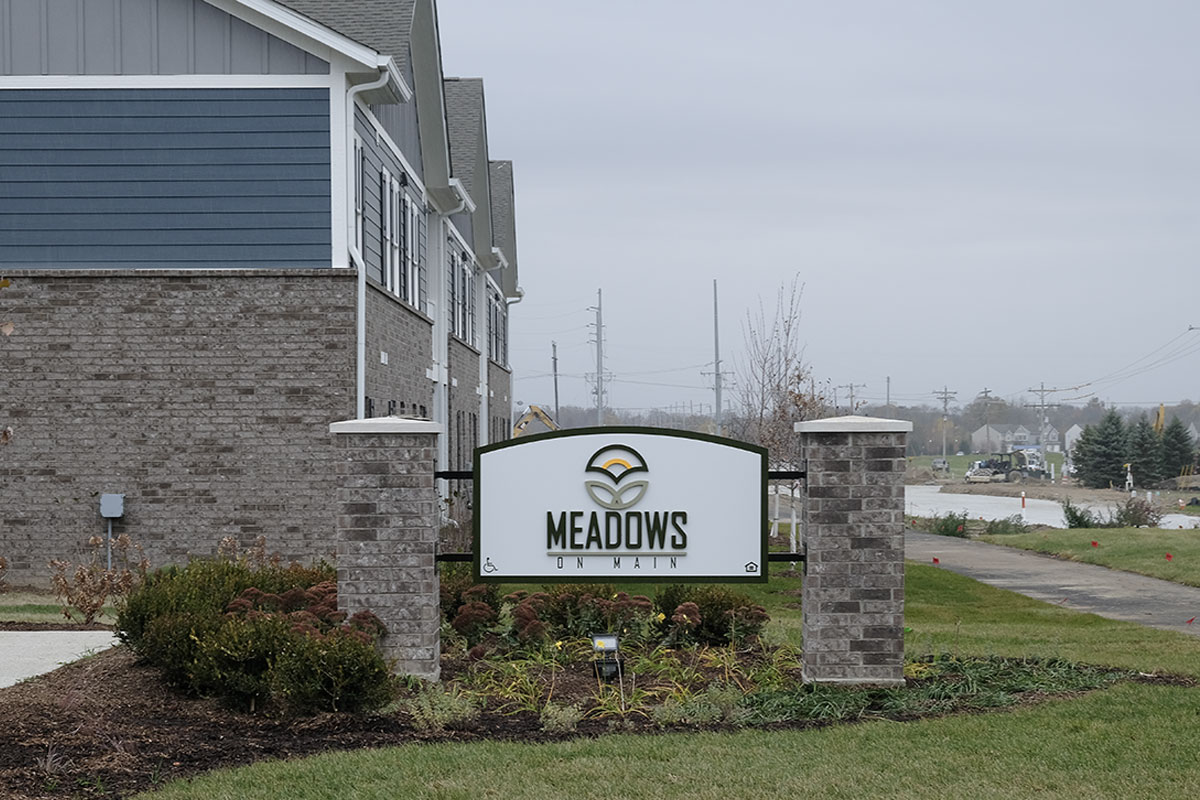 Barriers to housing
But developing affordable housing isn't easy.
Rising land prices, interest rates and material costs have all contributed to what Kimmel described as the most challenging time in the past decade for housing development.
Most multifamily developments are more than 250 units and carry a mortgage upward of $30 million, she said. That means even a 1-percentage-point interest-rate hike makes borrowing money substantially more difficult.
For Meadows on Main, Kittle Property Group—which has developed 20 workforce-housing projects in five states—received tax increment financing from the town of Whitestown to cover some of the infrastructure costs that would benefit the development, such as roads and sewer expansions.
The company also secured $46.8 million in funding—a $25 million Freddie Mac loan and $21.8 million in equity through federal low-income housing credits.
"These deals need every possible lever pulled in order to even come close to working," Kimmel said.
Opposition from area residents is another barrier that communities, developers and groups face when they plan affordable and workforce housing. Decision-makers often hear the voices that are loudest and not necessarily the most accurate, said Davis, the leader of HAND Inc.
However, she said, Boone County is following in the footsteps of Hamilton County in thinking about developing housing that is more attainable.
Both Messer and Kimmel said they focus on educational campaigns to express the importance of housing availability for all residents.
"People tend to reject what they don't understand," Kimmel said. "And part of our jobs as developers is to educate the public on why these developments are important and the benefits they can bring to a community."•
Please enable JavaScript to view this content.