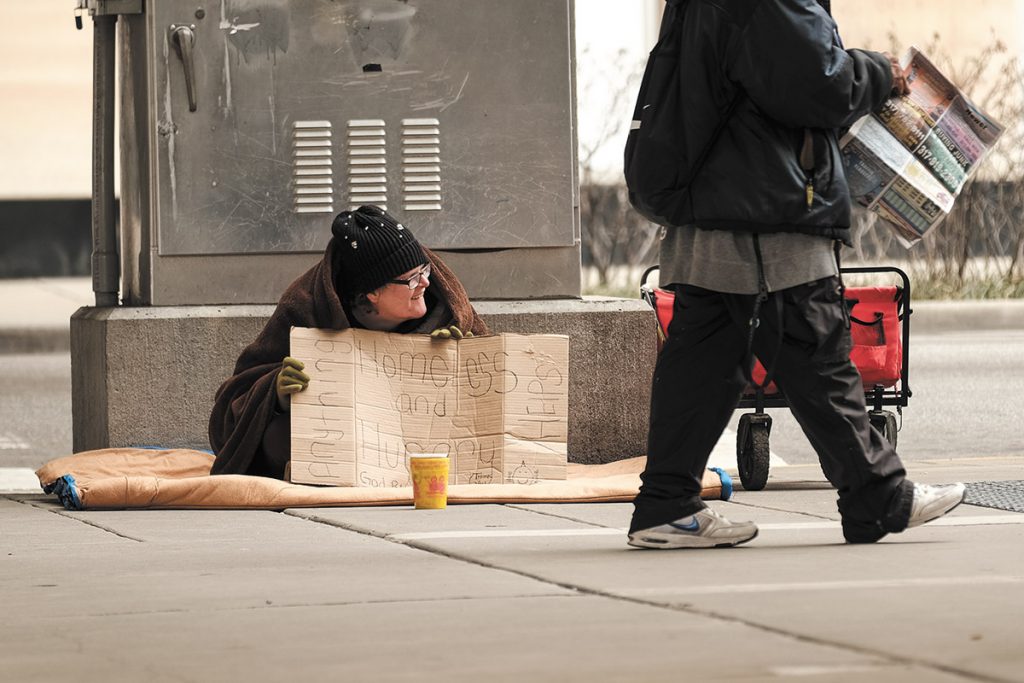 A federal judge has issued a ruling that stops a new state panhandling law from taking effect Wednesday as planned and calls the measure unconstitutional.
The American Civil Liberties Union of Indiana in April filed the lawsuit challenging the constitutionality of the panhandling law, which expands the definition of panhandling in a way that effectively bans begging for money throughout downtown Indianapolis.
The Indiana General Assembly passed the legislation in March and Gov. Eric Holcomb signed it. It was expected to take effect Wednesday, but the ACLU requested a preliminary injunction in its lawsuit.
U.S. District Court Southern District of Indiana Chief Judge Jane Magnus-Stinson granted that request in a ruling issued Tuesday, describing the law as "an unconstitutional prohibition on the freedom of speech" and saying attorneys for the state did not provide proof to show that panhandling is causing issues in downtown Indianapolis.
"This preliminary injunction will help to protect the constitutional rights of all, including vulnerable Hoosiers who appear to be the particular target of this law," Jane Henegar, executive director at the ACLU of Indiana, said in a written statement. "The Indiana Legislature should be trying to remedy the reasons driving homelessness and joblessness. Criminalizing poverty is never a solution."
Advocates for the legislation have argued that panhandling is out of control in downtown and action was needed to stem the problem. They have pointed to an ordinance in San Antonio to justify the measure's constitutionality.
But opponents, including the ACLU of Indiana, have argued that court decisions made after the San Antonio ordinance took effect have declared panhandling laws like Indiana's unconstitutional.
The legislation makes panhandling illegal within 50 feet of any ATM; entrance or exit of a bank, business or restaurant; public monument; or place where any "financial transaction" occurs.
The definition of "financial transaction" includes any exchange of money received by a business, parking meter, parking garage, public transportation authority facility or pay station, or restaurant.
That's substantially different from current state law, which makes it a criminal offense to panhandle within 20 feet of an ATM or entrance to a bank or when the individual being solicited is at a bus stop, in a vehicle or in the sidewalk dining area of a restaurant.
The ACLU argues that the law violates the First Amendment because it limits free speech and says it would even prohibit its staff members and volunteers from soliciting donations for the organization while handing out copies of the constitution, which it regularly does on Constitution Day on Sept. 17.
The lawsuit, which was filed against the superintendent of Indiana State Police, Indianapolis Mayor Joe Hogsett and Marion County Prosecutor Ryan Mears, is being defended by the Office of the Indiana Attorney General.
In court filings, the attorney general's office has not argued against the ACLU's interpretation of the law. Instead, the state's lawyers have argued that the law does not violate the First Amendment because it still allows for passive panhandling, such as holding a sign or performing music.
In her ruling, Magnus-Stinson wrote that the state attorneys outlined several reasons why the law has compelling interest for the government, such as promoting the safety and convenience of citizens on public streets and preventing businesses and traffic from the disruption of panhandling, but there wasn't any evidence provided to show that panhandling is threatening those interests.
"For example, they do not provide any statistics linking panhandling to disruptions to business, or showing that panhandling typically escalates to criminal behavior," Magnus-Stinson wrote. "And simply stating that individuals may not want to be approached for a solicitation is not enough to show a compelling interest."
She said the "case is not a close call."
"Defendants submit no evidence whatsoever to support the notion that the statute furthers a compelling governmental interest," Magnus-Stinson wrote.
A spokesperson for Hogsett declined to comment. A spokesperson for Holcomb did not immediately respond to IBJ's request for comment.
Please enable JavaScript to view this content.