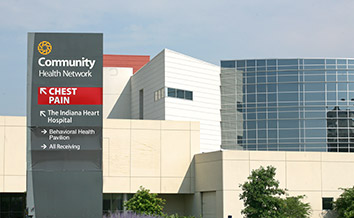 Federal authorities say Community Health Network engaged in a years-long scheme to recruit physicians and pay them huge salaries and bonuses in return for giving referrals to the Indianapolis-based health system, allowing it to improperly receive money from Medicare.
The alleged scheme, the government said, was brought to light with the help of Thomas Fischer, who served as Community Health's chief financial officer from 2005 until his sudden exit in 2013.
The U.S. Justice Department on Tuesday filed a False Claims Act lawsuit against Community Health Network, saying it knowingly submitted or caused submissions of false claims to Medicare from 2008 to at least 2017.
In a separate lawsuit, filed in 2014 and unsealed Tuesday, Fischer said he was fired in retaliation for repeatedly asking questions about the large salaries, which the health system continued to pay during a market downturn and cost-cutting initiative.
The government is seeking to recover an unspecified damages from false claims, payment by mistake, and unjust enrichment as a result of the health system's conduct. The complaint was filed in the U.S. District Court for the Southern District of Indiana in Indianapolis.
The government filed its complaint in a lawsuit originally filed under the whistleblower provisions of the False Claims Act, which allow private parties to file suit on behalf of the United States for false claims and to receive a share of any recovery. The federal government has since intervened and taken over the lawsuit.
Community Health called the government's complaint "meritless" and said it cooperated with the investigation. It said it was disappointed that the Justice Department filed a complaint.
"This lawsuit involves certain administrative issues that are completely unrelated to patient care," Community Health said in a written statement to IBJ. "We are confident that we have complied with the laws and regulations that govern the way we operate our health network. We are committed to fighting these allegations which have no merit."
It added: "We are confident that we have complied with the law and regulations that govern the way we pay our physicians for the services they provide to our patients and to the communities we serve—services such as teaching, research, providing education to patients and developing protocols to enhance care delivery. Community recognizes that physician compensation is very complex and highly regulated. Our physician compensation practices are a key part of our overall compliance efforts. We are confident that we operate in a legally compliant manner."
The Justice Department took a different view, saying that Community Health violated the Stark Law, which prohibits a hospital from billing Medicare for services referred by a physician with whom the hospital has an improper financial relationship without a valid reason.
The government said Community Health's arrangement with physicians amounted to a "fraudulent scheme" because the health system paid the doctors large salaries and bonuses to secure their referrals. That allowed Community Health to receive more from Medicare for those services and receive higher reimbursement than the physicians received when those services were performed by the physician practice.
The compensation that Community Health paid to numerous physicians was well above fair market value, the government said, and it conditioned paying bonuses on physicians achieving a minimum target of referral revenues to the hospital system.
The complaint alleges that Community, under the leadership of CEO Bryan Mills, received referrals from those physicians in violation of the Stark Law and submitted claims to Medicare knowing that the claims for those referred services were not eligible for payment.
"Improper financial relationships between hospitals and physicians corrupt clinical decision-making, threaten patient care, and ultimately drive up Medicare costs," Assistant Attorney General Jody Hunt of the Department of Justice's Civil Division, said in a written statement. "We are committed to eliminating these improper inducements and thereby ensuring the Medicare program remains fiscally sound to serve our nation's senior citizens."
Community Health owns eight hospitals, along with numerous surgery centers, urgent care centers and outpatient facilities, with more than 200 total care sites. It employs more than 350 physicians.
Fischer served as Community Health's CFO for eight years, and departed without explanation in December 2013. At the time, Community officials said Fischer resigned in a private meeting with Mills, but declined to give any further explanation. Fischer also had declined to comment.
In his lawsuit, Fischer said Community Health began a campaign around 2009, under Mills, to beef up the number of physicians employed by the network.
"Community was concerned that if it did not grow, it would lose the ability to compete with the other [hospital] networks, especially in its leverage to secure favorable terms when contracting with private health insurance companies," Fischer's lawsuit stated.
Community was also concerned about defections within its own ranks, so it acted to "lock up" its referring physicians and physicians groups, and lure others, with employment and other contracts—routinely paying them "unreasonable, above-market-value rates to do so," he said in his suit.
Between 2008 and 2013, Community Health nearly doubled the number of physicians it employed, from 191 to 360, Fischer's lawsuit said. But the health system paid the doctors such high compensation packages that it lost $132 million in 2013 on its employed physicians, his complaint said.
Community Health offered and paid salaries that were significantly higher than what the physicians were receiving through their own private practices and "well above fair market value," the government said. For example, the health system essentially doubled the salaries of all of the cardiovascular specialists. The value of those physicians was in their downstream referrals and revenues for Community facilities, according to the federal complaint.
"Upper-level management at CHN, including Mills, were well aware of the requirements of the Stark Law, including the requirements that the compensation of employed physicians be fair market value and not determined in a manner that takes into account the value or volume of referrals," the federal complaint said.
The health system even engaged a valuation firm to analyze the salaries it intended to pay and did pay to see whether it met the fair-market conditions of the Stark Law, the complaint said. When the valuation firm made clear that physician compensation needed to be less than certain benchmarks, Community Health justified the compensation based on the individual accomplishments of physicians, their leadership skills, business development skills and the community need for their services, the government said.
Fischer's lawsuit outlines his frustration in trying to understand why Community Health was paying such large compensation packages to physicians during a market downturn.
In early 2010, his lawsuit says, Community Health's board of directors told management to find $100 million worth of combined cost reductions and revenue enhancements within 18 months. Fischer spearheaded the initiative, and said he began asking questions about the large and unexpected losses at Community's physician network. He was "never provided a satisfactory explanation for these losses." He said he expressed several times to Mills and others that the losses were a direct result of paying physicians at commercially unreasonable rates.
He said he also began digging into the ownership arrangements between Community physicians and the system's for-profit ambulatory surgery centers. He said he expressed concern that compensation received by the physician-owners was higher than average for the region, and this represented an "illegal transfer of funds" from the non-profit health system to the for-profit surgery centers.
On Nov. 27, 2013, while he was still asking questions about physician compensation, Fischer was fired from Community Health without cause, his lawsuit said.
Community Health terminated Fischer "in retaliation for his stated concerns regarding illegal activity at Community, specifically with regard to physician compensation, physician referral patterns, and certain business practices," his lawsuit said.
Asked about the circumstances of Fischer's departure, Community Health officials said Tuesday afternoon that they would have no comment beyond their initial response to the federal lawsuit.
Fischer is now living in Florida. His attorney, Kathleen DeLaney at Indianapolis law firm DeLaney & DeLaney, declined to make Fischer available for an interview.
In a statement, Fischer said he was grateful to the Justice Department for investigating the issues he raised.
"At its core, the problems I reported are not about arcane financial dealings," Fischer's statement said. "They affect real lives of patients, hospital employees and the excessive cost of health care services in the Indianapolis marketplace."
Please enable JavaScript to view this content.