Tom Fischer, the chief financial and chief operating officer of Community Health Network, departed suddenly this month.

Fischer
Sources with knowledge of the situation described Fischer's exit as a firing. But a Community spokeswoman said Fischer resigned in a private meeting with Community CEO Bryan Mills.
Community officials declined to give any further explanation. Fischer, 60, who joined Community as CFO in 2005, declined to comment.
Mills and Fischer have been close friends for decades, dating to the time they both worked for the Ernst & Young accounting firm. Now Holly Millard, Community's chief accounting officer, is serving as interim CFO while Community searches for a replacement.
Regardless of whether Fischer was fired or quit, his departure comes at a crucial time for the Indianapolis-based hospital system. Like most hospitals, it is struggling with a decline in outpatient surgeries and with reimbursement rates from health plans that are not growing as fast as before.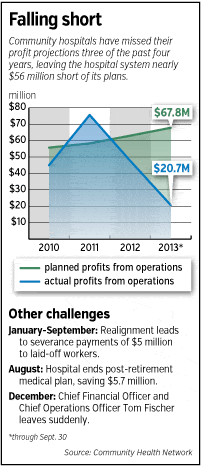 "It'll clearly have an impact. Tom did a lot of good things for that organization," said Ed Abel, a hospital accountant at Indianapolis-based Blue & Co.
Community is trying to cut expenses 15 percent to 20 percent, including via staff reductions. Community laid off more than 150 employees during the first nine months of this year, many of them part of what it described as a systemwide realignment.
Community spokeswoman Lynda de Widt described the staff reductions as part of the normal course of business in an organization that has 13,000 employees.
"We have realigned the system to meet our primary mission to put patients first, by improving patient flow and matching resources to care and volumes," she wrote in an email. "To ensure we sustain our mission, we've also taken other measures to include eliminating duplication of services, reviewing programs, not filling some positions that are currently vacant, and looking to grow business in new ways."
Community reported in late November that it has spent $5 million so far this year on severance costs. It has not mentioned labor reductions in any of its quarterly financial reports since 2009, the year it began a multi-year, $100 million cost-saving initiative.
It's not clear how many Community employees were let go as part of those reductions. In June 2009, Community told IBJ it had 8,600 full-time-equivalent employees. A year later, it reported 8,242 full-time-equivalent employees—a reduction of more than 350.
Overall, Community's employment has continued to rise in recent years, as it has acquired physician practices and two other hospitals.
But the staff reductions in its core hospital operations, spread over the past four years, have been about the same in percentage terms as layoffs announced this year at three other large Indianapolis-area hospital systems.
In June, St. Vincent Health announced it would cut at least 865 workers. In September, Indiana University Health announced cuts of 935 positions. And in October, Franciscan Alliance said it would cut 925 positions.
"It was pretty similar to what the other hospitals were doing," Abel, the hospital accountant, said of Community. "They just were a little quieter about it."
Missed projections
A quick look at Community's third-quarter financial filing shows the hospital system is struggling.
Its profit from operations during the first nine months of the year was $20.7 million, far below its plan for the year, which envisioned $68 million in profit in the first three quarters.
In fact, Community's profits have missed projections in three of the past four years.
"Coming under every year, year over year over year, we'd look into that," said Suzie Desai, a bond analyst at Standard & Poor's who follows Community. "We do look at budgets year over year and how on or off the mark they are."
There is no indication, however, that Fischer's departure was a result of missing financial projections.
Indeed, Community's financial struggles are not unusual among Indianapolis-area hospitals, nearly all of which have seen their finances suffer due to surprising declines in patient visits.
At Community, inpatient admissions so far this year have risen, but only 0.5 percent. Physician visits are up a handsome 11 percent. But outpatient surgeries, which are one of the most lucrative parts of a hospital's business, have declined 2.9 percent.
"Hospitals across the country are dealing with lower operating margins, due to a variety of factors," de Widt wrote. "During the past few years, the network has implemented a number of strategies to improve and sustain an appropriate operating margin."
What is really bedeviling Community is what it describes as its "dramatic" rise in charity care and bad debt. Since Franciscan Alliance closed its Beech Grove hospital in March 2012, lots of low-income and uninsured patients have sought care at Community East Hospital, at 1500 N. Ritter Ave., just six miles from Franciscan's former Beech Grove campus.
Community's charity care and bad debt have equaled 5.8 percent of its patient revenue so far this year, up from 4.7 percent a year ago.
Many Indiana hospitals have posted poorer financial figures this year because a state program called the Hospital Assessment Fee is waiting for federal approval to be renewed. Once the expected approval is given, Community and other Indiana hospitals will receive the extra payments that they did in 2012.
"The financial statements have been a little bit shaggier," Abel said. But,  "It's not necessarily all doom and gloom on their bottom line."
Desai, the bond analyst, added that Community's finances would have to deteriorate a lot from their 2012 levels before she would have concerns about Community's credit-worthiness. And Fischer's departure, while significant, isn't an automatic red flag, she said.
"Certainly, there are times when people come and go, and organizations move on," she said. "We generally see that [health] systems have done some succession planning."•
Please enable JavaScript to view this content.