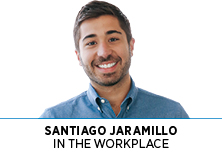 When I ask CEOs or human resource leaders about their employee engagement strategy, many rattle off a list of perks, like catered meals, pet insurance or letting people wear jeans at the office.
Are those things really making a purposeful impact on the overall health of our employees and businesses? And if they are making a difference, how do we know?
As leaders, we need to understand the impact employee engagement has not only on the success of our people, but also on the ability to compete and win as an organization—the two are not mutually exclusive. When employees are engaged and passionate about their work, they'll deliver at their full potential and the business will thrive.
Mission matters
Remember when a steady paycheck, job security, benefits and a pension kept people at one company for decades? Those things aren't enough anymore. There is an awakening, a movement, a hunger to embrace the sense that life is about more than making money.
I recently learned about a Japanese concept called Ikigai, which means "reason for being." Ikigai is the intersection of what you're good at, what you love, what the world needs, and what you can be paid for. I believe we're succeeding if we're living and working within the overlap of those four areas. That's where we become our best selves and experience our profession through our purpose.
We can sometimes fall into the trap of thinking our job as business leaders is to retain people by making them comfortable and satisfied with their jobs. But satisfied employees are not necessarily engaged employees. People need to stretch in their careers, to pursue something meaningful. Individuals who are merely satisfied in a role aren't growing or striving for something greater.
The war for talent is over
Author and HR thought leader Josh Bersin said it best: "The war for talent is over; talent won." There is currently more demand for skilled talent than supply, so hiring and retaining that talent has become a huge challenge.
U.S. unemployment has dropped significantly in the last decade, and the U.S. Bureau of Labor Statistics found the average time to fill a position has increased from 15 days to more than 35. Employees simply have more work options and access to different opportunities than ever before. That means they get to be more selective about which companies they join and why.
A recent Glassdoor study found 79% of working adults would consider a company's mission and purpose before even applying. Delivering a company culture and a mission people can get behind are more important than ever to recruiting and retaining top talent.
Does your organization have a clear mission? Do employees understand that mission and know exactly how the work they do every day contributes to it? Without the ability to tie those Ikigai areas—what they're good at and what they love doing—to what the organization (and ultimately, the world) needs, recruiting is more challenging and existing employees are more likely to become disengaged.
As great as a casual dress code or office pingpong might be, perks don't give employees purpose. It's the work itself, the camaraderie of a team, and the shared values and goals that engage employees.
Leaders who succeed in fostering employee experiences that intersect people's skills and passions with the organization's mission and goals are able to create those winning cultures and workplaces of choice. They track employee metrics and look to data to better understand the state of engagement on their teams—and they know how to translate that data into actions that motivate and drive results.
Key takeaways
1. Take a look at your company's mission and vision. Assess how it's being communicated and how often it's discussed. If it's collecting dust on an "about us" page somewhere and is not top of mind for every business decision, it's time to dust it off and re-evaluate how to authentically activate it in the hearts and minds of the team.
2. Consider your own "Ikigai." As leaders, we sometimes forget to look inward and think about what motivates and excites us personally about the work we're doing. It's OK to share that passion with your team. Being transparent and open about what gets you out of bed in the morning shows you're authentic. It can also help energize your team in the process.
3. Have a strategy for tying the mission to the work. Purpose and role clarity are two important drivers of employee engagement. Develop a plan from the executive team on down to midlevel managers for connecting employees' jobs with organizational goals. Then make sure having those conversations becomes a mainstay of your company culture.•
__________
Jaramillo is co-founder and CEO of Emplify.
Please enable JavaScript to view this content.